Auckland's city centre is built around the sweeping Waitematā Harbour and there's an abundance of gorgeous waterfront dining available. With Christmas and the promise of warmer weather fast approaching, the waterfront is the perfect spot to catch up with loved ones this festive season. Check out some of the best restaurants - and views - Auckland has to offer below. 
For casual tapas and great sharing plates... 
If you're after somewhere low-key but intimate, look no further. Whether you're craving the bold flavours of Asia, the Southern magic of Miss Clawdy, or the fresh catches at Auckland Fish Market, these offerings blend f culinary delights and waterfront charm.
Hello beasty | 95 Customs Street West
Serving up contemporary cuisine inspired by regions of Japan, Korea and China, Hello Beasty's kitchen offers a tasty and approachable sharing menu, providing an experience that delivers clean, bold flavour profiles with a touch of heat.
White + Wong's| 149 Quay Street
Bright, bold and fresh Asian flavours with the best harbour views in town, is White + Wong's. With a slick and modern decor, stunning views, a delicious Asian fusion menu and impeccable service, it is the perfect option for some quality harbourside dining with your mates.
The Lula Inn | 149 Quay Street
Perched in the heart of Princes Wharf, Lula's boasts a pacific-inspired interior bringing a relaxed, colonial charm to the historic Launchman's Building. This tropical-inspired bar and eatery suits every occasion, from a lazy lunch in the sunshine to an after-work drink or a night out with friends.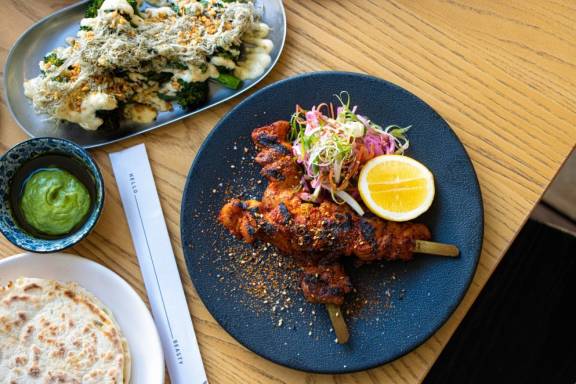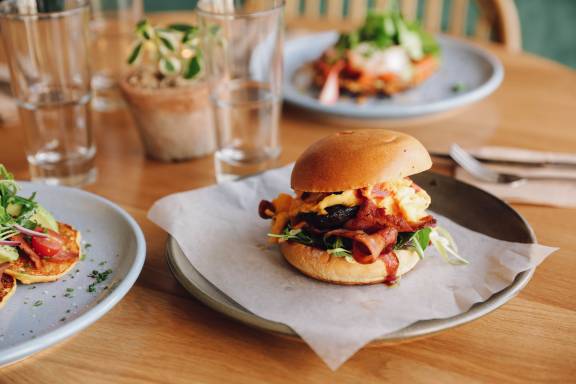 For something new...
Embark on a flavour-filled adventure in the heart of the city! These waterfront gems are all about redefining the dining experience with a mix of global tastes and cutting-edge techniques. Get ready to be wowed with a Christmas catch up that's deliciously different!
For fine dining... 
Celebrate the holidays with a touch of elegance! These fine dining spots by the water are all about exquisite dishes and top-notch service. From Michelin-inspired creations to local masterpieces, treat yourself and your loved ones to a Christmas catch up that's simply exquisite.
SOUL Bar & Bistro | Customs Street West
Its elegant all-weather terrace faces west to catch the spectacular sunsets, views out across the water that take in America's Cup boats, super yachts, water taxis and even fishing boats. 
Harbourside Ocean Bar Grill | 99 Quay Street
Overlooking the gorgeous Auckland harbour, Harbourside Ocean Bar and Grill offers a seafood experience not to be missed. Using New Zealand seafood caught with sustainable methods, Harbourside specialises in serving the finest New Zealand dishes with an international twist.
Ahi | Commercial Bay, 1 Queen Street
Ahi's menu celebrates authentic New Zealand food with fresh organic produce and intense flavours, while their wine list offers a true representation of New Zealand's unique wine regions and styles.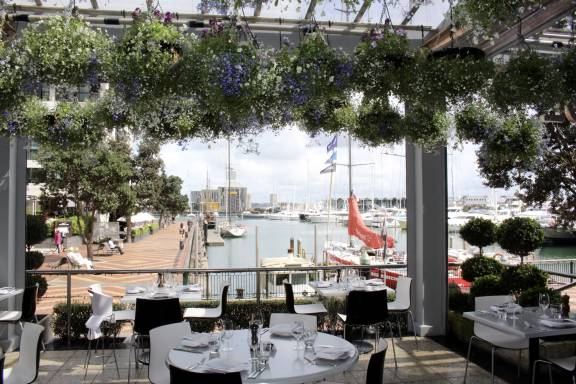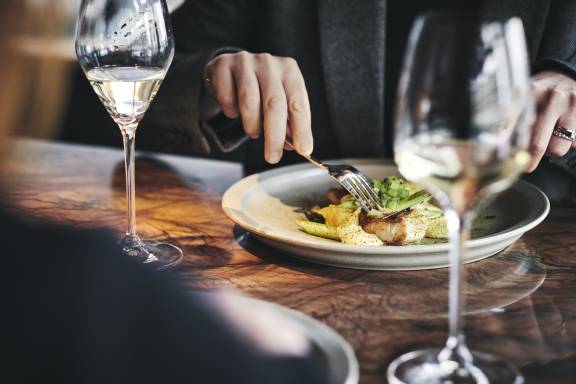 For epic rooftop views 
Take your Christmas catch up to new heights—literally! These rooftop havens offer more than just great food; they serve up breathtaking views of the city. Whether it's sunset hues or twinkling lights, get ready for a celebration with a view that's as epic as the food.
The Parasol & Swing Company | 204 Quay Street
The Parasol & Swing Company is a cocktail bar with a stellar drinks menu and food offering in the heart of the Viaduct.Over two levels, with a rooftop bar overlooking Viaduct basin, it features a host of Auckland's best hospitality experts coming together to create something special - so special it's award-winning.
Rooftop at QT | 4 Viaduct Harbour Avenue
Perched above it all on the sixth floor, Rooftop at QT offers a peak drink and dine experience flowing from laid back afternoons to lavish late nights. Open Wednesday through Sunday, the stylish scene is set with dark and moody finishes to allow the eye to focus on the harbour and city views. 
Dr Rudi's Rooftop Brewing Co. | 204 Quay Street
If you're looking for a fun place to relax and unwind with some cold beers and a breathtaking view of Auckland's Viaduct Harbour then you have to check out Dr. Rudi's Rooftop Beer Brewing Co. The menu consists of sharing platters and pizzas, and Dr. Rudi's large deck offers the perfect place to enjoy a cold brew and plenty of sunshine with your friends.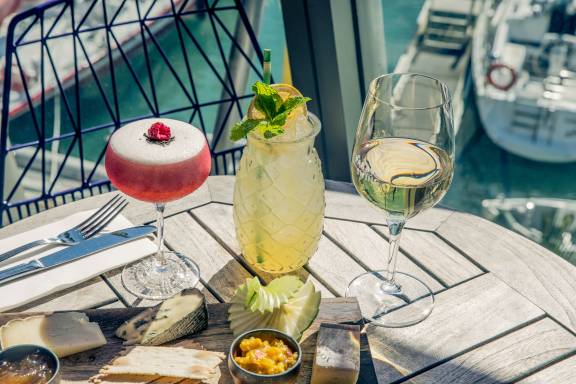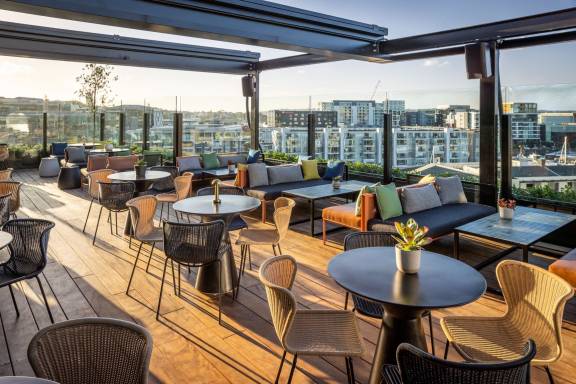 For relaxed, ambient vibes 
Escape the holiday hustle and bustle at these laid-back waterfront havens! Picture cosy interiors, warm vibes, and stress-free moments with friends and family. It's the perfect recipe for a Christmas catch up that feels like a breath of fresh air.
For stunning water views 
Let nature be your backdrop this holiday season! These waterfront wonders offer not just delicious meals but also stunning views of the water. Whether it's a serene harbour or a flowing river, get ready for a Christmas catch up surrounded by beauty and good company.
Wynyard Pavilion | 17 Jellicoe Street
The all-day, coffee until cocktails venue is perched beautifully adjacent to the water's edge. Wynyard Pavilion continues this neighbourly vibe with a host of localised events for the whole family, from Wynyard Wednesday's with live music and drink specials to Friday sunset sessions with Auckland's best DJs and Kid Sundays; where the little ones can enjoy $1 scoop ice cream on the waterfront.
Giraffe | 87 Customs Street West
Giraffe is nestled right by the water, with exceptional dishes that captures New Zealand's diverse flavours an distinct charm. If you want to unwind, feel at home, and savour the best of New Zealand, head to Giraffe now!
Onemata Restaurant | 99 Halsey Street
Enjoy the beautiful water view as Onemata celebrates the best of New Zealand food and wine, bringing you closer to the people, the lands, and the producers that make us unique. Join them in one of our upcoming events as they celebrate cuisine inspired by Aotearoa's rich coastlines and abundant natural landscapes.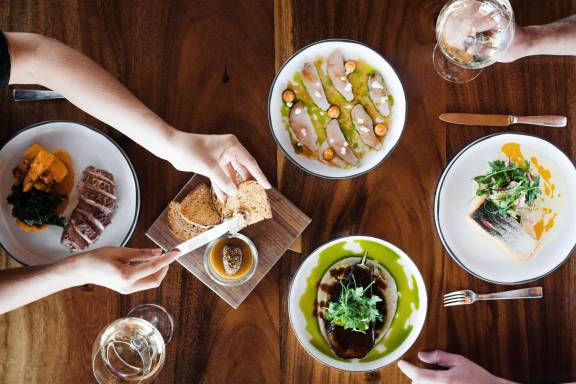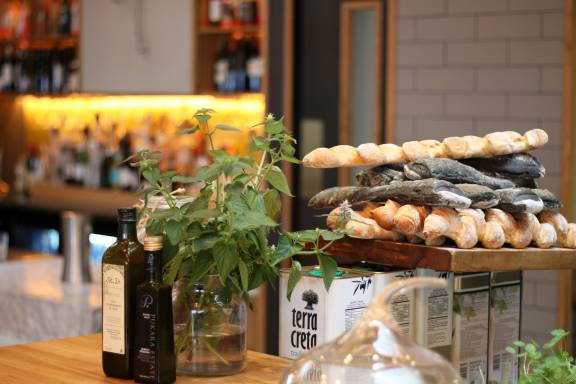 Last updated:
27 November 2023