It can be hard in the winter months to make that extra effort on date night – we are all guilty of defaulting to staying in, on the couch with a takeaway and Netflix. But on nights when you do feel like doing something special or a bit different we've got a great range of date night ideas in the city centre.
Viaduct and Wynyard Quarter 
Bundle up your winter gears and grab a drink at Saint Alice | Viaduct Harbour
Start the date with a romantic walk alongside the glistening lights reflecting off the ocean at the Viaduct Harbour. To warm things up, stop for a drink at Saint Alice. Overlooking the serene waters, Saint Alice is a light and airy bar which is stylishly decorated, boasting an impressive cocktail list. Share a woodfired pizza with your special someone whilst sipping on Alice's "famous sangria". 
Dine out at Giraffe | Viaduct Harbour
Whether you are wanting to impress a new flame or paint the town red with a long-time lover, Giraffe is the perfect up-scale dining destination. With an emphasis on New Zealand cuisine and produce, be prepared to immediately feel at home whilst enjoying dishes like hand-picked scotch fillet, Hawkes Bay lamb shoulder, or even a whole snapper to share. Dining at Giraffe will be sure to turn a great date night into a stellar one.  
Plan an activity-based date at Holey Moley | Viaduct Harbour 
A vibrant and lively date spot, Holey Moley functions as both a mini-golf course and karaoke bar. Filled with neon lights and weird and wonderful courses to journey through, Holey Moley will be an easy way to break the ice if you are venturing out on a first date, or if you simply want to infuse some light-hearted fun into your long-term relationship. 
Indulge in some Southern soul food at Miss Clawdy 
Wander down to North Wharf to share a lovely meal together. Our pick? We cannot go past the big flavours and good ol'Southern American soul food at Miss Clawdy to warm up against that winter chill. The menu is designed for sharing, so pick a few of your favourite dishes each and enjoy as you spend some quality time with one another.  
Commercial Bay 
Head to new bar, Liquorette | Commercial Bay, 1 Queen St
With the opening of the exciting Commercial Bay as a hub for nightlife, retail and dining, this naturally makes it a great place to consider when planning a date night. If you're wanting to try something new, Liquorette is inspired by the American bodegas of the 1970s, a fancy and warm cocktail bar that will shake up delightful concoctions. Look out for the "Cha-Chunker", a repurposed arbor press that makes the hole of any can able to fit in a mini bottle of alcohol, a quirky canned cocktail is the result. 
Aotea Arts Quarter 
Head to a movie at Academy Cinemas
Tucked away and down a flight of stairs, Academy Cinemas is a hidden gem of a theatre which shows new released and cult classics. On a Wednesday take advantage of the cinema's $5 movie nights for your next date destination. Grab a bit to eat first and then make yourself comfortable in the theatre with a glass of wine. 
Escape to an urban oasis at The Kimchi Project
After your film has finished, make your way down the road to The Kimchi Project to enjoy the beautiful courtyard setting adorned with lush greenery. Settle in and pick a few items from the Korean inspired menu, the Kimchi Waffle Fries are a must try and if you can fit it in, end the night on a sweet note by sharing the divine Lemon Mousse for dessert.
Have a laugh at The Classic Comedy and Bar 
If a film doesn't tickle your fancy, head along to a comedy gig at The Classic Comedy and Bar. The Classic seats 120 people in a cabaret style with a licensed bar offering a selection of beer, wine, spirits and non-alcoholic drinks. The venue boasts a regular programme of live comedy from Wednesday to Saturday, and in addition it regulalry hosts local bands, private functions and festival events. 
Catch an exhibition at the Auckland Art Gallery | Corner Kitchener and Wellesley St
If you're looking for a date that is both stimulating and educational, then a visit to the Auckland Art Gallery is a great option. Connect over creativity - Nathan Coley's A Place Beyond Belief is a practice of using readymade phrases to create resonance in public spaces. It will be in the gallery until November 2020.  
Federal Street
A date night is a great excuse to finally visit (or revisit) some of the amazing Al Brown eateries on Federal St. Experience some top class flavours, textures and presentation amongst an energetic, relaxed environment at Depot. To accompany a cheeky drink, order a selection of small plates to enjoy together, we highly recommend their great Oysters - they don't get fresher than the ones served here!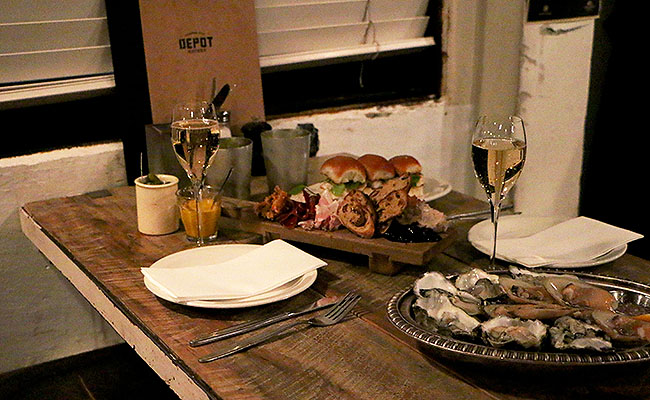 Just when you thought your night couldn't get any better, head next door to the Federal Delicatessen and sink your teeth into one of their famous dessert pies. Take your pick from Choc-Cherry, Banana & Toffee  and Lemon Meringue pie or opt for the '3-Way', where you're served all three.
Britomart
Known for its delicious and award winning eateries, Britomart is a prime date location that's sure to impress that special someone in your life.
Dinner at Cafe Hanoi
For dinner, grab a table at Cafe Hanoi, inspired by the streets of Vietnam, the atmosphere is casual, yet lively and the staff are very attentive and knowledgeable. To share with your date, we recommend the tiger prawn cutlets coated in young green rice, with a fiery house chilli sauce on the side.
Drinks at Talulah 
Follow dinner by heading into Talulah, an upbeat and modern take on a Tiki bar on Tyler Street, with a tiny rootop featuring fantastic views across Auckland harbour. With a fit out that depicts a stunning and almost mystical tropical scene, inside you'll find colourful murals and a funky bar counter with a multitude of exotic flowers captured in liquid glass. It's the perfect place for a cocktail if you're both into 'the night is young' mantra. 
Dessert at Milse
Make sure to leave enough room for a sweet treat, as just across the road is Milse, an intimate dessert bar serving a selection of decadent high-end delights. Order something from their ever-changing sit down menu to share, or pick a gelato stick to go and enjoy beneath the magical fairy lights.
Victoria Park 
Show off your newfound board game talents at Dice & Fork | 201 Victoria St W
Did you become a master in board games in your time during the COVID-19 lockdown? Verse your new date at Dice & Fork, a cosy board game cafe located right next to Victoria Park. With a vast array of exciting games to choose from, a delicious good menu and an apetising selection of drinks, Dice & Fork is a unique date idea that is both fun and relaxing. Cuddle up next to the fireplace and enjoy playing your choice of game, from Settler of Catan to Scrabble, and everything in between.
Last updated:
10 June 2020