There is so much to explore in our city centre, and what better way to do this than on foot! Stretch those legs and enjoy exploring and discovering your city centre by following our itinerary below. 
Start with Britomart's Pavilions 
Britomart is a picture-perfect city centre destination, even when the shops and restaurants aren't bustling with visitors. Wander through the Pavilions with its magical fairy lights and lovely spring blooms, or just take a seat and simply enjoy your surroundings. 
There's some pretty inspiring art to be found in the area too...
This five-storey high mural by Shane Cotton called Maunga, depicts 25 pots, each referring to a place or mountain in Aotearoa. Head along and check it out on the western wall of Excelsior House in Britomart. 
Then make your way to lower Queen Street via Galway Street
The picturesque Galway Street runs east-west from Takutai Square towards Queen Street, and is home to NZ's first 5 Green Star hotel, The Hotel Britomart. With its stunning architecture, little laneways and kerbside parking you could be mistaken for feeling like you have been transported to Europe.
Image credits: Sacha Stejko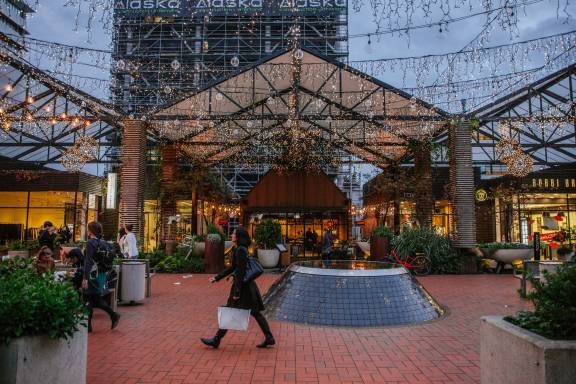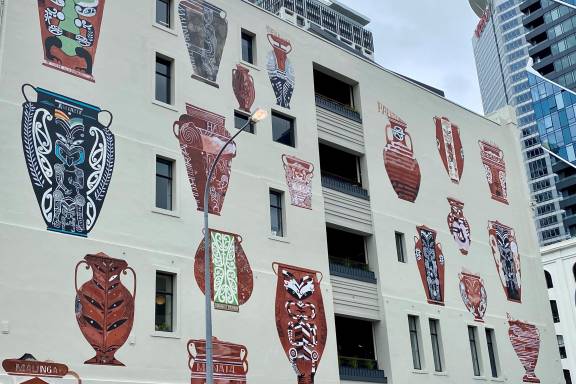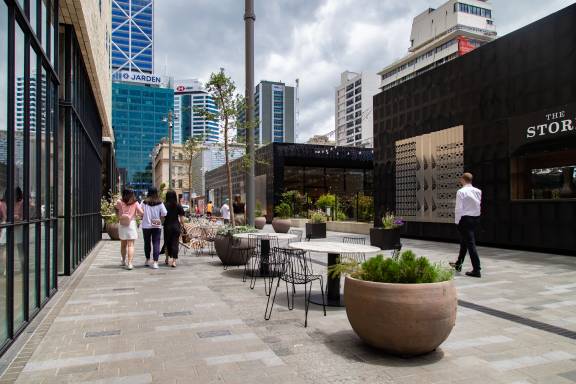 Britomart events
Make a stop at Te Komititanga
Take a second to check out the paving beneath your feet as you walk though Te Komititanga, which is both beautifully intricate and rich in meaning. Over 137,000 individual basalt pavers form a whāriki (welcome mat) that weave together the cultural and environmental heritage of the area, acknowledging the point where the Waitematā harbour and the Waihorotiu stream that runs beneath the Queen Street valley meet. This local history sits alongside the early-1900s heritage of Britomart Station and the stunning Commercial Bay. 
Take in the views of the harbour from Te Wānanga
Te Wānanga is a beautiful spot extending out over the harbour and is filled with native gardens and mature Pōhutukawa which makes it the perfect space to find some shade and relax during your walk. When peering down into the tidal pool apertures, you will be able to see a series of seeded mussel lines. These are here to monitor aquatic health and help filter the seawater in the ferry basin - pretty epic right?
Then check out The Viaduct's public waterfront structure
Take a walk along Te Mata Topaki. This pier-like installation extends 30 metres out from Waitematā Plaza promenade into the Viaduct Harbour water space. Take a moment to stop at the end of the pier and enjoy the incredible views of the glistening sea and yachts in the harbour. 
Image credits: Sacha Stejko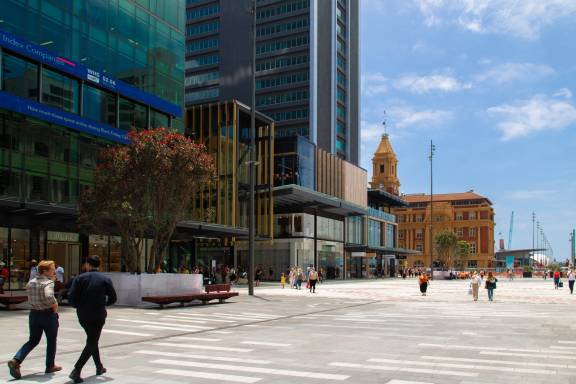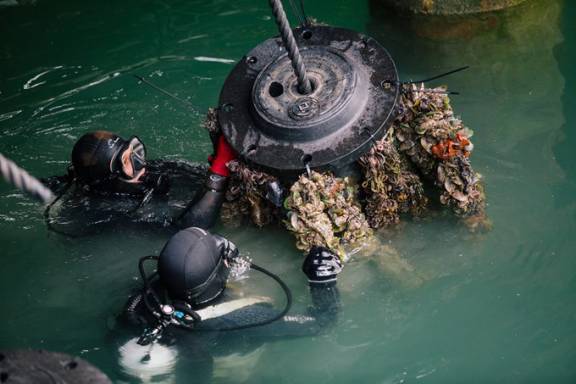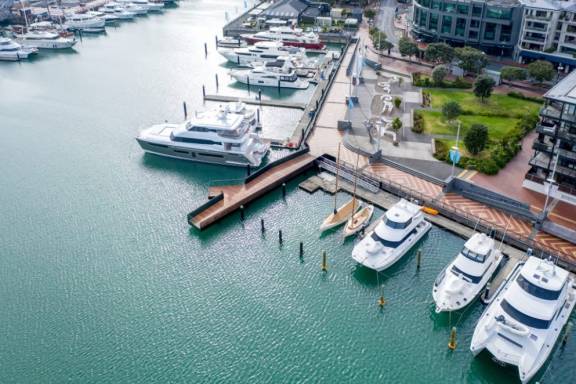 Dine waterside and take in the fresh sea air
Have you spotted this mural in Wynyard Quarter?
At 12 metres high and spanning 16 metres wide around Wynyard Quarter's pump station in Amey Daldy Park, the mural features 12 native birds to remind us of our roles as kaitiaki (guardians) of our natural environment. Each bird faces their respective habitats, be it moana (ocean), takutai (beach/shore) or pararau/repo/maunga (forest/swamp/mountains). This artwork was created by artists Janine and Charles Williams and is named 'Mai i ngā maunga ki te moana' (from the mountains to the sea). 
Or Silo Park playground?
During the spring/summer season, Silo Park plays host to more than 50 events, activations and exhibitions attracting people from all over Auckland. Take a walk up the gantry and get a view from above or just head up there on a nice night for fresh air and rug up for a view of the cityscape.
Image credits: Sacha Stejko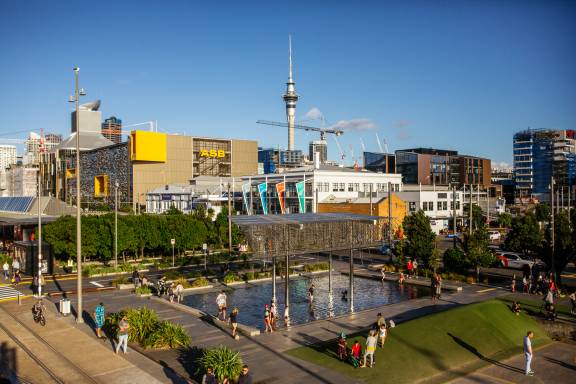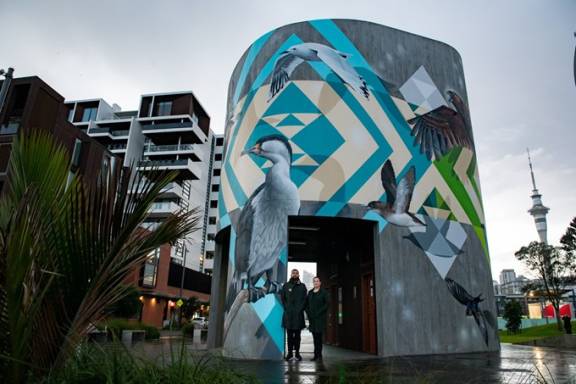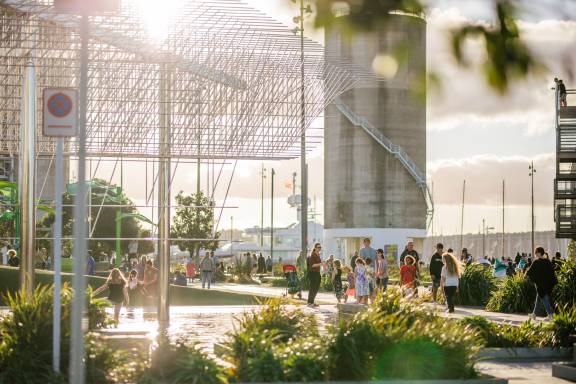 Best outdoor lunch spots in Wynyard
For the night owls, here are some beautiful places worth checking out at night:
Michael Parekowhai's The Lighthouse
You've probably heard of it already but if you haven't already checked it out, The Lighthouse is a public artwork by Michael Parekowhai that you can find at the end of Queens Wharf. There is a colourful light installation inside, as well as a big silver statue of James Cook. We highly recommend you go at the end of the day as the lights look incredible. 
Check out the fairy lights on Upper Vulcan Lane
This little lane off Queen Street is a lovely pedestrian street lined with cafes and restaurants.  Look up when walking your way up toward O'Connell Street, the fairy lights that are just outside Le Chef, are just beautiful at night!
Or enjoy the stunning view of Auckland's iconic Harbour Bridge 
Vector Lights on Auckland's iconic Harbour Bridge presents Celebrating Auckland. Enjoy a stunning light and sound show every Friday and Saturday night when Vector Lights isn't celebrating one of its iconic events, festivals and days of significance. Find more info here.
Images Supplied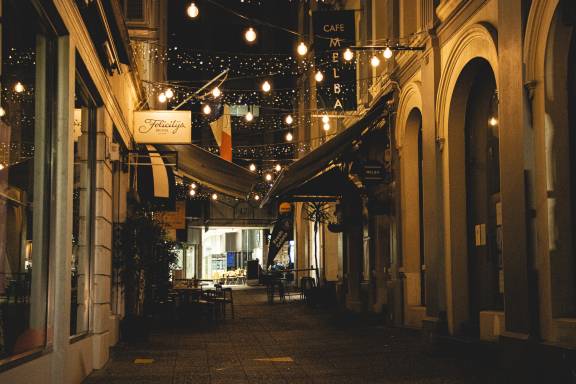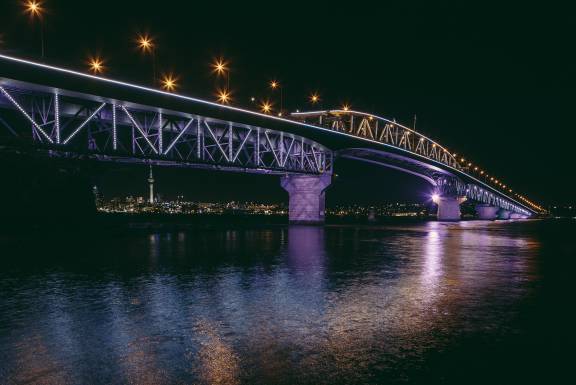 Dinner with a view
Last updated:
06 November 2023