Ladies and gents, something exciting has arrived on Imperial Lane - or to be more accurate, just underneath it. 
The Jefferson is first and foremost an exceptional whiskey bar, offering over 500 varieties of the refined amber liquid, with everything from old favourites like Jack Daniels to harder to find indie labels imported especially to this unique bar. But on top of this staggering selection of delicious drinks is a straightforward, mouthwatering menu highlighting sticky ribs and classic sides plus a well-stocked bar and cocktail list - so no fear if you're with friends who aren't craving whiskey on your night out.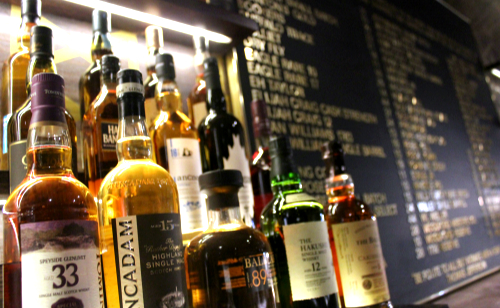 The look of The Jefferson comes from Paul Izzard, famed designer of chic central city spots such as Baduzzi and Scratch Bakers. Walking down the stairs into the stylish basement space, the aesthetic is straightforward and attractive. Izzard has effectively brought together the opulence of a 1920s speakeasy with polished industrial accents - such as concrete leaners and booths. 
The atmosphere of The Jefferson is a slight oxymoron - although it feels cosy and exclusive in a beautifully refurbished space, it never feels pretentious but welcoming. On our first visit we enjoyed the fact that there was a chance to have a conversation with the very knowledgeable bartenders - who were always ready with a recommendations and tastings. This attention to detail and insistence on quality (seen also in the exceptional menu - the owner is a former executive chef of multiple five star restaurants) is what sets The Jefferson apart from other specialty bars and ensures we'll be back for another taste. 
Park for $2 per hour at the Victoria St car park on evenings and weekends. Find out more.
Come into the city centre on public transport for as little as $2 each way. Find out more.
Last updated:
07 October 2020