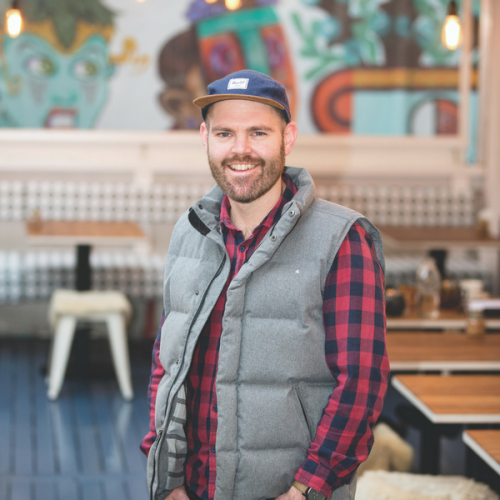 The faster the pace the better barista Scott McLean  likes it.
"I love the fast pace, the stress and doing it with a team," he says. "We give everything 100 per cent and when it gets tough is when I like it."
You could be forgiven for thinking McLean is talking about his favourite sport; actually he's talking about an obvious passion in his life - his work.
For over three years McLean has been the owner of Chuffed Coffee, one of downtown Auckland's best loved coffee houses tucked away down a corridor just along from the Canterbury Arcade in High St.
When he talks about a fast pace, he is not kidding. Every week he estimates Chuffed churns through 40kg of coffee, enough for up to 2000 cups or around 34 for every hour the café is open (that's more than one every two minutes).
He got used to an even faster pace during his years in Sydney where he owned and operated The Bunker, a small coffee shop in the inner-city suburb of Darlinghurst. Under his stewardship it became an iconic Sydney eatery and despite having just four tables, poured enough coffees to power through 60kg of beans each week.
Originally from Whangarei, McLean planned a career in marketing, gaining a diploma in the discipline from the Waikato Institute of Technology (Wintec) in Hamilton.
But in 2002 he moved to Australia where he fell in love with café culture and turned his back on marketing.
"Like a lot of Kiwis I went over there to have some fun. I got a job washing dishes in an Italian restaurant in Melbourne and just loved the whole scene," he says. "I later went to Sydney where I worked in cafes before opening The Bunker."
McLean and his wife have a five-year-old daughter and it was because they wanted to bring her up in a Kiwi environment they returned to New Zealand, soon after opening Chuffed Coffee. It quickly gained a reputation for hot and delicious coffee, great food (with an emphasis on free range and sustainable produce) and a relaxed, fun environment.
"The name embodies what we are all about," says McLean. "We want people to come here and have fun and the best thing for me is when they go away happy."
Not content to sit on his laurels, McLean is upping the game at Chuffed, getting back to the 'stress' he likes to challenge himself with. He started with a facelift - new tables, new fabrics, more comfort - but is planning to introduce craft beers and extend his hours (Chuffed currently closes at 4pm each day).
"I went back to Sydney two months ago and saw the levels they are at now. They're going hammer and tongs and I'm pushing our team here to do new things."
Beer taps have been installed and from September McLean plans to open on Thursday, Friday and Saturday evenings: "We will play this by ear for a start but I have a great team here, one I can rely on."
# Chuffed is at 43 High St and is open weekdays 7am – 4pm and weekends 9am- 4pm. It has both indoor and outdoor seating, is available to hire for events (up to 40 people seated or up to 50 standing) and offers a catering service for groups of up to 50.
- This article was originally published in Viva
Last updated:
07 February 2019