Not sure how you're going to keep the kids entertained these school holidays? Whether it be a new place to eat, a thrilling adventure, some fun games or experiencing the city centre's galleries and museums, we've got plenty of ideas on what to do over the April school holidays.
Events and activities
Explore 
New Zealand Maritime Museum | Corner Quay and Hobson Streets
Interactive and immersive, this museum is a great place for young and the young at heart to explore our nation's maritime history. Try your hand at yacht design, relax in the bach, hoist the sails, hear the cannon fire, test your sea legs and batten down the hatches in the rocking cabin. While you're here, check out the "I Am Island And Sea" exhibition that is on now until May 1, 2022. The exhibition explores the past, present and future of Tīkapa Moana Hauraki Gulf and beyond with exhibits inspiring you to help protect the mauri (life force or essence) and health of our nation. 
Auckland Art Gallery | Corner Kitchener and Wellesley Streets
Grab a fun take home activity pack for you and your tamariki to get crafty together with at home! Just see the friendly team at the front desk to collect one. The Auckland Art Gallery also has an incredible learning centre that provides families with great resources for learning and visits related to the exhibitions which come to the gallery. 
 
Fun things to do
Check out the Rainbow Machine in Aotea Square
Wow! There's a rainbow making machine in Aotea Square! As autumn weather arrives and light in the sky changes, it's the perfect time to make rainbows appear before your very eyes! To create this awesome experience, artists, architects and scientists got together and built a Rainbow Machine.
Te Wānanga and its Kōrimurimu nets
Te Wānanga is a gorgeous people friendly space for all to enjoy.⁠ This public space extends out over the harbour and is filled with native gardens and mature pōhutukawa. The kids will love sitting in the unique woven Kōrimurimu nets, or peer into the tidal pool apertures where living shellfish filter the seawater.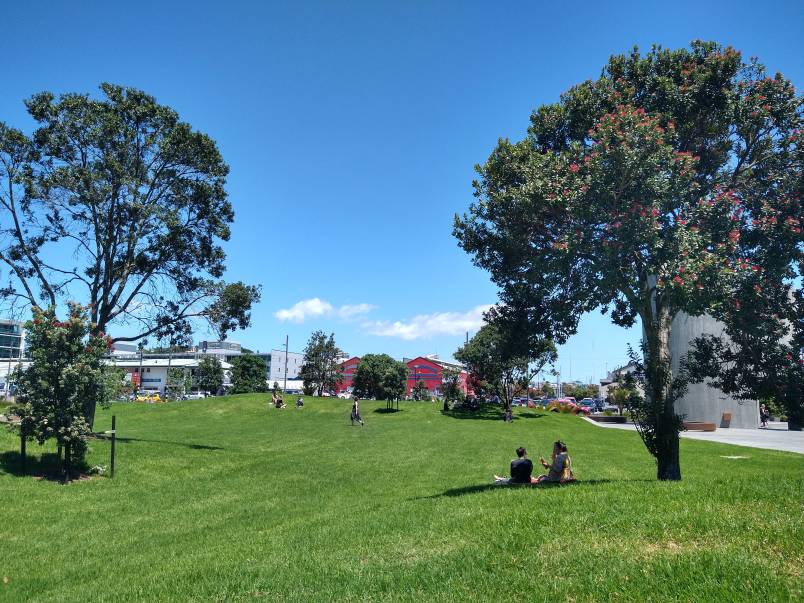 Grab fish & chips and enjoy the new green spaces at Amey Daldy Park in Wynyard Quarter
Pack a picnic blanket, pick up some fish & chips from the Auckland Fish Market and head to Amey Daldy Park - a pocket park included along the Daldy Street green connection between Victoria Park and the waterfront. It's home to 12 Pohutukawa trees and makes for the perfect place for a picnic with the whole family.
Burn some energy down at Silo Park
Silo Park  | Corner of Jellicoe Street and Beaumont Street
Silo Park offers striking views across to Westhaven Marina and lots of things to do for the kids. Enjoy the beautiful playground, play basketball or go superyatch spotting. You simply can't beat Silo Park on a beautiful sunny day. 
Check out the new Silo Park Playline
A new play area now runs alongside Silo Park's southern edge. The pipes and fittings salvaged from the Bulk Storage Terminal (BST) tanks of the old working Wynyard Wharf have been transformed into bespoke, interactive play equipment. Each pipe holds its own adventure, and adventurers of all ages will have heaps of fun getting stuck in and seeing what they discover.
Some of our favourite features include the Liquid pipe where you can take turns using the leaver to move liquid between the tanks as the pipes light up! The Talking tube that will have you speaking into one end to a friend on the other, the Misting controller that cools you down on these hot summer days, and the double swing set which will have you swinging high above Silo Park! 
Or go on a bike ride
Get moving with a bike ride along the waterfront. Take a ride along our stunning waterfront starting from Silo Park, crossing Te Wero bridge, looping through Princes Wharf and continuing along Quay Street. if you don't have a bike you can hire one at Power to the Pedal.
And don't forget to stop for an ice cream
What kid doesn't love ice cream?! There are many ice cream shops in the city centre serving delicious gelato. Some of our favourites includes Little Lato, Melt or Island Gelato to name just a few. See our round up of all the great ice cream and gelato spots in the city centre, here.
Attractions & Activities
Last updated:
13 April 2022