From dumplings to pies, pizzas, cheese platters, as well as delicious sweet treats, check out our food ideas that are perfect for popping in your basket at your next outdoor gathering. 
Afternoon Tea Boxes, $55 Per Person | Park Hyatt Auckland
Upgrade your Level 3 picnics with Park Hyatt Auckland's delicious Afternoon Tea Boxes! For $55, the Afternoon Tea Picnic includes a combination of five sweet and five savoury treats per person. There are different options available either for single or multiple people, as well as indulging packages including a bottle of Billecart-Salmon Champagne to enjoy with your bubble. Order online here.
Cassia BBQ Kit, $170 | Cassia
Fire up the BBQs with the Cassia BBQ kit. Included in this mouth-watering kit: 12 legendary Goan lamb chops, 8 chicken tikka sliders, 1kg of pork and jalapeno sausages, Kolhapuri style beef biryani … kit comes with accompaniments including smoked yoghurt, coriander chutney, roomali rotis (thinner version of a traditional roti) and assorted pickles. For smaller gatherings the Goan Lamb chops are available in packs of six for $30 (incl smoked yoghurt). Order online here.
Special takeaway package, $49 | East
East special takeaway package offers a selection of its popular dishes ideal for 1-2 people or 3-4 people. The $49 package includes: 1 x 'Salads / Vegetables', 1 x 'East Plates', 1 x Jasmine Rice and 1 x Karma Soft Drink. The $99 package includes: 1 x 'Smaller Plates', 1 x 'Salads / Vegetables', 1 x 'Rice / Noodles', 1 x 'East Plates', 1 x Jasmine Rice, 1 x Kaffir Lime & Lemongrass Crème Caramel and 2 x Karma Soft Drink. Order online here. 
Baduzzi Picnic Box, $85 | Baduzzi
Enjoy a "Baduzzi style" meal with your bubble to take with you to the beach or to the park when you are catching up with friends and family.  All ready to go. Serves 2 people.
(If you are feeding 3 people, we suggest ordering two boxes to have more sharing options). The picnic box includes: homemade focaccia, marinated Sicilian olives, Baduzzi pickles, wood fired eggplant caviar, fish pate, rocket, parmesan & fig salad, polenta fries with Cipriani mayo, slow braised lamb meatballs and Napoletana sauce, parmesan & salsa verde with flatbread, vegetarian polpette with béchamel, truffle pecorino, fresh herbs & flatbread, tiramisu and yogurt pannacotta with berry coulis & pecan. Order online here.
The Garden Box, $125 | Ahi
Featuring ingredients from a selection of Ahi's favourite food suppliers, including its very own Ahi Kitchen Garden. The Garden Box is prepared by Ahi's chefs for you to assemble at home with minimal effort. You can choose between the veggie lasagne or te mana lamb. Order online here. 
Basque Chicken Pie, $33 | Scarecrow 
This free range chicken pie from Scarecrow tastes as delicious as it looks! Slow cooked in a rich tomato ragout, this pie is perfect to feed a group of up to 10! Just reheat before placing it in your picnic basket and enjoy. Order online here. 
Mezze, $16 | Ima Cuisine
Ima's mezze includes a selection of vegetarian & Middle Eastern delights such as hummus, baba ganoush, labaneh, tabuleh, pumpkin dip, beetroot dip, pickles olives and fresh pita - a fresh and delicious choice to pick up on the way! Order online here.
Assorted sushi platter, $39 | Ebisu
Not really a cheese or charcuterie fan? Forget the usual cheese platter and try a sushi platter instead. This platter from Ebisu includes: nigiri – tuna 3pc, salmon 3pc, prawn 3pc roll – ebi mayo 4pc, soft shell crab 5pc and teriyaki chicken 4pc. Order online here. 
Tsingtao spicy pulled pork dumplings, 6pcs, $13.50 | The Rolling Pin
Great for any picnic, these dumplings from The Rolling Pin are made with slow-cooked pork with Tsingtao beer, Sichuan fermented broad bean chilli paste and cabbage. Order online here.  
Pizza by the meter | Pizza Presto
Pizza Presto is here to cure your authentic Italian pizza cravings and is a perfect option to bring along to your next outdoor gathering, I mean who doesn't love pizza! Their pizzas come in individual sizes or a whole metre long to share. They can even do contactless delivery to a park near you. Order online here. 
Fresh oysters $4 each or $40 for a dozen | BillyPot
A picnic basket wouldn't be complete without oysters and you can get them fresh from the source at BillyPot in Auckland Fish Market. Served with just a wedge of lemon on the side it will be a fresh addition to your picnic spread. Orders can be placed by texting 0210440494.
Cheese platters | Whitestone Cheese Bar
Don't know where to start and how to make the perfect cheese platter? Don't worry Whitestone Cheese Bar has you sorted! Let the pros do all the work for you with a beautiful and delicious takeaway cheese platter that is ready to go. It couldn't be easier (or tastier!)
Donuts, $6 each| Daily Bread
These cream-filled with raspberry and rhubarb donuts or dulche de leche filling will be perfect to end your picnic day on a sweet and delicious note! Order online here.
Don't forget the drinks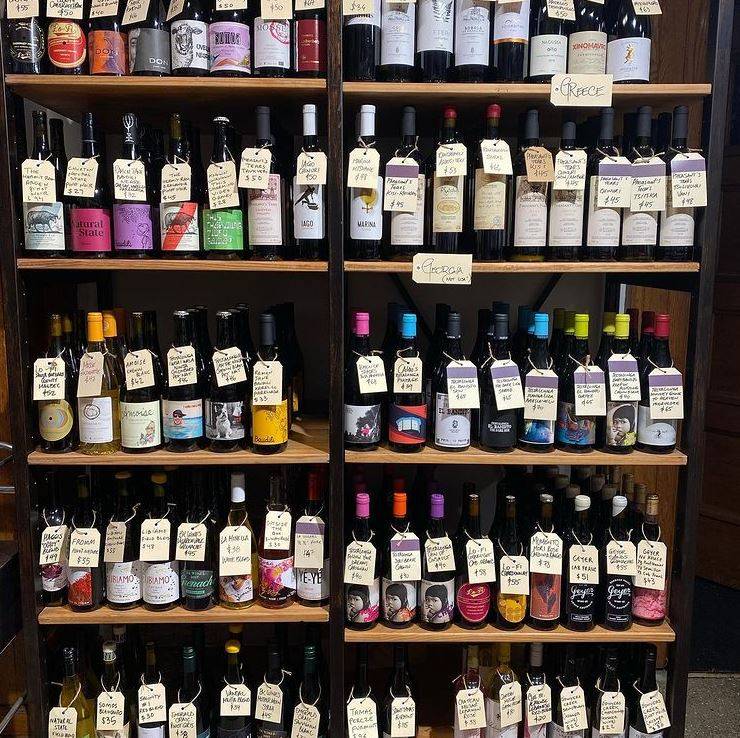 Wine selection | Cahn's Wines & Spirits
Put together a delicious charcuterie board, and pair it with one of the great drops from Cahn's Wines & Spirits. Their offering is extensive, with every variety under the sun available its hard to go past their natural wine selection. Scroll through the varieties, and make an online order, here. 
Vacci-Mater Lager, $19 | Good George
Nothing's better than a cold beer on a sunny day. Good George has you covered with a wide range of delicious brews, including a range of new releases that are a must try! Order online here.
Last updated:
07 October 2021