Barista cats has permanently closed. 
Attention cat lovers, nestled down an alleyway off Queen Street is Central Auckland's very own cat café. When you head off to get your daily caffeine fix why not pop in and say hi to Banksy – the resident Ginger Lion who you'll find sitting in his very own couch or get to know Lady Mary Clawley, the blue eyed snow queen who lives up to her name.  If that's not enough, there are 12 other cats who roam about Barista Cats Café that you can meet for yourself.
Barista Cats Café is a one-of-kind café that houses 14 cats whom have been rescued from shelters - some of whom have special needs. If you're a cat lover from way back this is the perfect spot in the city to relax during your lunch break in a stress free environment and forget about the hustle & bustle and throw a ball around with the likes of Woody, the handsome and curious little tabby.
Entry for the café is $15, which goes towards the operations of the facility and the regular health checks for the cats with their resident vet who comes in every month to make sure they are healthy, and well looked after. The entry fee allows you an hours access to the cafe. However please note that no outside cats are allowed into the café – so you will have to leave your own feline at home, but don't worry, they won't know you're patting some other cat during your lunch break.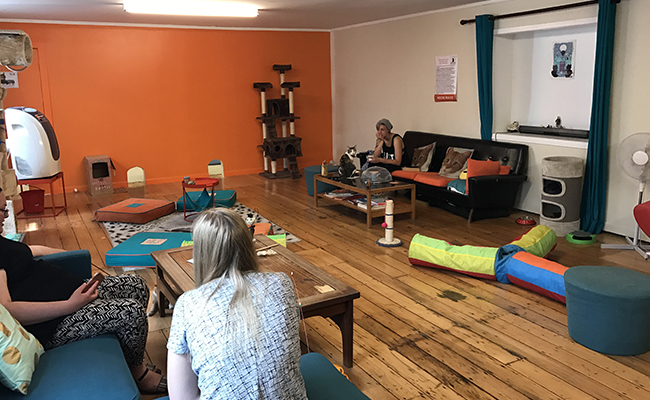 Now running around after Bandit & Tonks, the resident twins, can work up an appetite, so I would suggest digging into the delicious Kitty Cup Cake for $5.50 and which you can wash down with a nice ice cold Tropical smoothie for $6.00. Although don't be fooled by Bandit and his curious manner, he is also a fan of the Kitty Cup Cake as I found out. 
Also on the menu you'll find a selections of coffees, teas and frappes as well as their scrumptious selection of toasted bagels. But who needs to fill up their stomachs when you can fill up your heart with some of the cutest little creatures right in the heart of the city.
Last updated:
29 September 2020