Grabbing yourself a great lunch in a big city, while also being budget-conscious can often be quite a challenge. Striking the sweet balance between quantity, quality and price can seem like an unlikely feat, especially when work is calling you back to your desk. Luckily, tucked away in laneways and side streets are an array of restaurants and cafés with some of the best cheap eats Auckland has to offer. Confidently jump into the lunchtime rush with our list of the city centres best lunch options under $13.
All Baguettes, $12.90 | Baguette & Co, 188 Quay Street
Conveniently located on Level 1 of the HSBC Tower, this warm and inviting sun drenched sandwich bar is the number one stop for delicious healthy gourmet takeaway. We're loving the Piaf (Champagne ham, Brie Coeur De Lion & fig paste).
Madam Mi, $10.50 | Hello Mister, 5B Hardinge Street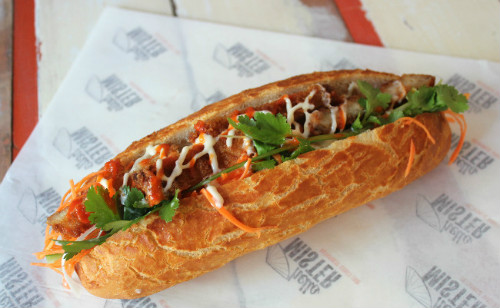 Hello Mister offers quick, delicious and healthy Vietnamese street food perfect for tasty lunches on the go. We recommend you to try the Lemongrass Chicken Madam Mi. It's delicious!
Tofu rice paper rolls, $10.50 | District 5, 28 Shortland Street
The food philosophy behind District 5 is simple - unbelievably fresh, flavourful and affordable Vietnamese street food that instantly transports you to the streets of Ho Chi Minh with a single bite. Try it out when you feel like something tasty and deliciously fresh!
Daily takeaway pasta, $12.90 | Needo, Commercial Bay
Needo offers hearty and generous portions of handcrafted pasta made fresh daily, topped with your choice of sauce. We're loving their basil pesto pasta with fresh basil, olive oil, nuts and parmesan.
Dumplings, $12 | Kai Eatery, 1 Rutland St and Commercial Bay
Conveniently located on the corner of Rutland and Lorne Streets only a few steps from the Aotea Centre, Kai Eatery is an inexpensive way to experience traditional Taiwaenese street food in Auckland's city centre. We recommend the pork & cabbage or pork, prawn & chive dumplings which are a very satisfying lunchtime bite that won't break the bank.
Savoury pancakes, $7 | No.1 Pancake, Corner of Lorne Street & Wellesley Street
Right on the corner of Wellesley and Lorne Streets in the city centre is No.1 Pancake.With flavours including beef, chicken, ham or vege, all with gooey cheese, or chocolate or cinnamon sweet pancakes - these crispy fried treats are just the thing to fill a hole in your belly without leaving a hole in your wallet! We particularly love the potato & cheese pancake which made it to the Top 100 Iconic Auckland Eats.
Tacos, $3.50 each | Mr Taco, 64A Federal Street
If you want to tried authentic street food from Mexico, look no further. Located just steps away from the Sky Tower, Mr. Taco is the best and most authentic Taco shop/Taqueria in Auckland. Make sure to try their jackfruit taco - delicious!
Bao Belly Bao, $9 | Bao Baby Bao, 41 Elliott Street
Nestled in the heart of Elliott Stables, Bao Baby Bao serves up delicious Asian Fusion fare that will take you to the streets of Philadelphia via the Shanghai express. We're loving the Bao Belly Bao (slow roasted pork belly, hoisin glaze, fresh coriander, crushed peanuts and crackle).
10 inch pizza, $10 | Mr Murdoch's, 16 Fort Street
Mr Murdoch's serves $10 pizzas everyday from 11.30 to 3pm as part as their express lunch menu. You can choose between mushroom (V), buffalo chicken or meat lovers pizza.
White Rabbit Bagel, $12.90 | Best Ugly Bagels, City Works Depot and Commercial Bay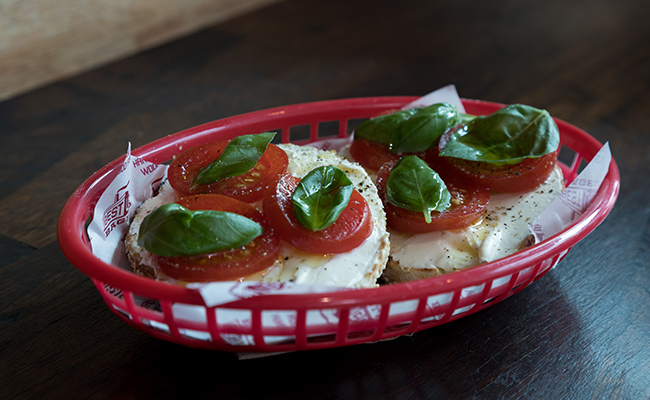 Best Ugly Bagels are a hero of lunchtime bites in the city, providing customers with delicious healthy, authentic Montreal style bagels and topping combinations that have proven to be unmatched in quality and convenience. The White Rabbit is a classic savoury bagel which will leave you feeling light and refreshed. Zany Zeus cream cheese is spread across each half, then they're layered with tomato, basil and a drizzle of lemon fennel olive oil. 
Matzo Ball Soup, $10 (starter) | Federal Delicatessen, 86 Federal St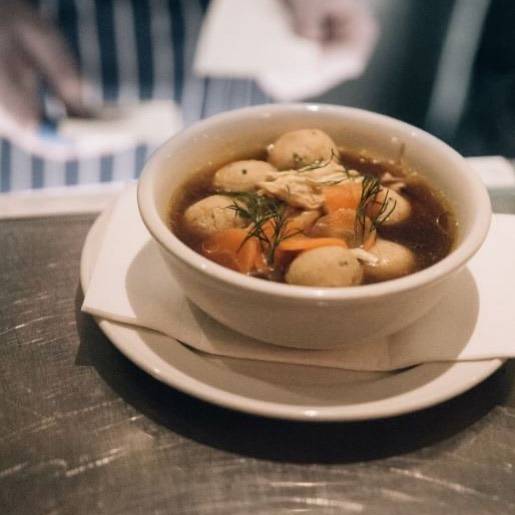 Federal Delicatessen is the closest thing we have to a New York City deli in Auckland, complete with bottomless filter coffee and vinyl booths. The Matzo Ball soup is known as a classic soup that is made up of shredded chicken and bagel dumplings, also known as Jewish Penicillin. As the Fed Deli team say themselves, "your body will thank you"!
12 pcs dumplings, $10 | Panda, 125 Queen Street - Queen's Rise
Located in Queen's Rise, Panda is known for their hand-made fresh noodle and buns, dumplings and rice. Make sure to try their the pork cabbage dumplings. These are delicious!
Last updated:
21 June 2021