Grabbing yourself a great lunch in a big city, while also being budget-conscious can often be quite a challenge. Striking the sweet balance between quantity, quality and price can seem like an unlikely feat, especially when work is calling you back to your desk. Luckily, tucked away in laneways and side streets are an array of restaurants and cafés with some of the best cheap eats Auckland has to offer. Confidently jump into the lunchtime rush with our list of the city centres best lunch options under $13.
A selection of fresh sandwiches and wraps, $8.50 | Little Melba Espresso Bar, 151 Queen Street
We're loving Little Melba's daily wraps and sandwiches. Try their delicious and fresh vege wrap made with beautiful fresh avocado, halloumi and their homemade melba sauce for $8.50 only. They also have a mouthwatering chicken baguette that is definitely worth a try.
Soup and sourdough $10 | The Good Life Juice Co,  47 Fort St
A pottle of hot homemade style soup from The Good Life Juice Co. might be just what you need to get through a chilly day in Auckland central. Pictured are the broccoli bean cheddar, pumpkin, and parmesan and red lentil soups. These 3 soups + the chicken noodle soup are available every day in-store - add a slice of freshly made sourdough ($1) with a lick of lightly salted butter for a nice heart warming, wintery treat!
Jar's Caesar Salad, $12.95 | Jar Story, Queen's Rise, Level 1, 125 Queen Street
For a light but energizing lunch, we recommend you to try one of the salads from Jar Story brought to you in adorable reusable jars. Our favourite is the Jar's Caesar Salad with croutons, free-range chicken, bacon, baby cos lettuce, boiled egg, parmesan cheese, anchovy mayo dressing. 
White Rabbit Bagel, $10.90 | Best Ugly Bagels, City Works Depot and Commercial Bay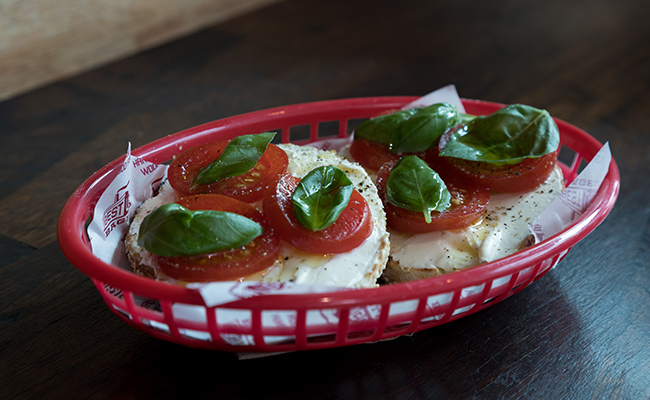 Best Ugly Bagels are a hero of lunchtime bites in the city, providing customers with delicious healthy, authentic Montreal style bagels and topping combinations that have proven to be unmatched in quality and convenience. The White Rabbit is a classic savoury bagel which will leave you feeling light and refreshed. Zany Zeus cream cheese is spread across each half, then they're layered with tomato, basil and a drizzle of lemon fennel olive oil. 
Filet Mignon Pie and Fries, $12 | Tony's Steakhouse, 27 Wellesley Street
One of the most popular steak dishes from Tony' Steakhouse is now served as a tasty homemade pie. Available for takeaway, this homemade pie is filled with chunks of scotch fillet steak, streaky bacon and creamy mushroom and served with fries too. Why not pay a visit to Auckland's original steakhouse to try out this popular lunch dish for only $12!
Daily takeaway pasta, $11.90 | Needo, Elliott Street and Commercial Bay
Needo is a food stand on Elliott Street offers hearty and generous portions of handcrafted pasta made fresh daily, topped with your choice of sauce. We're loving their classic Carbonara pasta with extra parmesan cheese. 
Dumplings, $12 | Kai Eatery, 1 Rutland St and Commercial Bay
Conveniently located on the corner of Rutland and Lorne Streets only a few steps from the Aotea Centre, Kai Eatery is an inexpensive way to experience traditional Taiwaenese street food in Auckland's city centre. We recommend the pork & cabbage or pork, prawn & chive dumplings which are a very satisfying lunchtime bite that won't break the bank.
$12 lunch deal on Mondays and Tuesdays | Elliott Stables 
No lunch? No worries! Come down to one of our favourite dining destinations - Elliott Stables - for lunch! Enjoy their special $12 lunch deal on Mondays and Tuesdays from 12pm - 2pm. Elliott Stables is a great place to meet with friends, family or colleagues to enjoy a delicious meal that's kind on your wallet too. 
Here are the delicious dishes that you can try as part of their lunch offer:
Bao Baby Bao - Bao served with Chunky Chips
Your choice of Angry Bird or Pork Belly Bao served with chips and a can of soft drink.

Bonz Cajun Kitchen - Crispy Chicken Wrap
Served with lettuce, tomato and your choice of aioli, BBQ ranch or buffalo sauce and can of soft drink.
Big Little Grill - Grilled Chicken Breasts
Grilled chicken breast served with rice and a side salad.

De' Niro - Spaghetti Bolognese
Made to a traditional Italian recipe.

Reslau - Avocado Smash with Goats Cheese
On toasted Ciabatta with mint and chili EV oil served with a coffee.

Wedge Smoothie & Juice Bar - Savoury Pie with Fresh Juice or Soup
Your choice of pie served with a fresh juice or hot soup.

Besos Latinos - Soft-shell Tacos
Two soft shell tacos served with your choice of chicken or veggies.

Burg'z Burgers - Crispy Chook or Beef Burger
Grab a hearty burger made to order, topped with sauces and fresh greens served with shoestring fries.

Samurai Sushi - Teriyaki Chicken Donburi
Always a crowd pleaser.

Ela Cuisine - Chicken or Beef Curry
Chicken or beef lunch portion curry served with rice and salad.

HomeCooked Filipino - Pork Adobo
Pork stew - slow cooked pork in vinegar, garlic, bay leaves with peppercorns and soy sauce served with rice.
Seafood Kitchen - Calamari or Crumbed Fish & Chips
Your choice of calamari or crumbed fish & chips served with a salad.
$12.50 Lunch Special | Chawla's Indian Restaurant, 21A Wellesley Street West
Located on Wellesley Street, Chawlas Indian Restaurant is ready to delight you with spectacular Indian flavours. Indulge in their unique Indian traditional and modern cuisine with their $12.50 lunch special on all curries. Our favourite is the Chicken Tikka Masala. All the curries are served with rice, naan and a glass of soft drink.
12 Dumplings for $10 | Panda Town, Queen's Rise, Level 1, 125 Queen Street
Located in the bustling Queen's Rise hub,  Panda welcomes you with dim sum and dumplings that are almost too cute to eat. Try the Pork, shrimp & egg or the seasonal vege dumplings. They are really tasty!
Last updated:
01 July 2020