Discover a new favorite breakfast, lunchtime or dinner spot in the city as you work your way through our list. From tasty green curry to vegan ice cream, the city centre has got your vegan and vegetarian fix sorted from breakfast right the way through to dessert.
Breakfast
Remedy Coffee | 1 Wellesley Street West
With great coffee and delicious food on offer, Remedy Coffee on Wellesley Street West is a friendly little café where you can enjoy a delicious vegetarian and vegan breakfast.
Vegetarian: Breakfast burrito with spinach, salsa, egg, cheddar, jalapeños and homemade refried beans ($14)
Vegan: Hummus bagel with homemade hummus, jalapeños, sundried tomato and greens ($13).
Raw Power Cafe | 10 Vulcan Lane
Raw Power Café specializes in vegetarian cuisine. They serve healthy food from breakfast to lunch, from self-service salads to hot meals and juice. We recommend that you try the scrambled tofu served with grilled tomato, celery, mushrooms, spring onions on five-grain toast ($13.90).
Misters | G/12 Wyndham St
Misters is your go-to allergy friendly restaurant in the city centre. Proud to be 100% dairy and gluten free, Misters is committed to providing high quality meals which give you the energy you need to sustain a healthy lifestyle. We love the tropical bowl with organic almond crumble, organic coyo coconut yoghurt, organic mango, banana, kiwi and passion fruit ($15.90). Perfect to keep you going until lunch.
Lunch

Juke Joint | 7/21 Queen Street, Commercial Bay
Juke Joint's pulled jackfruit sandwiches are just so flavoursome and delicious ($13). Served with slaw, pickles and spicy sauce, we recommend that you get their jalapeno poppers on the side - crumbled jalapenos stuffed with cream cheese, mozzarella and parmesan served with a southern ranch dipping sauce ($14) - they are just divine. Yummy lunch guaranteed!
Revive Vegan Cafe | 33 Lorne St
Revive have been serving up delicious vegan food for over 10 years. With meals changing daily Revive is a haven for those craving a satisfying vegan lunchtime meal. Try their hotpot, a tofu Indian korma or African vegetable curry with broccoli & chickpeas both served with brown jasmine rice. Or treat yourself to a refreshing smoothie and a orange & cacao slice.
Prices: Small $9.00 (hot) | Regular $13.00 (hot + 1 salad) | Large $15.00 (hot + 2 salads)).
Lord of the Fries | Shop 10, Snickle Lane, 18 Commerce St
Lord of the Fries is the vegan answer to the classic burger joint where almost every traditional meat option is flipped on its head and presented as a tasty vegan alternative to the otherwise off-limits area of many fast food menus. This unique restaurant has become one of Auckland's favorite quick bites among both vegans and non-vegans alike. 
Vegan for Longevity and Health | 43 Chancery St
This modest takeaway vegan restaurant is focused on rejuvenating the health of the planet one meal at a time. Offering combination meals of vegan curries and steamed or stir fried vegetables this is a great lunch time option for those with a busy schedule. Choose between four different combos, with prices varying from $9.99 to $16.99.
Wise Boys | 7/21 Queen Street, Commercial Bay
With a menu that is 100% vegan, these burgers from Wise Boys have become renowned for satisfying even the most ardent carnivores. Try the Crispy Fried Chick made with Wise Boys original recipe crispy fried 'chicken' with a tangy slaw, cheese, pickles, their signature aioli and housemade sriracha mayo (pictured as above, $15). 
Dinner
Cassia | 5 Fort Ln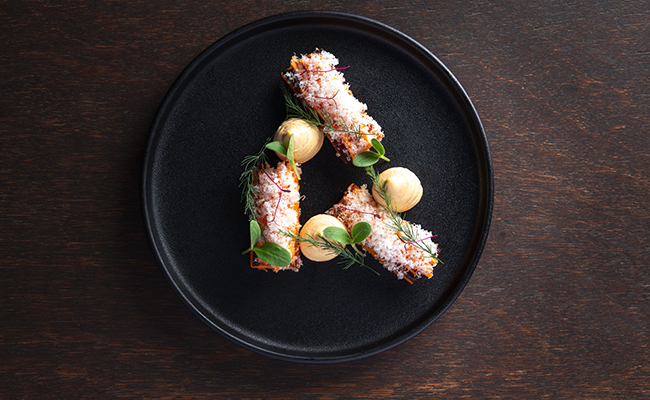 Cassia is a modern take on a classic Indian restaurant, offering an elegant dining experience. Their menu covers a wide variety of specialty culinary skills including exceptional vegetarian options. Try their roasted carrot dish, with vindaloo cream, macadamia masala and coconut for $22.
Ima Cuisine | 53 Fort Street
For a taste of Eastern-Mediterranean delights, Ima Cuisine won't disappoint. Taking a seat in this eatery you will immediately be transfixed by the evocative smells from the kitchen. Share a Classic Ima Mezze platter with your friends - fresh pita, falafel, hummus, baba ganoush, labneh, matbucha, tabouleh, pickles and olives ($15 per head). And don't forget to try a Vegan Muhallebi (almond & coconut custard with a cherry drizzle ($8) for dessert.
iVillage at Victoria | 210-218 Victoria Street West
iVillage at Victoria is nestled in the Victoria Park Market block and is the perfect place to spice up a long evening out. We recommend that you try the Dhal Maharani - slow cooked makhani dhal finished with light cream and select spices ($24). This dish is an international favourite!
Dessert
Giapo | 12 Gore St
Everyone's favorite specialty ice cream shop Giapo doesn't miss a beat when it comes to creating a journey told through ice cream. Their menu features many fun vegan and dairy-free options, because they believe that vegan is as good as the real thing, or better. The handmade waffle cones are vegan as well as the sourdough donuts. The chocolate sculptures, the squid and the selfie cones are vegan as well. 99% of all their creations are now vegan. How about trying the donut one as pictured above or the selfie cones for $23?
Tart Bakery | 7/21 Queen Street, Commercial Bay
 Tart Bakery, a 100% plant based, NZ owned vegan bakery is a paradise among plant-based foodies. Indulge yourself in some mouth-watering pastries before and after lunch or dinner and even for breakfast!
Last updated:
27 October 2020