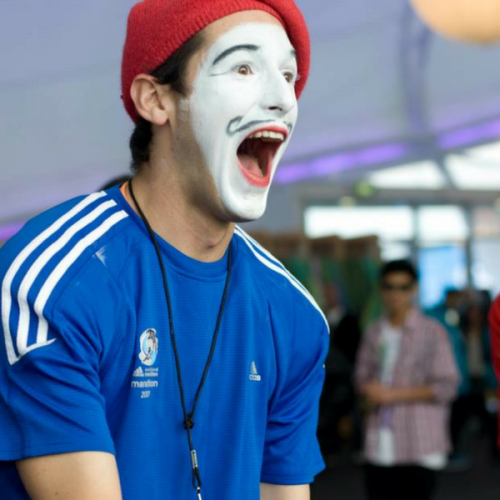 The World Masters Games 2017 has grown into the largest participatory multi-sport event in the world and is being hosted for the first time in Auckland. But it's not all about competitions and sports. The Games' social is heart down at the Entertainment hub located at Queens Wharf.
Across the 10-day festival of sport, the Entertainment Hub will come alive with fantastic fun for both participants and the public. You can engage with local artists, watch cultural performances, enjoy great food and beverage options, then settle in to watch live talks, comedy and music performances. 
With so many offerings at the Entertainment Hub, we've rounded up favourite highlights for you. 
Shed 10
Shed 10 is at the heart of the Entertainment Hub. It's a one-stop shop for the best of New Zealand's food and beverage, daily music and comedy performances and a wrap up of the Games each night.
Toi Ora – a Living Gallery
At The Cloud
Experience and engage with traditional and contemporary Maori arts and culture by prominent Maori artists and performers from Auckland and beyond. 
NZ Dance Company Workshops
Monday 24 – Saturday 29 April, 10am at The Cloud
Immerse yourself in contemporary dance at one of the free movement workshops with the NZ Dance Company – one of the leading dance companies in Aotearoa.
Comedy at the Hub
Monday 24 – Wednesday 26 April, 7.30pm at Shed 10
Shed 10 is showcasing a stellar line-up of local and international comedians from the upcoming International Comedy Festival.
Move Ya Body with Tempo Dance Festival
Monday 24 April, 5pm at The Cloud
Get your groove on at a free dance class with NZ's own international dance sensation Gandalf Archer Mills and NZ's premier DJ Aroha.
Will Crummer and the Rarotongans
Friday 29 April, 7.30pm, at Shed 10
Will Crummer, a dynamic master singer and entertainer originally from Rarotonga, is bringing the vibrancy and rhythm of the Cook Islands to the Entertainment Hub.
DJ's
Saturday 22 – Sunday 30 April, 9pm 'till late at Shed 10 and The Cloud
Auckland's top DJ's, including Dick Johnson and DJ Belleville, will liven up the nights at the Entertainment Hub with their explosive sets. 
Superhero Second Line
Saturday 22 April, 7.30pm at Shed 10
The superhero-clad 8-piece band will perform a mix of the familiar sounds of the traditional New Orleans brass band and modern pop and classic blues.
Hipstamatics
Saturday 29 April, 8pm at The Cloud
This dynamic 11-piece soul band will get you grooving with their unique take on classic 70's funk artists.
Global Beats
Saturday 29 April, 12.30pm 'till late at Shed 10
Shed 10 goes global with musical flavours from all over the world. An eclectic mix will bring together punky jazz flutes, Raag time, afrobeat rhythms and more.
Last updated:
05 September 2017