Grabbing yourself a great lunch in a big city while also being budget-conscious can often be quite a challenge. Striking the sweet balance between quantity, quality and price can seem like an unlikely feat, especially when work is calling you back to your desk. Luckily, tucked away in laneways and side streets are an array of restaurants and cafés with some of the best cheap eats Auckland has to offer. Confidently jump into the lunchtime rush with our list of the city centre's best lunch options under $13.
Wrap, $12 or sandwich, $13 | The Store, 5b Gore Street 
If you're riddled with decision anxiety over what to pick for lunch, you can't go wrong with a classic sandwich or wrap. Packed full of delicious ingredients, it's highly likely these will beat the ones you make at home. 
2 pack sando or sushi, $8.50-$12.50 | Oji Sushi, Commercial Bay, Britomart & Auckland Fish Market 
Conveniently located in Britomart, Commercial Bay and the Auckland Fish Market, Oji Sushi is the number one stop for a delicious Asian lunch. If you're yet to try a sando (the Japanese term for sandwich), you're missing out! Think fluffy white bread filled with the likes of egg mayo, crispy prawn or katsu chicken. Their large teriyaki chicken on rice is also great value for money and hard to go past! 
Swiss melt $9.90 or J.C $9.90 | Best Ugly Bagels, Commercial Bay and City Works Depot 
Best Ugly's Montreal-style bagels are deliberately manhandled, hand-rolled, and cut, then simmered in sweet honey water, this tough and ready treatment gives them their unique style and flavour. Top your bagel with a classic combo of marmite and cheese, or satisfy that midday sweet tooth with a cream cheese and jam bagel. 
Sashimi $610 or Agedashi Tofu, $13 | Fuga, 62 Victoria Street West 
Located across from SkyCity, Fuga is a modern Japanese brasserie that could easily become your next go-to Japanese eatery. The sashimi and the Agedashi tofu are great options!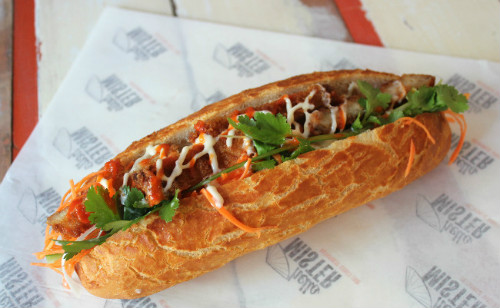 Madam Mi, $12 or Baby Mi, $7.50  | Hello Mister, 5B Hardinge Street
Hello Mister offers quick, delicious and healthy Vietnamese street food perfect for tasty lunches on the go. We recommend you to try the Lemongrass Chicken Banh Mi which comes in a half size if you're not feeling too hungry. 
Tteok-galbi, $12.50 | Meat Balls, 41 Victoria Street West 
Meat Balls Korean style rissoles, otherwise known at Tteok-galbi are a delicious culinary delight made from meat, vegetables ad an original sauce. Take your pick from the beef, beef & pork, pork, chicken or meatless Tteok-galbi. 
Daily takeaway pasta, $11.90 - $12.90 | Needo, Commercial Bay
Needo offers hearty and generous portions of handcrafted pasta made fresh daily and topped with your choice of sauce - we're loving the classic marinara and creamy mushroom!
Dumplings or noodles, $12 | Dumpling Hours, 18 Wellesley Street
Dumpling Hours takes affordable dining to a whole new level, with every single dish priced at just $12. It's a culinary dream come true for those looking for quality food without breaking the bank. You'll find an impressive array of dishes that are authentic, flavourful and satisfying. From the heartwarming wonton noodle soup to the prawn dumplings, each dish is crafted with precision and passion. 
Matzo Ball Soup, $13 (starter) | Federal Delicatessen, 86 Federal St
Federal Delicatessen is the closest thing we have to a New York City deli in Auckland, complete with bottomless filter coffee and vinyl booths. The Matzo Ball soup is a classic soup made up of shredded chicken and bagel dumplings, also known as Jewish Penicillin. As the Fed Deli team say themselves, "your body will thank you"
More $13 and under lunch spots
Last updated:
08 September 2023