We have rounded up the city's best spots for your veggie or vegan fix. Healthy (well-mostly healthy!), fast and delicious, these options will make you excited to branch out and try something new on your lunch break.
The T.A.B Bagel | Best Ugly Bagels, City Works Depot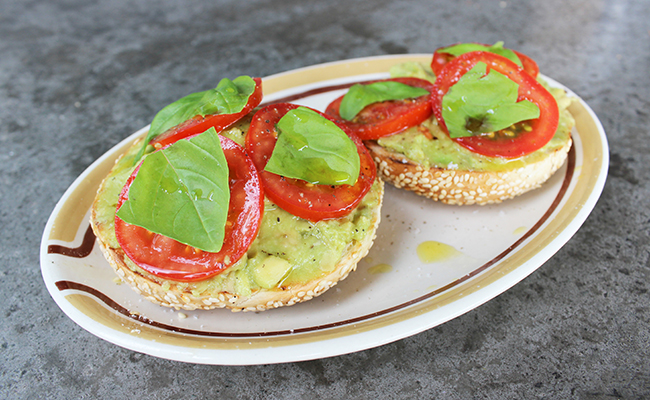 Best Ugly Bagels pride themselves on their handmade Montreal-style bagels and authentic flavour. The bagels are simmered in sweet honey water and baked to perfection in a stone oven. The T.A.B option is topped with tomato, avocado, basil and lemon fennel olive oil, perfect for a fresh and delicious lunch. If you are craving the creaminess of melted cheese then opt for the Grilled Swiss Cheese and Marmite option. The classic combo will leave you feeling like you never left the simpler days. The bagel house also offers a range of sesame, plain, cinnamon & raisin, gluten free and chocolate bagels to buy individually or by the bag.
Crispy Chicken | Sunflower Thai Vegetarian Restaurant, 6/50 High St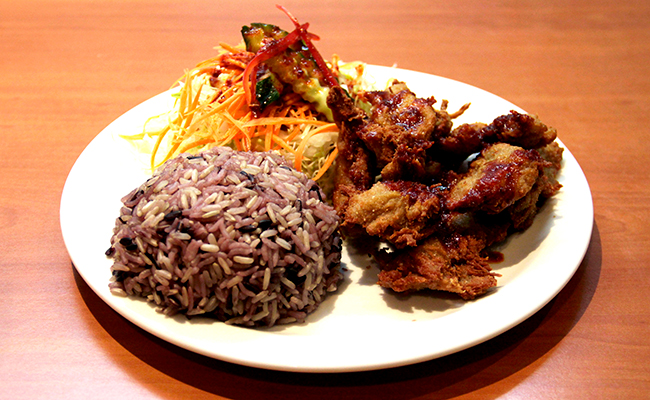 When lunchtime calls for a quiet and relaxed meal, look no further than High Street's Sunflower Thai Vegetarian Restaurant. Indulge in a vegetarian meal that mimics comfort classics such as Crispy Chicken. This vegetarian find is great for meat lovers too, as they offer full-flavoured dishes that do not come second to the real deal. The affordable meals and generous portions makes this plant based restaurant a must visit.
Miso Glazed Eggplant | Ebisu, 116-118 Quay St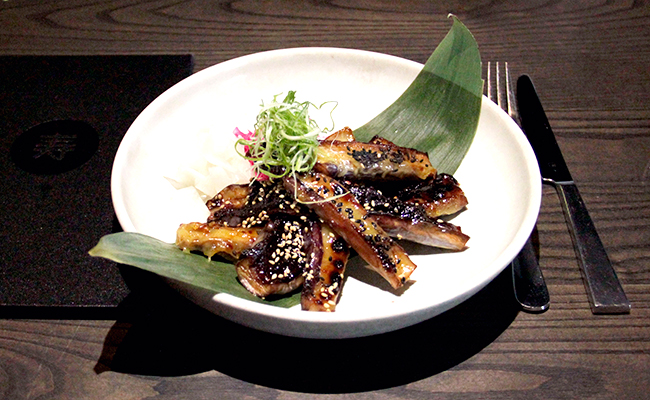 Ebisu intertwines the simplicity of Japanese dining with the creativity of contemporary dining. Enjoy the Miso Glazed Eggplant while overlooking the soaring ceilings and arched windows of the restaurant's raw brickwork interior. The dish is infused with light and dark miso, topped with white sesame seeds and pickled red cabbage. Pair it with a larger dish of Teriyaki Tofu, which consists of black miso jam, courgette carrot julienne, cherry tomatoes and white truffle oil.
Green Zoodles | The Raw Kitchen, City Works Depot & Elliott Street Locations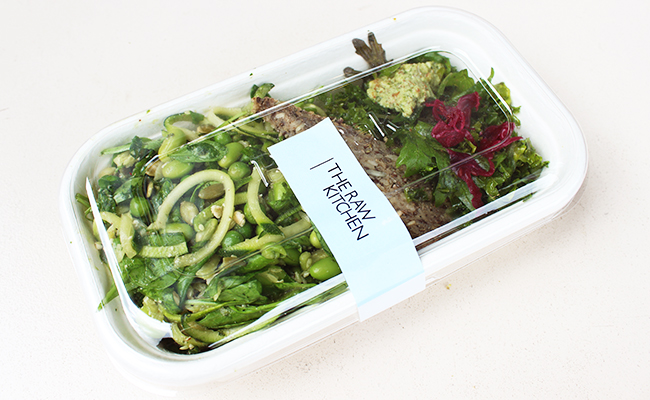 The Raw Kitchen (unsurprisingly) offers an array of fresh and feel-good lunch options that go hand in hand with a healthy lifestyle. The boutique eatery features plant-based salads, collard wraps, lunch boxes and toasts from the Midnight Baker. A favourite on the menu is the Green Zoodles; spiralized zucchini with peas, edamame beans, rocket, basil almond pesto, pumpkin seeds and lemon. Accompany your meal with a cold pressed juice on a hot day or a turmeric latte on a wet Auckland afternoon.
Poutine Burger | Lord of the Fries, 1 Queen Street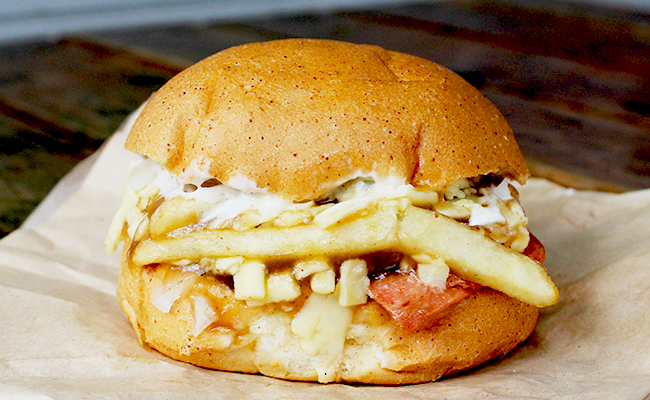 Acclaimed as the Southern Hemisphere's best poutine burger, Lord of the Fries' innovative and award-winning creation is not to be missed. The burger is jammed with gravy, cheese-laden, 'bacon', veggie beef patty, onion and garlic mayo – plus it can also be made vegan-friendly. Reach for sweet potato fries with Belgium sauce on the side to complete the feast. Lord of the Fries' delicious and vegetarian menu will keep you busy as it offers original takes on favourite classics.
Nut Mince Tacos | Food Truck Garage, City Works Depot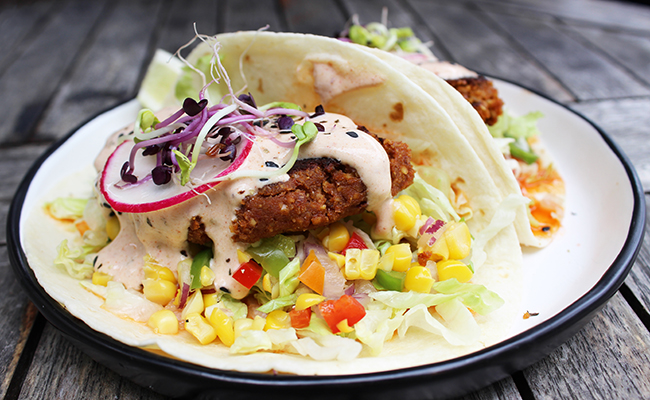 Offering fresh and simple dishes, the Food Truck Garage does fast food that is good for you. The eatery emphases their proudly free range, nutrient rich and vitamin packed meals. The Nut Mince Tacos are a flavoursome option complete with two soft flour tortillas with walnut and almond nut mice, tomato kasundi, lettuce and chipotle yoghurt.
Falafel Pita Pocket | Raw Power Café, 10 Vulcan Lane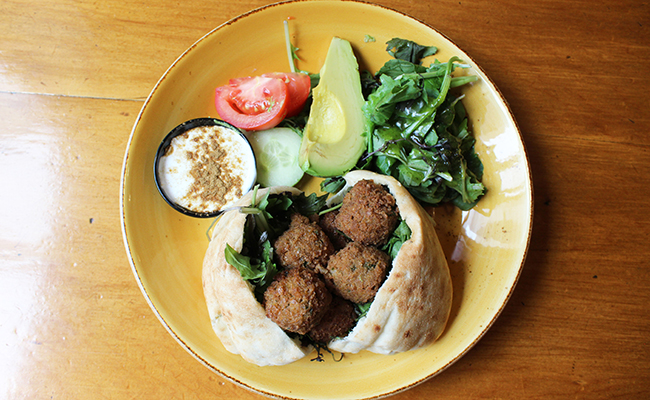 Raw Power Cafe's earthy tones and abundance of plants will transport you to a tranquilizing environment. The menu boasts delicious, hearty vegetarian meals that will fill you up and leave you feeling energised. The Falafel Pita pocket and tofu sandwich is filled with green salad, falafel, mode-made hummus and parsley dressing. The meal is topped of with freshly cut avocados, tomatoes, cucumber, greens and yogurt to cleanse your post meal palette. Opt for the Tofu Hash Mushroom for a more full-bodied meal. The dish is made up of grilled tofu, creamy mushrooms with homemade hash browns.
Malaysian Bowl | Misters, 12 Wyndham St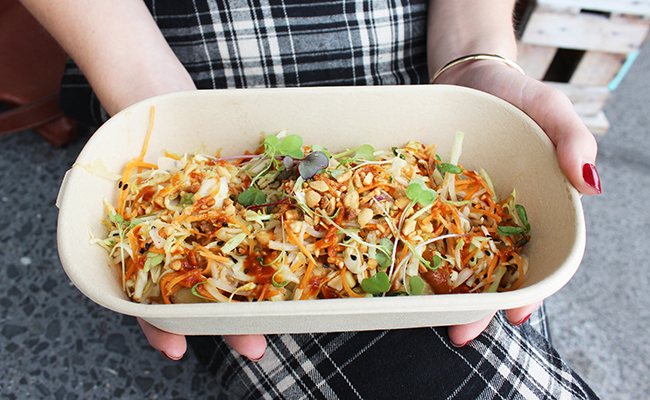 Famous for their detailed and delectable bowls. The Malaysian Bowl is made with organic sticky coconut rice and topped with spicy sambal, peanut satay, slaw, lime, micro herbs and crispy silken tofu. The vibrant bowl makes for an appetising lunch that keeps you fuelled until dinner. 
Last updated:
26 June 2019