If you've just arrived in Auckland from overseas or from around New Zealand, welcome to the Heart of Auckland City.
With our handy guide and itineraries discover stunning cafes, art, culture, fashion, dining and nightlife, all within one kilometre of the Waitemata Harbour's edge.
So make the most of your time here and enjoy exploring our city centre.
A Day of Shopping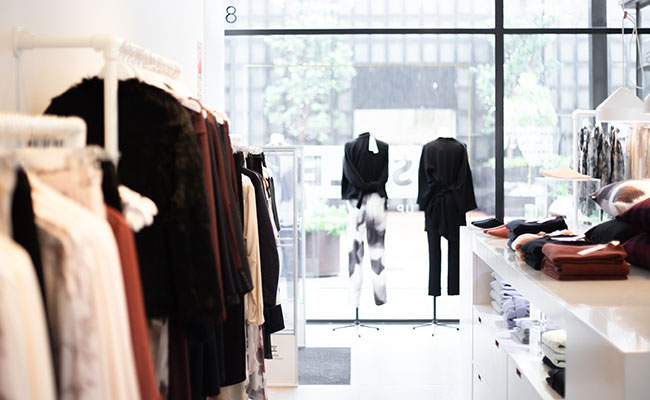 Juliette Hogan in Britomart
Breakfast suggestions...
Start your day in the Britomart precinct and you can't go wrong with one of the cafes here for a morning coffee and a bite to eat. Among our favourites are The Store, Ortolana or Amano.
First shopping stop of the day...
Take advantage of the great retail therapy on offer in Britomart and shop your way around a number of incredible New Zealand designers like Juliette Hogan, Karen Walker and Kathryn Wilson (to name a few!)
Head to High Street...
With a range of boutiques and destination stores down High Street, this is a great next stop for your shopping fix and conveniently there are plenty of great lunchtime spots for you to take a break in your day. We recommend the sandwiches at Chuffed and their outdoor seating area is one of the city centre's hidden gems.
Designer boutiques or an Auckland city institution...
Finish your day of shopping in the Lower Queen Street area where designer brands like Gucci, Dior and Prada can be found. Or to have a uniquely Auckland city experience, head up Queen Street to Smith & Caughey's the city's oldest department store, where you can find everything from shoes and handbags to menswear, New Zealand designers and an incredible gourmet food and wine department. Plus the flagship MECCA concept store is very close by with exclusive makeup and fragrance brands on offer.
A Day of Culture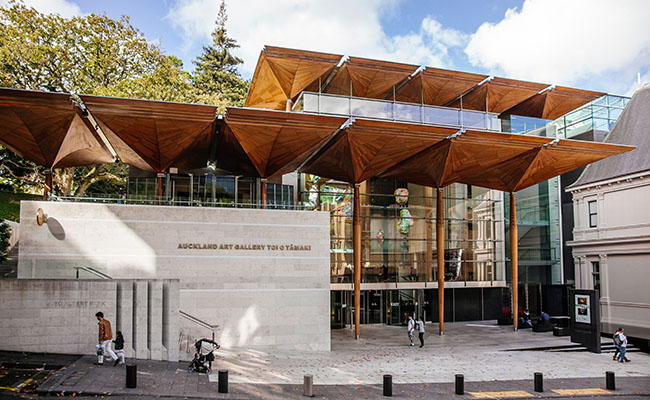 Auckland Art Gallery
Breakfast suggestions...
Begin the day with a delicious breakfast at Mojo in Auckland Art Gallery, you'll then be well placed for your first dose of culture for the day.
Begin with some art...
Founded in 1888, the Auckland Art Gallery is New Zealand's largest visual arts experience and home to an incredible array of exhibitions showcasing both local and international artists.
Time for lunch...
To satisfy everyone in your group, head to Elliott Stables, with a range of international restaurants and cuisines on offer and a communal dining space, you can all choose what you feel like, from spicy Cajun eats to authentic pasta and pizza or delicious curries.
Maritime history...
After finishing your delicious lunch, wander down to the Viaduct and spend an hour or two at the New Zeland Maritime Museum, that is well known for its interactive and immersive displays and galleries. When you're done here, head back out to The Viaduct and enjoy a drink at one of the many great bars and restaurants in the area with views of the harbour. Our favourites include The Parsol & Swing Company and Dr Rudi's for a pizza if you're starting to get a bit hungry.
A Day of Attractions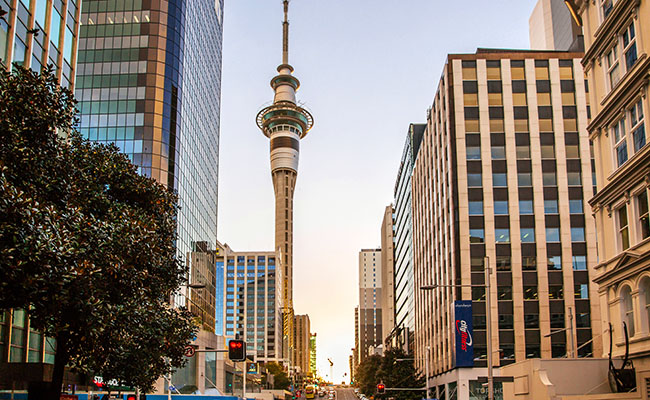 Sky Tower
Breakfast suggestions...
Fuel up for busy day of sightseeing in the city centre with breakfast at a local favourite - Federal Delicatessen by beloved Kiwi chef Al Brown. Or if the sun is shining, The Glass Goose and their outdoor deck is another great spot to start your day.
Time for a view...
A visit to Auckland's city centre would not be complete without a visit to the iconic Sky Tower. With 360° views across the city, make the visit extra special and adventurous by trying out a SkyWalk or SkyJump.
Head to the waterfront...
After your visit to the Sky Tower, we recommend walking down to the waterfront and spending time at Silo Park & North Wharf. Stop for a late lunch at one of the many great restaurants including Miss Clawdy (for Southern/Cajun cuisine), Baduzzi (casual Italian) and Jack Tar (classic Kiwi pub fare). And then continue on to marvel at the super yachts moored around Silo Park. And if you time your visit right in summertime, every Friday night an outdoor cinema operates.
Last updated:
20 June 2019