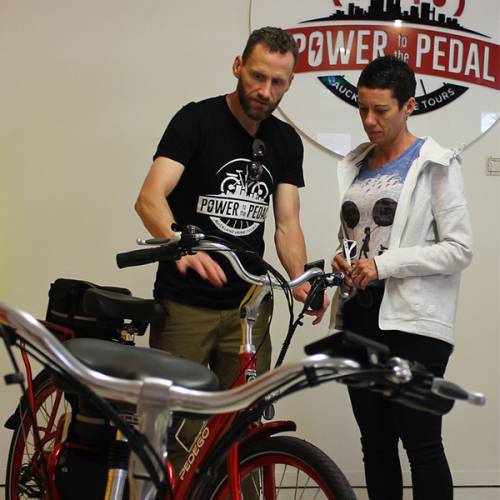 If you're keen to explore Auckland on two wheels then you definitely have to check out Power to the Pedal. 
The team at Power to the Pedal is committed to showing you the highlights of Auckland, all from a local's perspective. They offer three unique cycling experiences including The Classic ($135), The Inside Loop ($105), The Easy Rider ($105) and The City Lights ($85) or if you want they can also create Custom Tours as well. Their bicycles are also available for half day rentals (morning and afternoon, $60) or full day rentals (return by 5.30pm, $85).
Made up of a small team who are passionate about Auckland's city centre as well as the joys of cycling, Power to the Pedal have a unique range of electric bicycles that make cycling fun. These bikes have in-built electrical motors that take the 'sweat' out of cycling, allowing you to climb hills with ease and enjoy the sights of your tour instead of focusing on the work of cycling. 
Power To The Pedal's team will provide you with a demonstration on how you can get the most out of your electric bike before you head out to explore Auckland's cycleways and streets. 
 
Park for $2 per hour at the Victoria St car park on evenings and weekends. Find out more.
Come into the city centre on public transport for as little as $2 each way. Find out more.
Last updated:
02 August 2021