The most magical time of the year has arrived in the city centre courtesy of some pretty spectacular decorations, so why not get into the spirit by visiting some of these spots for a fantastic photo opportunity? 
From whimsical lights to bold baubles and Smith & Caughey's internationally renowned window display, there's plenty of magic to discover in the city centre. So whether you're catching up with loved ones or browsing for that perfect gift, make sure you pause and snap a Christmas selfie next to these decorations.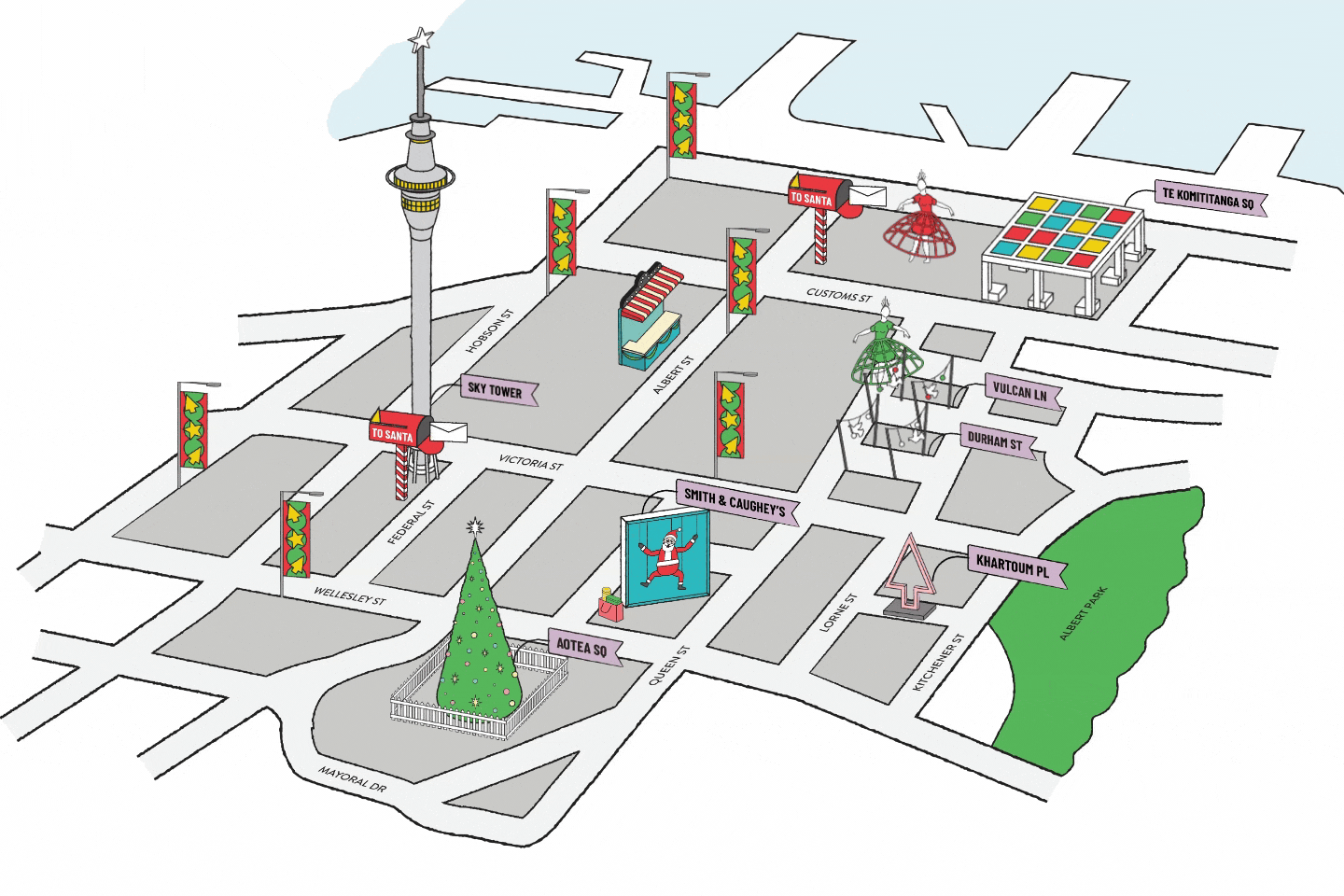 Christmas Pavilion
You can't miss it! One of the highlights of this year's Christmas programme is a giant pop-up pavilion adorned with hundreds of LED lights and festive neon shapes. It's where over amazing performances will take place during December in the lead up to Christmas - check out the schedule here. 
Christmas in Te Komititanga is brought to you by Auckland Council and Heart of the City and is supported by the city centre targeted rate.
Illuminating Light Forest 
Head up to Te Komititanga to discover these awesome illuminating lights that are merry and bright during the day and the night. So no matter what time you visit, they'll make for great 'gram content. 
Giant Baubles 
With the tallest reaching six metres in height, it's hard to miss these baubles in Te Komititanga. Take a moment between shopping to grab a cute photo of the family. 
Tree lighting installation 
Neon shapes in trees along Queen Street will be illuminated with different colours. Look up to see them glow! 
Christaliers
Christmas plus chandeliers give us 'Christaliers'! Look above you in Elliott and Darby Streets to see light changing neon works and insta twinkle your way into the festive season.
Christmas Pavilion image in Te Komititanga by Luke Foley-Martin @lukefmphotography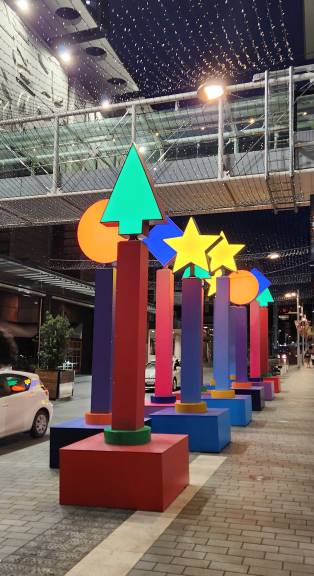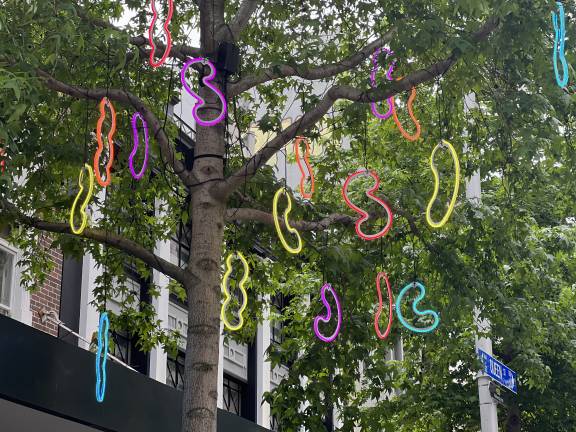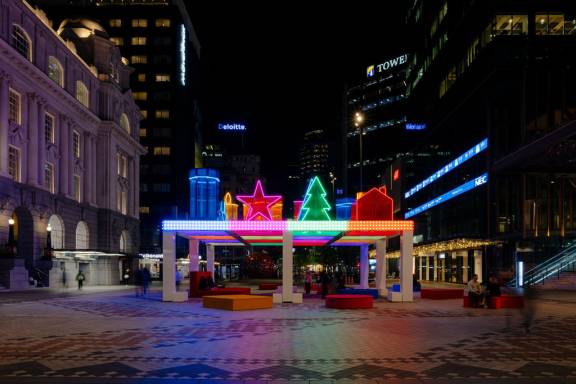 Santa's Mail Machine 
Santa's special mail machine can be found on both level 1 & 2 of Commercial Bay so you can send your very own personalised letter to father Christmas! See more here. 
Neon Shapes 
These cool, colourful shapes look awesome during the day and even better at night. Perfect for a photo opportunity, you'll find the star in Freyberg Place and a Christmas tree on O'Connell Street and in Khartoum Place. 
Doves 
Enjoy the gorgeous and much loved dove and globe installations and check out the globes change colours throughout the day. You'll find them on Vulcan Lane and Durham Street East.
Christmas Angels
Look up as you're wandering up upper Queen Street and see Christmas angels strung between the beautiful trees which line the street.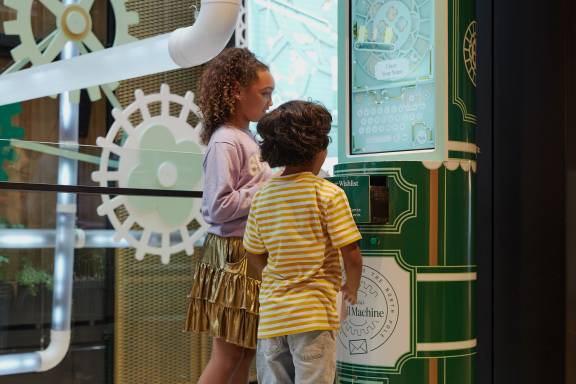 Smith & Caughey's window display
Each year, Smith and Caughey's windows are filled with intricate, animated Christmas decorations. This year, the windows are based on the special Christmas storybook tale, The Chaos Before Christmas and feature a beautiful tableau of incredible handmade puppets.
Giant nutcrackers and an epic gold Christmas tree
At SkyCity, you'll find larger than life Christmas decorations, perfect to grab some pictures in front of! From giant nutcrackers standing over 4m tall to an epic gold Christmas tree.
Giant Christmas tree 
A huge Christmas tree is bringing all the festive cheer to Aotea Square this December! 
Christmas flags
Look up! City centre flagpoles have been adorned with fun and festive Christmas banners to celebrate the season, designed by artist Charlie Ratahi McFarland.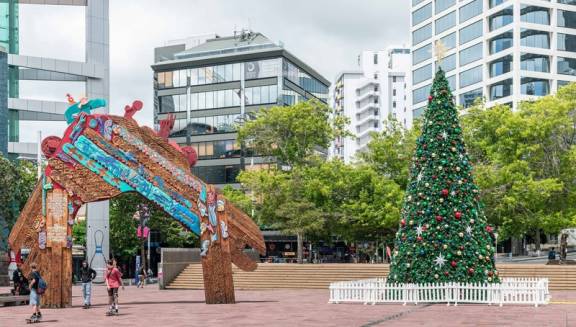 The buildings and streets are lighting up for Christmas too!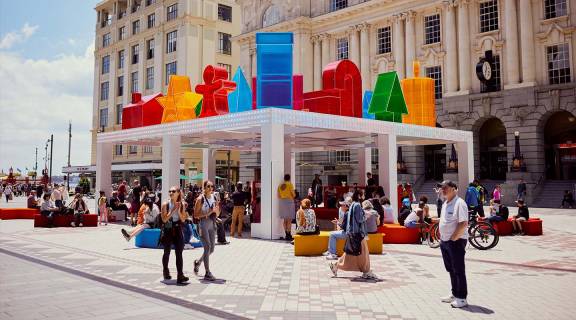 It's easy to get in, out and around
Getting around the city centre is easier, and cheaper than some may think! Here are some parking and transport hacks to remember when you're coming in. 
Kids ride free on public transport on weekends and public holidays. 
$2 per hour on weekends (max of $10) at the Victoria Street car park.
$2 per hour on weekends (max of $12) at the Civic car park.
$2 per hour on weekends (max of $15) at the Downtown Car Park 
$7 a day on weekends at the Fanshawe Street car park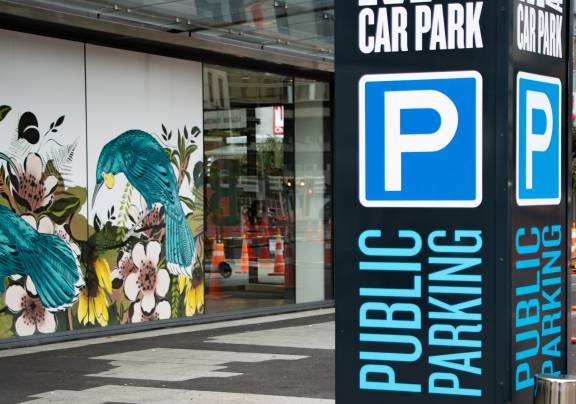 Enjoy two hours of free parking or $5 evening and weekend rates. Find out more. Ride on public transport from as little as $2 each way. Find out more.
Last updated:
24 November 2023