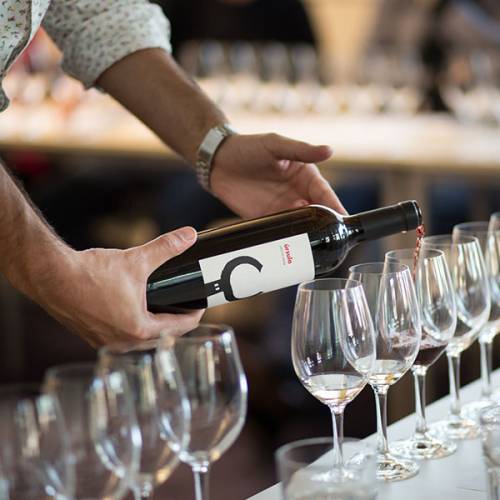 New Zealand School of Food & Wine, in the heart of the Viaduct, are marking their fifth annual celebration during American Express Restaurant Month. Join the team to learn about and experience firsthand some of the latest food trends and techniques. Taste new wine releases, transform your skills on the BBQ, and feed your soul with a selection of mouthwatering fare.
General Admission –  Sunday 19 August, 12 – 6pm
Come along to the New Zealand School of Food & Wine and enjoy fascinating cookery demonstrations with the opportunity to taste a wide range of interesting New Zealand and International wines.
Each of our 45-minute demonstrations will cover current kitchen innovations and trends, and will inspire your own culinary adventures.
Join leading New Zealand wineries plus importers of wine from around the world who will provide a selection of exciting wines to sample, which are available for purchase in our retail store.
Completing your admission is a range of complimentary gourmet nibbles and snacks served throughout the session.
Free Cookery Demonstrations:
One Dish Dinners with Celia Hay
12pm Sunday
Join Celia to find our more about how you can prepare a meal in one pan on your stove top or barbecue...Not including dessert!
Salmon three ways with David Schofield
1pm Sunday
Learn some simple fish tips and techniques to transform your cooking repertoire when preparing salmon for dinner at home.
Wine Classes:
Chenin Blanc with Joelle Thomson
2pm Sunday
Discover 'the Great White' - once one of New Zealand's brightest stars, now increasingly rare, in this interesting session that delves into the deliciously diverse world of Chenin Blanc.
Natural wines with Lynnette Hudson
4pm Sunday
Taste and learn about a range of wines produced with as much left to nature as possible.
Flat fee of $6 per day on weekends at Fanshawe Street carpark. Find out more.
Come into the city centre on public transport for as little as $2 each way. Find out more. 
Last updated:
11 June 2019