Searching for the best cafes Auckland has to offer? Metro magazine has announced its top 50 cafes in Auckland for 2019, and 11 cafes from the city centre made the cut. 
Chuffed | 43 High St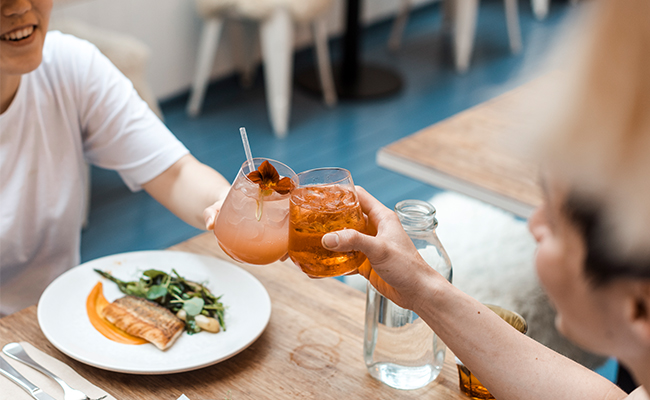 Go for: Al fresco dining
Sandwiches have been a bit of a thing again this year, and that's no exception at Chuffed, where the short sandwich offering is the star — both the Reuben and the poached-chicken options are excellent. That said, we really like the rest of the menu, which runs from jammy-yolked poached eggs on your choice of toast to slow-cooked lamb shoulder with burnt garlic and feta, or cauliflower salad — the vegetable of the moment. Chuffed is small, and extremely popular, but they run an efficient waitlist and offer takeaway pre-orders online. How's that for service? Serves Chuffed blend, especially good for vegetarians, vegan-friendly.
Hugo's Bistro | 67 Shortland St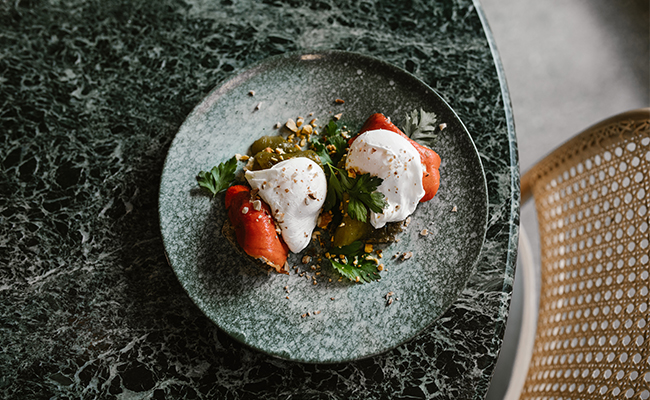 Go for: A grown-up cafe experience
Yes, Hugo's is a damn good spot for dinner and a couple of wines after work — it's the best bistro in the inner-city, after all — but it's no slouch in the daytime either. Whether you want to nurse a perfectly made coffee at the bar while perusing the paper, grab a chicken-schnitzel sandwich for lunch or opt for something more substantial over a beverage or three, Hugo's has it sorted. The express lunch menu ($40, or $49 with a glass of wine) is an excellent option if you fancy something a bit special but don't have all day to spare, but to be honest, we could subsist happily on the $3 hunk of bread with porcini butter. Serves Hugo's blend, Wi-Fi available, especially good for vegetarians.
Odettes | City Works Depot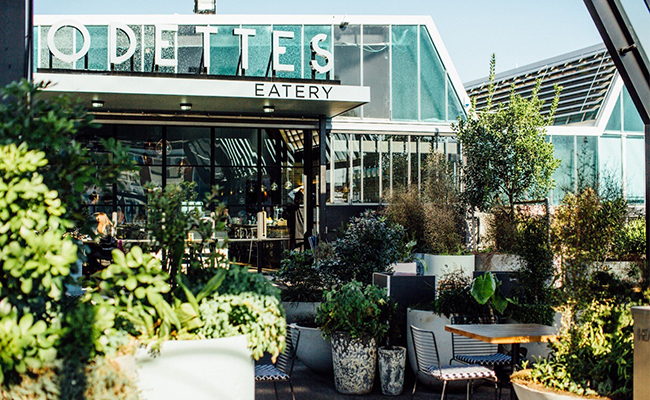 Go for: Coffee in the sun, or lunch with friends
We've been fans of this all-day eatery for a while now — since Clare and Joost van den Berg opened the place back in 2014, in fact — and, happily, they're still nailing it. There's something to suit all tastes at breakfast (roasted carrots, anyone?) but we come for brunch or lunch, when generous shared dishes such as a wild mushroom brown rice crêpe have their chance to shine, the earthy flavours of the mushrooms allowed to take centre stage by the lightest of crêpes. If you've the appetite for it, there's an express lunch option which, at $40 ($49 with a glass of bubbles), is excellent value. 
Ortolana | 33 Tyler St, Britomart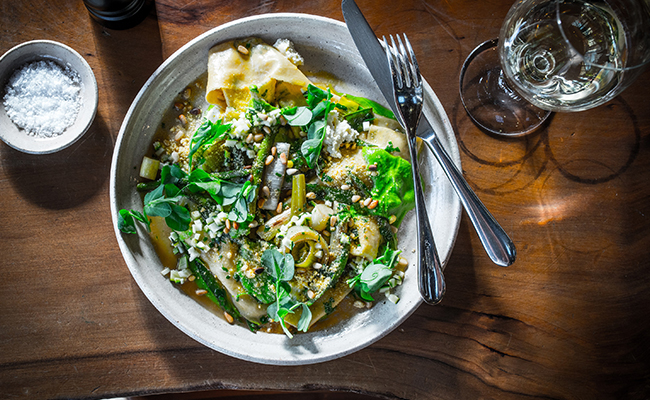 Go for: Next-level food, and people-watching
Everything is pitched just right at this small, warm place, all happy murmurs, stylishly casual and smooth. Staff are unfailingly polite, the sun seems to dance in the conservatory-like space, even the sand-coloured banquettes are the right level of squishy. There's a breakfast menu and then an all-day one that takes in lunch and dinner. We like to come for lunch and eat like kings, perhaps ordering the crayfish ravioli — three large firm pouches crammed with fresh flesh, swimming in a lemony buttery sauce and showered in dill crumbs and fennel. Rich, certainly, but never too heavy. Serves Allpress coffee, especially good for vegetarians.
Williams Eatery| 85 Daldy St, Wynyard Quarter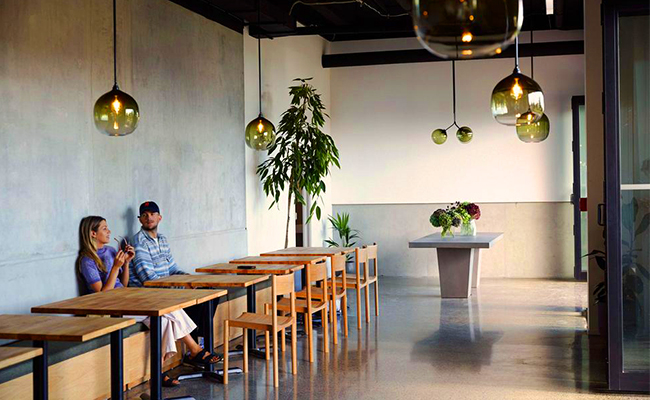 Go for: Respite and calm
Is this the new Auckland? Williams Eatery occupies a quiet corner of Wynyard Quarter, a pedestrian laneway on one side, planting on the other. It's very calm in the Nordic way — blond timber, raw concrete — and the staff tend to short-hemmed pants, caps and orthopaedic sneakers. The service is excellent, there's always filter coffee and the food is brilliant: thoughtful and inventive, and not very meaty. Hurrah! At breakfast, even that millennial standby of smashed avocado on toast comes with "dehydrated olive" and green herbs. The rest of the menu is short and deliberate, with faintly Asian overtones that we like very much. Equally, though, it's a fine place for a quiet coffee during the week, when there's room to chat or linger with a book. We like that, too. 
Scarecrow | 33 Victoria St East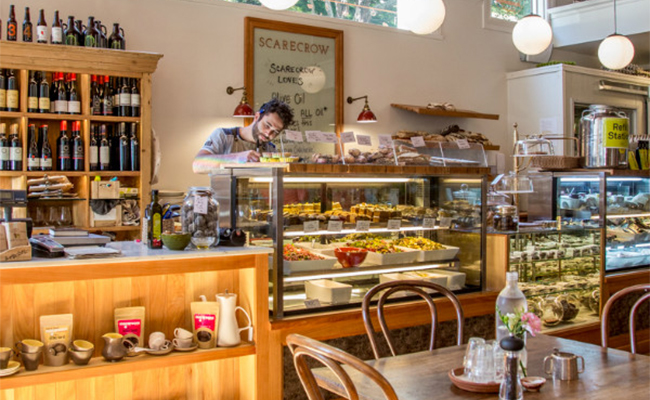 Go for—A toasted bagel with chunky pumpkin-and-hazelnut pesto, whipped feta and delightful green salad.
Scarecrow offers a slice of clean country living amid the big city smoke, serving food beautiful in its simplicity, where you can also fill your basket with hand-picked organic produce and artisanal products from around the country. Fittingly, the coffee is fair-trade from Kōkako, the cabinet is a bounty of salads and sandwiches, and the specials — such as chicken, leek and mushroom pot pie paired with a Hallertau beer — celebrate seasonal cooking. Wooden bentwood chairs and antique scales complete the marketplace vibe, while jazz tinkles from the speakers, inviting you to stay for something sweet. Try a spiced apple frangipane tart, blueberry crumble, or miso brownie, all served warm with a dollop of cream. Serves Kōkako Organic coffee, especially good for vegetarians, vegan-friendly, wi-fi available. 
Best Ugly Bagels | City Works Depot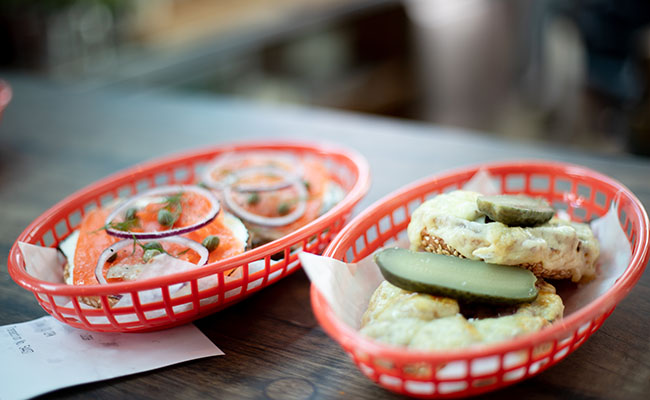 Go for—A bagel, duh.
The yelling wears a bit thin — especially if you've been on the sherbets the night before — but Al Brown's Best Ugly pumps out the best bagels in Auckland by a country mile. Hand-rolled, gently poached in honey water, then wood-fired; imitators bow down. And the toppings, so simple, but their consistency means they always hit the spot: salmon and cream cheese with a little bit of red onion and a smattering of capers; house pastrami, stringy cheese and hot mustard; avocado, tomato and basil with lemon oil. Brown's not reinventing the wheel — these are tried and tested flavour combinations for a reason. Serves Havana coffee, especially good for vegetarians, good for kids. 
Federal Delicatessen | 86 Federal Street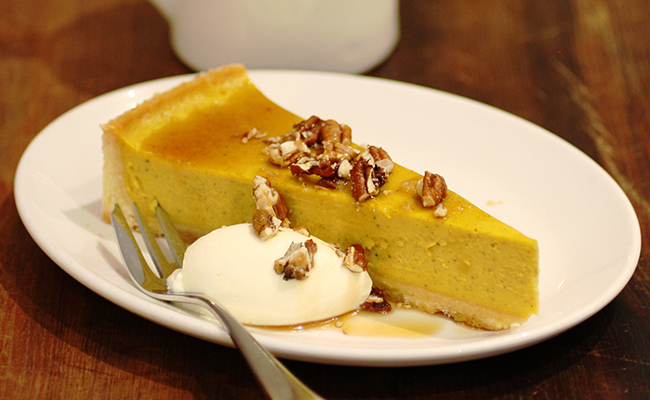 Go for—A hangover or heartbreak cure.

The Fed is the sort of place most Auckland cafes wish they were: fast, friendly, with a constant buzz, and slinging some of the simplest but best executed food in the city. All that, plus you could take nearly anyone there and they'd feel comfortable; it seems like the staff's personal mission is for you to leave smiling and well fed (we've said yes to pie on an already full stomach far more times than we care to admit). This is also one of the best places in the city to dine solo — park up at the counter with a piece of sugar pie, a book, and a cup of filter coffee (bottomless). Serves Havana or Coffee Supreme, wi-fi available, good for kids. 
Ima Cuisine | 53 Fort St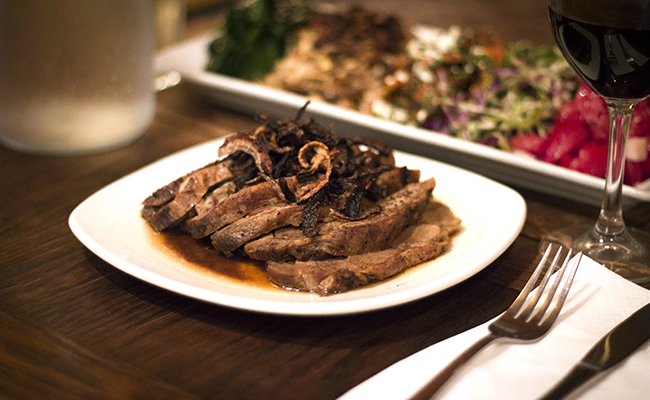 Go for—The Yemenite dish malawach: a puff-pastry pancake served with egg, tomatoes and zingy fresh green chilli.
The shared space of Fort St is all concrete grey and spartan, so stepping inside Ima is like being welcomed into a parallel dimension: all warm-hued, bustling with smiling staff and perfumed with the magical smell of baking. Do not leave here without trying, or taking away with you, a piece: owner Yael Shochat has worked hard to perfect pastries and cakes of all kinds, including Ashkenazi walnut-laced rugelach, kouign-amanns and generously sliced layer cakes. When you're really hungry, Ima's big breakfast, featuring Shochat's own merguez sausage, shall provide, or for something lighter we recommend the dukkah and olive-oiled avocado on toasted homemade sourdough.  Serves Be Specialty coffee, especially good for vegetarians, wi-fi available, good for kids. 
The Lunchroom | Level 1, 45 Queen St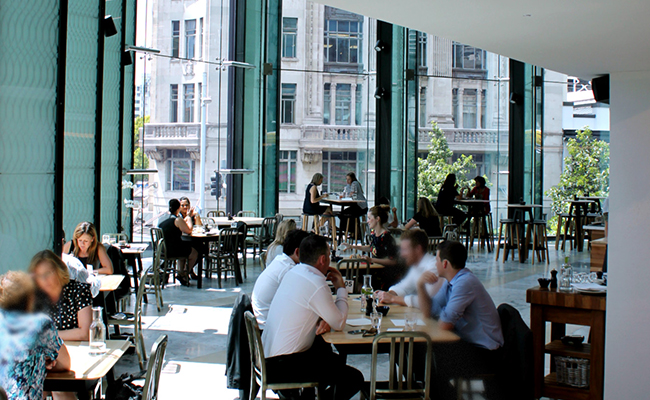 Go for—A quality lunch away from the crowds.
All the usual cabinet suspects are here, of course, but order off the menu for more- inventive fare. For lunch, try fenugreek potatoes, a flavour bomb of coriander, chilli feta, smoked salmon and crème fraîche, or a weightless crêpe with a soft poached egg tucked inside. Up the escalators and a world away from Queen St, The Lunchroom's smart, expansive space provides a hushed and welcome respite from the corporate hustle. Serves Kōkako Organic coffee, especially good for vegetarians, vegan-friendly. 
Misters | 12 Wyndham St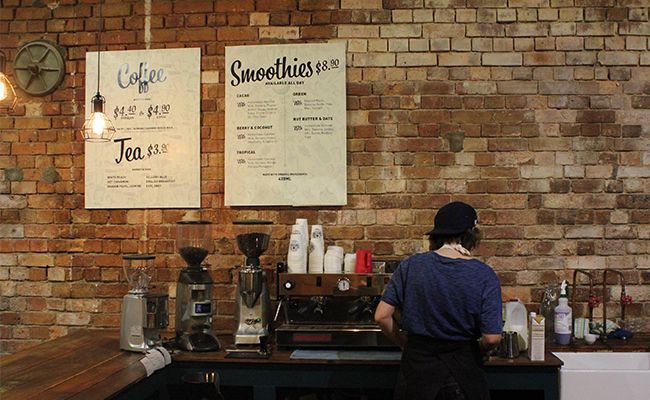 Go for—Healthy, tasty fast food.
Dishing up healthy fast food to hordes of hungry office workers, this weekday hotspot can be crowded, noisy and smoky — but it works. Join the fast-moving queue to order lunch at the till, where helpful staff guide newbies. It's a simple idea, done well: you choose a "bowl" — options currently include Bali, Moroccan, Thai and Nordic — which have different bases such as noodles, rice, quinoa. Then add protein, perhaps silken tofu, chicken breast or slow-cooked lamb. There's no dairy, gluten or refined sugar, and no compromise on flavour, either. A small cabinet has tarts and slices, and there's coffee, of course, but the bowls are the stars of this show. Serves Misters blend, especially good for vegetarians, vegan-friendly. 
Last updated:
18 October 2019