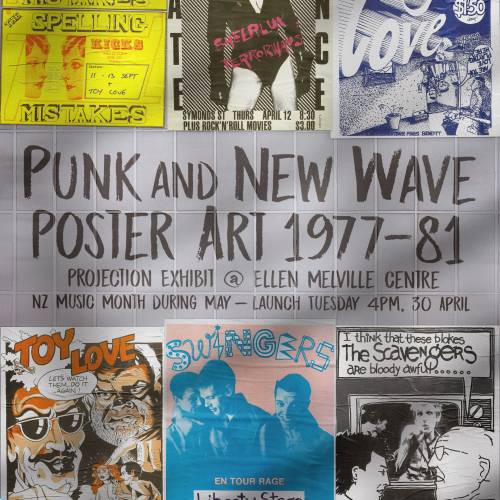 Murray Cammick and Ellen Melville Centre present….a music art show: Inner City PUNK and NEW WAVE Poster Art 1977-81.
The music of the punk and new wave era, turned popular music upside down at the end of the 1970s and also created amazing poster art. While punk recordings, as represented by the key document of the time – the Ripper label album AK•79 – were often crude demo recordings, the gig posters were excellently executed work by art school attending band members or young illustrators inspired by the new bands playing Auckland's inner-city venues.
The bands that were high achievers in poster art, while they were struggling to play their newly-acquired music gear include The Suburban Reps, The Scavengers, Toy Love, The Terrorways, The Spelling Mistakes, Marching Girls, The Swingers, Penknife Glides. Even the groups with roots in the pub-rock genres – Hello Sailor and Th' Dudes – knew their Iggy Pop or Velvet Underground songs and they knew what poster art was cool.
Notable artists that created posters in the era included graphic artist Terence Hogan, animator Joe Wylie, comic artist Colin Wilson and photographer Greg Peacocke.
Venues that feature in posters include the punk venue Zwines, upstairs at The Classic Cinema, The Varsity Café, The Gluepot, Windsor Castle, Kicks Shore City, Liberty Stage, The Reverb Room, The Island Of Real, The Maidment Theatre and The State Theatre.
The images have been collated by Murray Cammick, former RipItUp magazine editor and host of 95bFM's Land Of The Good Groove. He brings his art school sensibility, his intimate knowledge of the times and his love of street posters to this project.
This Projection Exhibition will be screening, all day, every day at the Ellen Melville Centre for NZ Music Month during May, with the opening night launch at 4pm on 30 April. The big screen in the Helen Clark Room will screen weekdays 9am to 5pm and a TV screen, visible in Freyberg Place, will operate 24 hours, including weekends.
Enjoy two hours of free parking or $5 evening and weekend rates. Find out more. Ride on public transport from as little as $2 each way. Find out more.
Last updated:
11 June 2019