Changing Lanes is a collaborative project between Artweek Auckland and Heart of the City. Changing Lanes will bring together two projects that will transform Auckland's urban spaces from 6 - 14 October, as part of Artweek.
Working with installation, social and interactive media, a selection of leading New Zealand artists will activate two city centre laneways and these projects will reference Auckland's unique heritage and signal the changing nature of the city's urban spaces and potential future use of the sites.
Durham St East
Gary Silipa – Inner City Charm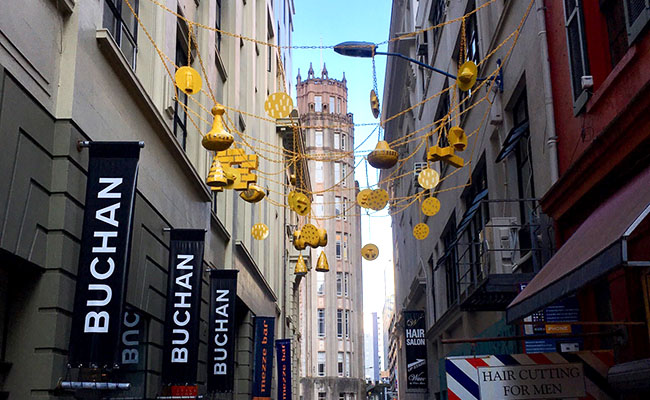 Giant buildings made of concrete and glass occupy Downtown Auckland, and the interconnected maze of narrow gaps between them provide numerous ways for pedestrians to get from A to B. A plethora of businesses – some obvious, some hidden – occupy the side streets and laneways providing anything you need from clothing to electronics, haircuts to tattoos. These businesses collectively make up the character of our inner city pedestrian highways. 
Gary has used the idea of a charm bracelet – an item of jewellery that carries decorative pendants "charms" which signify important things in the wearer's life – to highlight the community of businesses that call this laneway home. His interest and experiments with form, materials and algorithms has produced a unique rendition on this concept that is proudly worn by the buildings it connects and is applied to. 
Amongst the objects that symbolize resident businesses Gary has included some personal charms.  
Fatina Chan & Zee Shake Lee – Lane Wave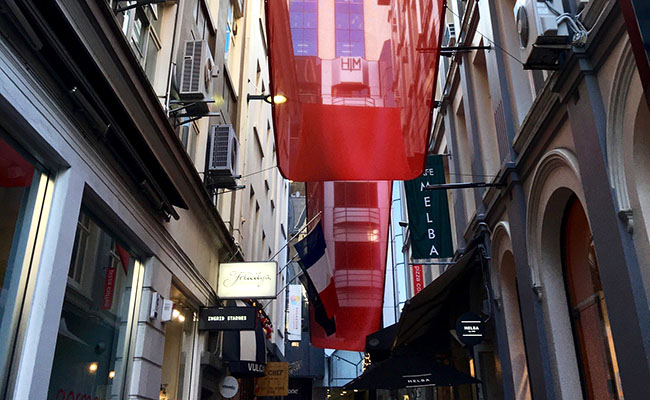 Lane Wave is a temporary installation that intends to introduce softness, vitality, and boldness to the existing Upper Vulcan Lane. The undulating spatial intervention manifests itself in the negative space between the historic buildings and the natural environment, constantly responding to its surrounding light and wind. Its fluidity endeavours to inject dynamic movement and change of verticality into the laneway. Lane Wave invites the public to rediscover and experience the familiar urban fabric with new perception and senses.
On LATE NIGHT ART see this work take on new life and enjoy an Art Lovers Happy Hour at Le Chef with a glasses of rosé and a cheese boards to enjoy and give you the strength to discover more fantastic art around the City Centre.
Funded by Heart of the City and delivered in partnership with Artweek Auckland.
Image: Upper Vulcan Lane before it's transformation.
Park for $2 per hour at the Victoria St car park on evenings and weekends. Find out more.
Come into the city centre on public transport for as little as $2 each way. Find out more. 
Last updated:
11 June 2019