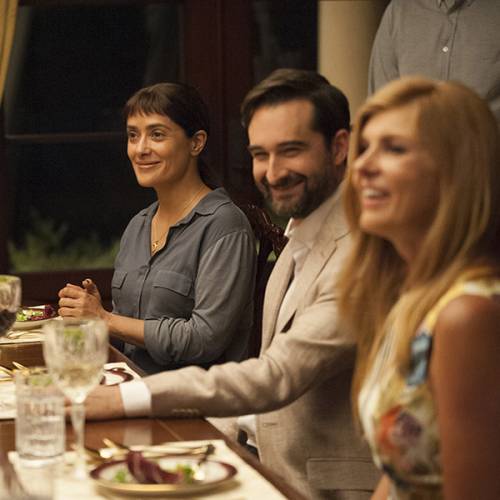 This perfectly honed chamber drama from director Miguel Arteta and writer Mike White begins as a squirmy dinner-party-gone-wrong comedy and expands into something much more soulful and timely.
Salma Hayek plays Beatriz, a Mexican-American holistic healer invited to stay on for dinner by her wealthy client and avowed friend Cathy (Connie Britton). She finds herself breaking bread with Cathy's husband's business partners and their wives. The alpha male at the party is billionaire developer Doug Strutt (John Lithgow, playing against the obvious Trump connotations with a chilling assurance). As the cocktails multiply and the one percent rejoice in world domination, the earnest Beatriz enunciates an alternative view.
"Arteta deftly portrays the cocoon of wealth and the shamelessness of those who seek it at all costs: Doug can say whatever he wants, because he's surrounded by sycophants and others who feed on his money and power. Beatriz, we sense, has been let in on a gathering that people like her are not supposed to see. That's a pretty simple set-up, but Arteta and screenwriter Mike White find nuance in the conflict...
This might be the best performance Salma Hayek has ever given, her quiet, observant reserve eventually giving way to bewilderment and resolve. And her inner turmoil is a powerfully relevant one: How does a person committed to healing – to being principled, empathetic, and good – handle first contact with the devils who think nothing of destroying our world?"— Bilge Ebiri, Village Voice
Watch the Trailer Below
Park for $2 per hour at The Civic car park on weekends. Find out more. 
Come into the city centre on public transport for as little as $2 each way. Find out more.
Last updated:
11 June 2019