Cheese lovers, say cheese to your day with some of the city centre's tastiest cheese platters. Whether you're looking for some artisanal French cheese or local New Zealand cheeses, we've rounded up some of the best cheeseboards that you can find to settle your cheese cravings.
Three cheese selection by country or by style, $36 | Wynyard Grill, 142 Halsey Street
At Wynyard Grill, you're in charge of making your own cheese platter. Choose between three styles of cheese (brie, blue, aged) from 3 different countries (France, Italy, NZ). You can choose either one style (ie brie) from all three countries (Brie de Meaux-France, Tallegio-Italy, Whitestone mt domet-NZ) or you can choose one country (ie France) for all three styles (Brie de Meaux, Roquefort, Comté). Tough choice, we agree!
Wine recommendation: 2018 Houchart Côtes de Provence (France), $47/per bottle.
 
NZ Cheese platter, $50 | La Zeppa Kitchen and Bar, 33 Drake Street
Located at Victoria Park Market, La Zeppa is all about sharing. Influenced by Mediterranean street food, feast away on their NZ cheese selection platter with mixed nuts, housemade pickles, hummus, zatar and flatbread (to share of course!).
Wine recommendation: Mt Difficulty Target Gully Riesling (Central Otago), $14/per glass.
 
French Cheese selection, $35 | Le Chef, O'Connell Street
When we think about cheese, the first thing that comes to mind is France and there are approximately 1,600 distinct types of French cheese (yes, we're not kidding!). Where to get French cheese in the city centre, you may be wondering? Well, where else than Le Chef to indulge your palate with a delicious French cheese platter. You've got the choice between a selection of 1 cheese, 2 cheeses or 3 cheeses for $18/27/35 respectively.
Wine recommendation: 2018 Reserve Gewurztraminer, Alsace, France, $14.5/per glass.
 
Formaggio Three Cheese Board, $39.50 | Baduzzi, 10-26 Jellicoe St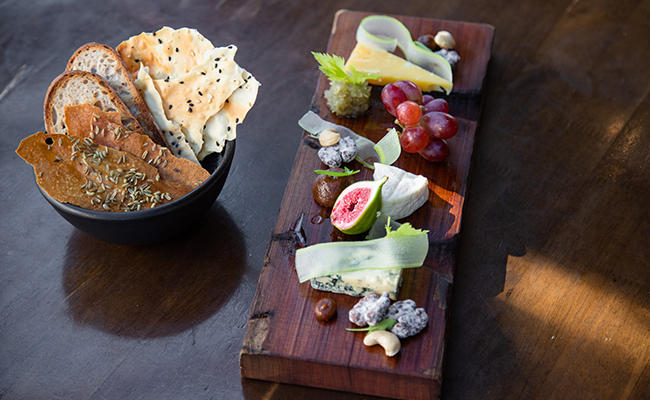 Take your friends out to Baduzzi and order the Formaggio Cheese board on the dessert menu. This Italian inspired cheeseboard is served with three different kinds of cheese, a selection of fresh bread, and complemented with an array of colourful fruits, nuts and dips. The platter is so delicious you'll want it all for yourself.
Wine recommendation: 2018 Delibori Pinot Grigio, Veneto, $16.00/per glass.
Mix platter (Jamon & Cheese), $19 | Madriz, Snickel Lane
Drop in to the authentic Spanish tapas bar, Madriz on Snickel Lane and order their Jamon & Cheese Platter. This cheese mix platter comes with tasty Iberico cured ham and fresh bread - great for nibbles. Madriz is the perfect choice for a catch up with friends over a few drinks.
 
Wine recommendation: Marqués de Riscal Próximo, $13.00 / $59.00 per glass/per bottle.
Cheese and wine flight, $35 or $55 | Housebar at Hotel Debrett, 2 High Street
HouseBar at Hotel DeBrett is offering guests a taste of New Zealand with their signature cheese and wine flights, a special pairing of award winning local cheeses lovingly combined with a selection of hand picked New Zealand wine from across the country. Guests are invited to knock back a few glasses as they devour some of the best cheeses from this side of the globe. Choose between two price points: $35 for 3 cheeses and 3 glasses of red or white wine or better yet, share the goodness with a friend for only $55 and enjoy 6 glasses of wine.
Wine recommendation: Wine included with the cheese platter.
 
Cheese Platter, $45 | The Conservatory, 17 Jellicoe Street
It's not all about the combination of textures and flavours but also how everything comes together. The Conservatory's cheeseboard is as delicious as it looks. The Chef's selection of artisan cheeses are served with grapes, pear and fig chutney, quince paste, walnuts, crackers and selection of artisan breads. This promises to be a flavour sensation!
Wine recommendation: Roaring Meg, Central Otago, $13.50/per glass.
Last updated:
31 July 2020