Crane Brothers believe that beautifully crafted tailoring forms one of the most important and empowering parts of a man's wardrobe. Their made-to-measure service is the backbone of their offer, and allows at every step to create tailoring with the needs and tastes of the wearer in mind. We chatted to the label's founder Murray Crane on the story behind their suits, winter fashion trends, styling tips and more. 
What are some of this season's menswear/footwear trends you're seeing?
The largest and most talked about trend is the continued casualisation of the workforce. Dress for your day policies are being developed and implemented by many companies now. This is a fundamental shift in the way men dress for work, so we are seeing a move towards more "business casual" items; separate Tailored Blazers and Trousers but fewer ties and suits.
What is a simple way men can dress up their work wear this season?
The easiest way to do this is to buy quality and well made (sustainable) items that work in a variety of ways. It is infinitely easier (and better) to dress down a quality garment than it is to dress up something that is not.
How do Crane Brothers set themselves apart from other menswear stores?
When I started the business my goal was to create a great retail experience. In the beginning this was even more important than creating a brand so my (our) focus was always on the retail and over time that became the backbone of the brand. Retail remains my passion and Crane Brothers will always be a retail business, it's in the businesses and my DNA. I think the other things that really set us apart is that we still run a busy workroom that manages all our own alterations and finishing. That's pretty unique anywhere in the world now.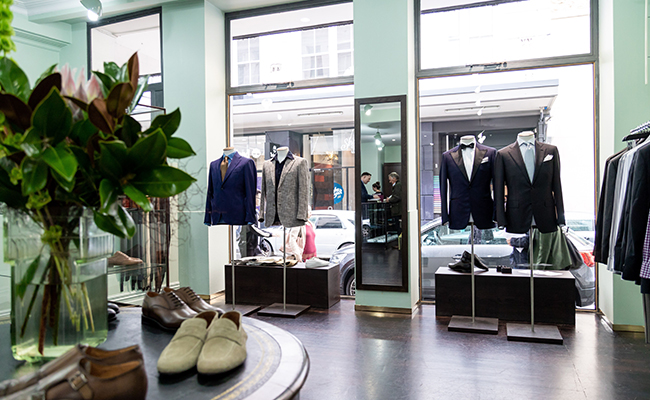 Run us through the story behind the suits and Crane Brother's made-to-measure experience – what can customers expect when they walk into a store?
Made to Measure is the heart and soul of what we do and wherever possible we prefer to make our clients garments from scratch, as the way something fits is essential in our eyes. An initial consultation and fitting with one of our senior Made to Measure specialists last about an hour (sometimes longer) and in the time you will have your unique fit profile created and fabric selected. Then after approximately 25 working days your garment is ready for its first fitting. A final fitting is also conducted. All our senior staff have at least 10 years experience, or more in some cases (up to 35). We have in excess of 10 000 individual fabrics to choose from. Made to Measure is not just suits either. It has grown to cover Blazers, Coats, Chinos, Shoes, Shirts and even Jeans - All Made in Italy by artisans we have worked with over the last three decades.
What do you love most about having a store/working in the city centre?
I started working in the High Street District over 30 years ago, before fax machines and eftpos and the internet, which makes me sound really old. I still get excited by High Street and the CBD every day. I like that our own businesses are based in beautiful landmark locations. It breaks my heart to see the loss of so many beautiful buildings, but I am excited by the development and investment in infrastructure.
How do you think the city centre sets itself apart from other shopping destinations in Auckland?
The city always has its buzz on, no matter what time of the day or week, you will always find visual stimulation. It's a little crazy and messy at times, but that's all part of its charm. It's nice to be in an environment where you can be surprised and challenged and not a sterile manufactured environment.
Last updated:
26 June 2019