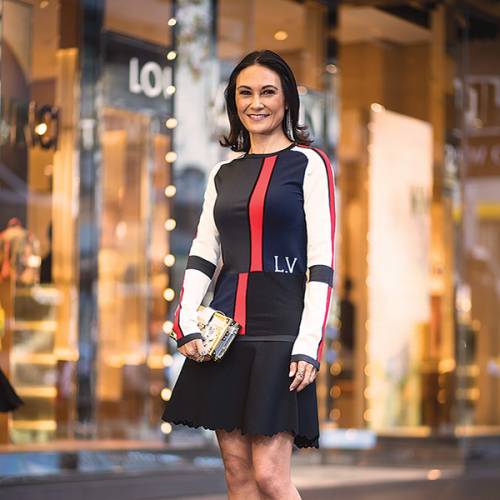 How do you house a collection of beautiful designer scarves? Order a dual purpose, custom-made case: one which both stores them and shows them off in all their exquisite glory.
The case is Louis Vuitton, as are its silk, wool and cashmere contents. Purchase of the made-to-order piece was overseen by Moana Hazeldine, whose role is private client relations manager at Louis Vuitton's flagship Queen St store. "It looks like a plain case, but when you open it up you can see an amazing display of textiles," says Moana of the creation which saw another happy customer achieve their dream.
That's the sort of work she does: meeting the needs of long-time seasoned shoppers who seek out all manner of items bearing the luxury brand's logo. Moana has her own lengthy links with Louis Vuitton; she's a foundation member of the Auckland store, which opened in November 1991. After 24 years as store manager, she moved into her "exciting" new role last year.
Moana's connection with the business all began with a handbag. Back when she was a teen, she spent a year between high school and university as an exchange student in Japan. "The host mother had an amazing collection of handbags," she says. "She'd pick her outfit based on the bag she was going to carry that day. And that really opened my eyes to accessories: to how beautiful a handbag could be."
Moana — born in Rotorua but raised in Darwin — says she learned respect for Louis Vuitton from her host mother "because of all the designer bags she had, that was her favourite brand".
She would take that respect with her when her Japanese sojourn ended. Moana returned to Australia, where she completed a BA, majoring in languages (she speaks Japanese and can understand French) at the University of Sydney. As chance would have it, the new graduate heard Louis Vuitton were seeking Japanese-speaking staff: "I applied for the job — and when I got it, the first thing I did was ring my host mum and say: 'Guess what?'."
The Japanese link is still maintained: the host mother and her husband regularly visit New Zealand to ski. "They always come to Auckland to visit me in the store — and to shop here," she says. Indeed, the host father's LV collection is now proving to be as big as his wife's.
If you think Moana's life is one of unabashed luxury, you might like to think again. Three times a week, she volunteers as a pest control officer with Auckland Council. Before she starts her working day, she walks the Auckland Domain, clearing rat and possum traps in order to help protect native birds and plant life. It's not a job for the squeamish, as any photo will attest.
There may be a big contrast between the two roles, Moana says, but there are similarities within. "The domain is fresh air and glorious Mother Nature, and then I come here and it is the epitome of beautiful French design — I love the heritage and history of our company.
All in a day's work."To me, it is a luxury to walk through the Domain, with the kauri trees overhead and the tui singing. And then I walk in the front door here." What does she feel? "Joy, elation, pride, excitement and curiosity — I love to see what new collections have been launched.
"To see clients come in and try things on and have a great time — what more could you ask? It's like having a party."
Moana Hazeldine's Top City Gems
Auckland Art Gallery (Toi o Tamaki).
"I love to visit in my weekends. They have an amazing New Zealand art collection, as well as first-class international exhibitions. You could walk in and be in Paris or Tokyo. It's something to be really proud of. I recommend the gallery to anyone looking for a cultural escape."
Ginger slice at Delissimo.
"I have a really sweet tooth and I'm addicted to ginger slice. I've tried all the ginger slices within 200m of the CBD and this is the best. It's sweet and tangy and the base is not crumbly, it's firm and delicious. The energy you get from it — you could go all day. I try and limit myself to three a week."
Hotel Grand Windsor.
"They've done a major renovation; it's all done in art deco style. I did a tour of the rooms; they are plump with loveliness. It's the best accommodation location in Auckland — right in the heart of the city, with amazing access to Britomart, the Viaduct, the Link bus and all the surrounds. It's definitely on my wish list to stay there for a special weekend."
- This article was originally published in Viva
Last updated:
23 November 2018