If you're a fan of fashion that is bold, chic, beautiful and extravegant, WORLD is a label you'll want to (if you don't already) know about. It stores are a reflection of the label's eclectic and quirky style and houses their full women's, men's and couture collections, luxury accessories and rare and collectable objects. From her Britomart store in Auckland city centre, we chatted to WORLD cofounder and Kiwi fashion icon Denise L'Estrange-Corbet (above left) on winter fashion trends, tips, WORLD's AW collection and what she loves most about Auckland's city centre - shopping and beyond. 
What are the fashion trends you see coming through this 

winter?
I have never been a 'trend' follower, looks/colours of the season etc. I tend to leave that to the fast/disposable fashion retailers, the big boys.
We are designers, and as such, each season Francis, Benny and I put our ideas down the old fashioned way, with pencil and paper, ideas, colours, shapes, and this is all done a year in advance and filed, then we sit down and collate what the next season will be. It is always interesting to see what direction of 3 of us feel the coming season is going to be, it can range from exciting to shocking, but you can guarantee it will always be colourful!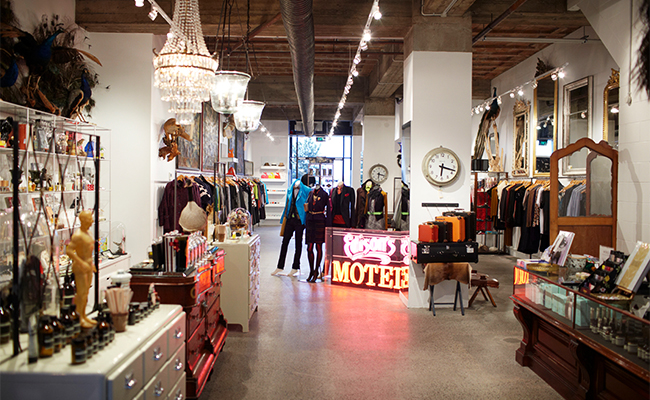 What are three winter fashion essentials you can't go without? 
This Winter I cannot go without the 3 WORLD essentials I just love!  The 'abstract scarf/wrap', I love a scarf in winter, it is so cosy and snug. The 'Connotation Coat' is another, with its puff sleeves, (always love a good puff sleeve), as it is something you can just put on over anything and feel dressed up, whether it is day or evening.  A good winter coat has to be 
funtional
, warm,
but still stands out from the mass of coats, a WORLD coat always has a twist, that lasts. The third is my High Hat Shirt Dress, it is my absolute essential this season, as you can dress it up or down, and I know I will still be wearing it all summer too, as it is so flattering and easy to wear.
What is one thing women can do to dress up their day to day work look, in an effortless way? (a standout accessory, pop of colour, statement jacket?)
For me, the one way I always dress up my day look, that I can take straight to evening, as this happens most days, is always jewellery or a scarf.  Now jewellery must never be worn just for the sake of it, it has to go with what you are wearing, and has to be thought about, from earrings to brooches to rings. It does not matter if it is fine jewellery or costume, it is how you wear it.
The other item that adds a pop of colour, pattern and style is the silk scarf, be it large or small.  I have a whole floor to ceiling section in my wardrobe of scarves that I have collected over the years.  I never buy them for the sake of it, but because I truly love them.  
The scarf can be worn with a shirt, jumper, dress, in fact anything, and it can be tied so many different ways. It even dresses up a jumper and jeans, which is pretty basic, so invest in good scarves and you will not regret it. You can even wear it as a headscarf like the Queen!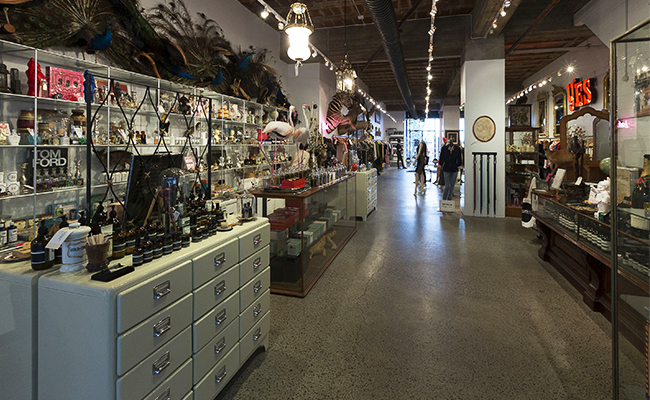 What is the inspiration behind WORLD's AW collection this year? 
The inspiration behind 
WORLD's
 AW Collection was given the name "Sorry That I'm Not Cool", which of course is our very tongue in cheek humour.  I often wonder 'what is cool anyway?', 'who is the master deciding what cool is?' and more importantly, who cares?  If you think you are cool, then you're most definitely not!  Sorry to burst your bubble! There are so many other issues to address, to worry about hanging out with the cool crowd is a sad indictment on our society.  I have never thought I was cool, and am happily very uncool!
Do you have a favourite piece from the collection?
The High Hat Shirt Dress from this collection, I think I will wear it until it literally falls off my back!
What do you think sets the city centre apart from other areas as a shopping destination? 
Going shopping in the city is a full day out!  There are so many new things always popping up, from international stores to our home grown boutiques, as well as a plethora of the best eateries you can imagine [giving a multi-dimensional experience for visitors]. There is nothing better than a day off in town to eat, shop, eat, shop, eat, shop the day away, and in the city centre you can do that from dawn till dusk, and it just keeps growing and improving! I love the specialist stores, that really know their product well, and are knowledgeable in their product, so good!  I love shopping and supporting local produce and artisans.
What do you love most about the city centre? Do you have any favourite places to wine and dine after work or at the weekends in the city centre?
Amano
 in 
Britomart
 is one of my go to faves, I always take visitors there, the food is clean, flavour packed and just plain yummy, great for lunch.  
The rooftop bar at the new SO Hotel is a must, must, must! The view, the cocktails, the decor, ambiance, all stunning, looking out over the city and the harbour, I always go there with friends for 
pre
 dinner drinks, then all you have to do is zip down to the 15th floor and plonk yourself at their SO/ restaurant, and be looked after. 
I know hotel restaurants often get a bad rap, but this one is knockout!  So, (excuse pun) stylish with magnificent views. Its French cuisine is superb, and their home made bread has me salivating, it seriously is the best I have EVER had in the world, and I have eaten a lot of bread, believe me!
For a fine whisky nightcap in town, there is only one place to go, The Jefferson in Fort Lane. Their selection and knowledge of whisky is truly incredible. 
Last updated:
25 June 2019