Make the most of the last long weekend until October and enjoy a fantastic staycation in your own city with a range of great sights to see and experiences to be had. Check out our list of things to do below which everyone - regardless if whether you're a local - should see and do. The heart of the city has it all for enjoying a memorable local weekend away - you'll just wish you'd done it sooner! 
Book a stay in luxury art deco hotel | Hotel DeBrett 
This art deco style luxury boutique hotel boasts 25 unique suites and is centrally located at 2 High Street meaning you're just one step away from everything you need in Auckland's city centre. Start your night off with a visit to either of two bars available on site. For a quiet, intimate setting try the House Bar situated on the first floor of the hotel then pop down stairs to Corner Bar and get a feel for the local nightlife scene.
For this long weekend only: take advantage of two special accommodation offers available - a stay in a Classic Room from $230 per night, with $30 bar credit. Or a stay in a Suite from $300 per night with $50 bar credit and self parking. Plus, be quick as the first 10 bookings will receive a $50 voucher for breakfast at one of High Street's favourite cafes, Chuffed.
Terms and conditions apply. Limited availability offer is valid for bookings made for stays this Friday 29 May, Saturday 30 May or Sunday 31 May, 2020 only. Bar credit can be redeemed at either House Bar or Corner Bar, within the hotel. First 10 bookings to quote HOTC will receive a $50 voucher for Chuffed cafe. To book: online click here , email: reservations@hoteldebrett.com or call reservations on: (09) 925-9000. 
Go grand at SkyCity 
Situated in the heart of Auckland with many of the city's most impressive attractions and eateries on their doorstep, The Grand by SkyCity offers guests a truly five-star experience.
For this Sunday only: $199 for up to two adults in a Grand King or Twin room at The Grand by SkyCity this Sunday including valet parking. Plus, be quick, the first 10 bookings will receive a $50 voucher to use at Depot for brunch. 
Terms and conditions apply. This is an exclusive offer via Heart of the City and is valid for up to two adults in a Grand King or Twin Room at The Grand by SkyCity on Sunday 31 May 2020 only, subject to availability. Valet car parking for one car is included. You will be responsible for all incidental charges and costs, including travel to and from the hotel and all in-room hotel services provided throughout your stay. A credit card surcharge of 2.5% may apply.
To book online: Click here. 
Roaring 20's High Tea | Hotel De Brett | Saturday & Sunday 1-4pm
You don't have to leave your hotel for this awesome High Tea event to celebrate the Queen's birthday. Book yourself a table at the Hotel DeBrett's Roaring 20's High Tea, and take a step back in time to the decade that the Queen was born in, the 1920's! The "1920's-inspired high tea menu will tantalise the taste buds of all cake and cocktail lovers, and the gramophone sounds of the Great Gatsby era will have you tapping your toes". For more information and to book your table, click here.
Explore the city centre neighbourhoods on a self-guided art tour 
This weekend is a great time to be in the city as the Festival of Photography is on (May 28 - June 14). Peruse the various projects including large scale outdoor work, photographic light boxes and digital screen projections at your own pace with a self guided tour which will see you view pieces in Silo Park on the waterfront, Queens Wharf, Freyberg Place and the Ellen Melville Centre (a short stroll from your accommodation) and Aotea Square. View the map and route online, here.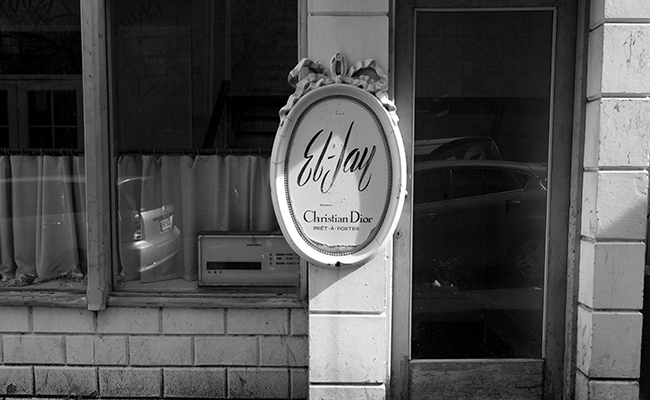 ...or if you're a fashion enthusiast, Walk the Walk fashion tour  throughout the city centre
The New Zealand Fashion Museum has worked with Walk Auckland to reveal the traces that remain of Auckland's inner city fashion history. This tour peels back the layers of this often overlooked aspect of our cultural heritage, revealing the important role of women in and at the helm of this significant inner city industry from 1867 to now. It includes locations like The El Jay Workroom, home to the only place in New Zealand allowed to make and sell Dior clothes under license from Dior. A once vibrant space which now sits empty, though what exists now is a kind of unintentional time capsule that is permanently on display. Wipe back the dust from the window to reveal roles of material and paperwork. The tour takes around 90 minutes - simply download the Walk Auckland app on your device and follow the map.
Learn about Auckland's unique maritime heritage at Auckland Maritime Museum 
The New Zealand Maritime Museum tells the stories that created a nation, stories that have defined our identity as New Zealanders. The museum honours and celebrates those who sailed to the limits of their imagination with interactive and immersive exhibitions. Try your hand at yacht design, relax in the bach, hoist the sails, hear the cannon fire, test your sea legs and batten down the hatches in the rocking cabin, the Maritime Muesum is a great place to visit when you're in the city this long weekend. 
Keep with the maritime theme with a visit to the iconic Auckland Fish Market 
Since 1904 the Auckland Fish Market has been the beating heart of New Zealand seafood. Now rebooted, reenergised and rebuilt, the Auckland Fish Market is a temple to the senses filled with eight incredible eateries, a courtyard bar and a world class fishmonger just metres from the Hauraki Gulf. Head down there this long weekend and enjoy NO surcharge, live music and the best seafood in the heart of the city.  
Have a laugh with The Great Classic Comedy Come-Back at The Classic 
From this weekend, The Classic Comedy Club is back live on Queen Street with a full roster of comedians with fresh material and raring to go!  Join the party and support local comedians and this iconic institution which is truly the home of comedy in Auckland. Due to social distancing policies overall numbers are limited so pre bookings are recommended. A full list of all comedians performing is available on www.comedy.co.nz
Visit a unique, hidden cocktail bar | John and May's 
Just a hop, skip and a jump away from your accommodation, tucked away up an internal flight of stairs on Vulcan Lane is this intimate cocktail bar which continues with an art deco setting, serving hand crafted and innovative drink designs. Our favourites are the Jewel of Waiheke, The girl from Khaosan and Doctor Strangelove, to name just a few. It's the perfect place to start, or end your night out in the city. 
Take the fine dining route on Federal Street 
Below the Sky Tower, lies a unique dining and entertainment destination along Federal Street. This neighbourhood comes into its own after dusk, as 20,000 twinkling lights illuminate the street and diners flock to the many eateries and bars that call Federal Street home. There are plenty of great eateries along this strip, but The Sugar Club restaurant, by Peter Gordon is the perfect place to take visitors - enjoy their fusion cuisine full of texture and deliciousness, 53 floors above Auckland city with stunning uninterrupted views.
And why not jump off the Sky Tower while you're there?! 
SkyJump is one of New Zealand's most thrilling attractions and one of Auckland's 'don't miss' experiences. While attached to a wire, fall very fast (at approximately 85kph) for around 11 seconds, and then come to a very smooth landing in the Sky City plaza below. Available at a special price of just $88 (down from $225) until June 11, there has never been a better time to delight your inner thrill seeker - so go on, you won't regret it!  
Explore the unique shopping scene in Britomart and on High Street and Queen Street
Who doesn't love a bit of retail therapy while on tour? Take yourselves shopping around Britomart's pavillions and down High Street and Queen Street where there is something for everyone. Britomart is home to a range of brilliant local designers and international labels that will have you covered for streetwear, wardrobe staples, accessories, work out gear and designer threads. High Street boasts a popular fashion and homewares scene and Queen Street is known for its beauty flagships including Sephora and MECCA, as well as its laneways that are home to quirky local stores well worth a visit.
Enjoy a film at Academy Cinema
Academy Cinema is Auckland's only dedicated art-house cinema, focusing on independent and art house films. From the best local and international films, documentaries, romantic comedies, dramas and thrillers, enjoy this film experience in the comfort of wide seats with wine holders so you can enjoy a drink or sweet treat during your movie.
Last updated:
08 June 2020