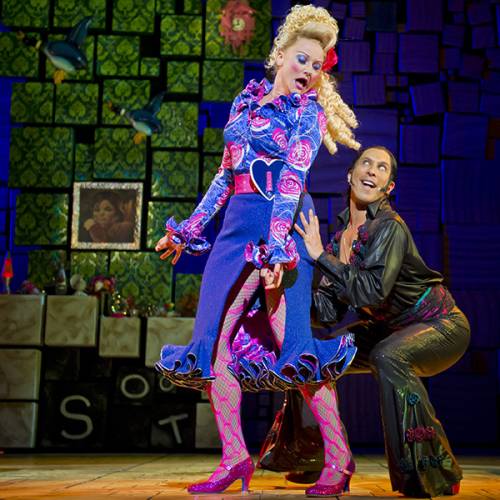 Rotorua born and bred, Travis Khan has paid a price for international dance fame – his kiwi accent.
These days Khan has a distinctive Aussie twang, a consequence of a role he performed in Priscilla Queen of the Desert the Musical 10 years ago.
"My Kiwi accent wouldn't have worked in Priscilla so I trained under an Australian accent coach to change it, and yes, I really do have an Aussie accent now," he says.
Khan is back home for the first time in 10 years preparing for his 760th performance in Matilda the Musical based on the Roald Dahl novel and which opens in Auckland on August 18.
He plays Rudolpho, the ballroom dancing coach of Matilda's mother Mrs Wormwood, a character not in Dahl's book but created especially for the musical.
It is the ninth musical Khan has performed in since leaving home in 2004 after graduating from the Unitec dance course in Auckland and the New Zealand School of Dance in Wellington.
In those years he has found fame and fortune not only on the dance stages of the world but in television and film with parts in programmes like Neighbours and dance sequences in Peter Jackson's movie King Kong.
"I always wanted to be in the performing sector," he says. "I did my first show at six, I would do pantomines and lots of amateur productions; at one stage I wanted to be an actor."
After leaving school he auditioned for a place at Unitec, after initially only going with a friend to give moral support.
"I ended up getting in and decided to use the opportunity to work hard; they told me I had potential but was 'raw'. I've still got a copy of my audition video from that time and when I look at it now I can see what they meant."
Graduating from Unitec, Khan went on to the New Zealand School of Dance, which is where his big break came.
Spotted by casting agents for The Lion King he was invited to Sydney to audition.
"They offered me a job on the spot, but it was a difficult decision. I asked them for time to think about it, came back to Wellington, had lots of discussions with my teachers and decided to take it.
"I thought I would only be there for a year, but I found I loved it and nine musicals later I'm still dancing," says Khan. "It feels like home, I feel very grateful and humble."
Khan has been with Matilda (the show has won over 70 international awards including 15 for best musical) for over two years, the production just having finished its 759th show in Australia. With its Auckland season soon to open, he is taking the time to see family and friends in Rotorua and Wellington before rehearsals begin.
"This show has been seen by over a million people and it gives me an absolute buzz when I think about the scale of what we are doing.
"To be back home (he has three sisters in Rotorua and a brother in Hamilton) makes my heart sing; it brings me back to where it all began."
Khan says he read lots of Roald Dahl books as a kid.
"I was introduced to him by a teacher at Western Heights Primary School in Rotorua who was a huge fan and I would get his books out of the library; the way he wrote resonated with me."
Matilda the Musical is the story of an extraordinary girl who armed with a vivid imagination and a sharp mind dares to take a stand and change her destiny. The Auckland season opens at The Civic Theatre on August 18 and runs until October 22.
Last updated:
23 November 2018