Need a little something to fill the void between lunch and dinner? The sweet options to satisfy your snack cravings in the city centre are endless. Get down to one of these locations by 3pm and you'll leave with a treat in hand that will give you that little extra boost you might need to get through to the end of the day.
Keto bliss balls | The Raw Kitchen, corner of Wellesley & Nelson Street
Skip down to City Works Depot to get one of these keto bliss balls from The Raw Kitchen. Low in carbs, these energy balls make a perfect afternoon snack. Our recommendation is the chocolate one which will warm your heart on a busy afternoon.
Rhubarb tart and Tatin tart | La Petite Fourchette (Wynyard & Britomart)
Introducing the Tatin tart and the Rhubarb tart from La Petite Fourchette. These French pastries taste as good as they look. The Tatin tart is made of caramelised apple and vanilla sour cream and the Rhubarb tart with clafoutis and poached rhubarb. Perfect for 'Le Goûter', the French equivalent of afternoon tea, where you eat something to keep you going until dinner.
Chocolat bonbons | Honest Chocolat, Commercial Bay, 7/21 Queen Street
Honest Chocolat is your new local chocolatier in the city centre. Located in the newly opened Commercial Bay, you can get these stunning, hand decorated chocolate bonbons in three different flavours (tiramisu, manuka honey and pear and toasted fennel seed). Sit back and relax at the chocolate bar and choose from an inspired menu of decadent chocolate drinks and treats, or grab a takeaway hot chocolate and chocolate cookie.
Caramel Slice | The Store, 5B Galway St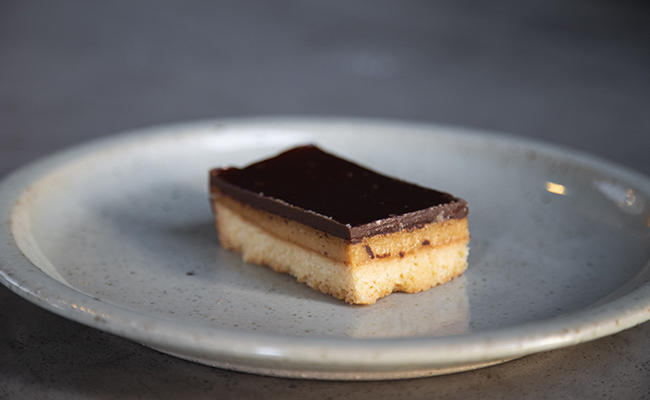 This sophisticated treat is perfect if you've left lunch a little late and are keen to snack on something that can give you that much needed sugar boost we all need towards the end of the day. Visit The Store and grab yourself a slice and you'll be surprised how filling they can be.
Pastry | Ima Cuisine, 53 Fort St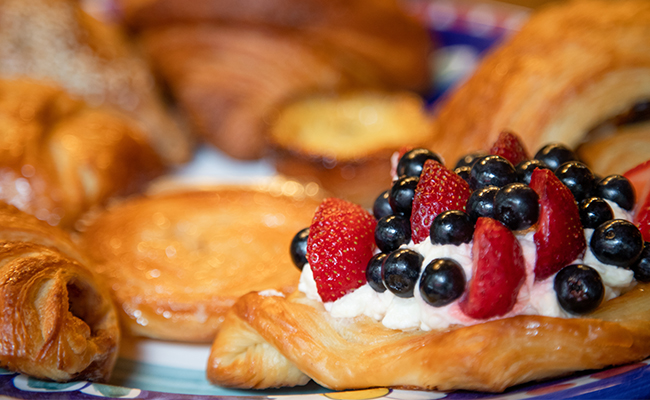 Pop into Ima just before 3pm and try one of their delectable, lovingly prepared pastries. From Pain au chocolat to croissants and danishes, Ima has a great selection of European sweets to get you excited about an afternoon snack.
Cookies | Mrs Higgins Cookies, 270 Queen St
The sweet smell of freshly baked cookies is hard to miss when walking down central Queen Street so why not stop by the source, indulge in a bit of childlike enjoyment and experience why Mrs Higgins cookies are world famous in NZ. With all the classics freshly made through from 7:30am up until 6:30pm you can be sure to leave with your favorites in hand.
Vegan Chocolate Donut | Tart Bakery, Commercial Bay, 7/21 Queen Street
Tart Bakery, a 100% plant based, New Zealand-owned vegan bakery has just opened its door at Commercial Bay on Lower Queen Street and we love their vegan chocolate donuts. They are absolutely delicious and will for sure fill your afternoon cravings.
Red Velvet cupcake | Delish Cupcakes, 41 Chancery square
It's a light and fluffy red velvet cake topped with vanilla and cream-cheese frosting - and it is super delish! Baked fresh everyday by the talented team at Delish Cupcakes, it's available as a mini or standard size for the most gluttonous of us. YUM!
Tiramisu | Giapo, 12 Gore Street
Made of ladyfingers dipped in coffee, layered with a whipped mixture of eggs, sugar and mascarpone cheese, flavoured with cocoa on top, Tiramisu is a must-have Italian dessert. How could you resist?!
Last updated:
16 June 2020