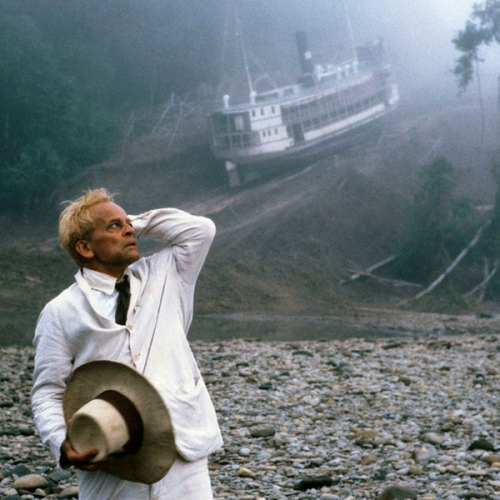 He intends to finance it by claiming a vast area of rubber trees that can only be approached by dragging a 300-tonne steamboat from one river to another over a mountain. The local indigenous people are persuaded to assist. Shot under horrendous conditions, it took four years to make, with three changes of cast, and was at one point disrupted by war between Ecuador and Peru. It's a supremely quixotic vision of unstoppable entrepreneurial ambition, inseparable in its effect from Herzog's own obsession in realising it.
"The imagery is spectacular: lush, stark and delicate. A sky at dusk blends the colours of Munch and Rousseau: Fitzcarraldo's boat skims noiselessly over water as soft and mysterious as silk. Fitzcarraldo is unusual for a Herzog film in providing a gallery of delightful supporting performances: Claudia Cardinale, as Fitz's mistress Molly, radiates sensuality like a healthy year-round suntan." — Richard Corliss, Time
"It's a stunning spectacle, an adventure-comedy not quite like any other, and the most benign movie ever made about 19th-century capitalism running amok." — Vincent Canby, NY Times
Director: Werner Herzog
Enjoy two hours of free parking or $5 evening and weekend rates. Find out more. Ride on public transport from as little as $2 each way. Find out more.
Last updated:
14 May 2017