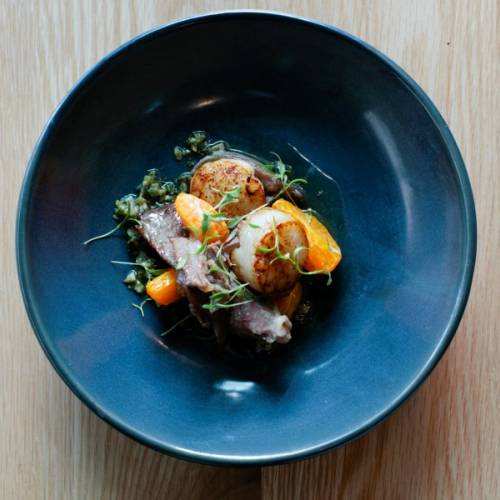 Clean, industrial, and chic, City Works Depot is home to six teams of creative and talented hospitality groups. The highly successful venture by Al Brown, Best Ugly Bagels plus the Food Truck Garage are great spots for lunch or get a take away treat at Scratch Bakers or enjoy a seat at one of the picnic tables.
Odettes
Think plates of wild mushroom with whipped Persian feta, beef check fritters with spiced red pepper sauce, haloumi and beetroot salad with almond gazpacho, whole plates of fish and lamb shoulder to share and more. The drinks selection is also a treasure to indulge in. The refreshing house made sodas are exquisite, with flavours such as sparkling coconut and lemongrass, perfect for summer sipping​
The Botanist 
The Botanist gives you the option of eating a delicious meal, having a drink and taking away flowers or a plant while you're at it. With a range of experienced people on board this delightful new spot is a favourite with foodies and fans of floristry. 
Best Ugly
Head down to City Works Depot and check out Al Brown and his team make Ugly Bagels in a funky old converted workshop. Serving up Montreal style, hand-rolled, woodfired bagels filled or in takeaway packs, Best Ugly is sure to be at the top of your list. Grab a Havana coffee or a cold drink too and pull up a patch of concrete. 
Shed Five
Thanks to their day time/night time make over inside and fantastic pavillion outside, Shed Five can accommodate for large functions and catering amongst the metal. The industrial showroom which showcases some of the best motorcycles in the country, incredible coffee, and menu makes any time a good time to relax in front of the fire and admire a motorcycle or twenty.
Brothers Beer


Alongside the working brewery where the 'Brothers' make their own brews on site, you will find leaner tables made from recycled weatherboards, vintage lounge suites, and a collection of old toys that will take you back to your childhood at grandmas house. Sit back and enjoy one of their delicious thin-crust pizzas, made to order while you sip lager in the sun, or hide away from the rain with a warming stout.  Nice and new to City Works Depot, make sure you go check them out on your travels.

Dry & Tea
Metro Best of Auckland 2012 winner and this year's NZ Best in Beauty 2013, Dry & Tea offer Auckland women wanting to be pampered a beautiful location at an affordable price. Sit back and enjoy one of their fabulous teas and, in true city style, cocktails will soon be available as an accompaniment to afternoon and evening pampering.
Three Beans Roastery
Prior to opening, the minds behind Three Beans travelled through Central and South America staying on a bunch of farms to get a better insight to the lives of coffee farmers. Since coming back in 2010, Three Beans have grown up to be something quite spectacular, supplying some of best cafes in Auckland including: Toru, Teed Street Larder, Monterey Coffee Lounge, Wai Kitchen and the new Ruben cafe in Parnell. 
Food Truck Garage


Your favourite show 'The Food Truck' is now at home at City Works Depot, Food Truck Garage!​

Scratch Bakers
Scratch Bakers opened its doors at City Works Depot in the CBD keeping with the industrial themes of the development. Their kitchen is operating 24 hours a day 7 days a week with an amazing selection of baked goods from their old classics like blueberry and lemon scones to the newly famous with fillings like rabbit, goat or duck. Try one of their freshly baked items before they sell out! We reviewed Scratch Bakers and here's what we thought.
$8 evening and weekend parking at City Works Depot car park (Tournament Parking). Find out more.
Come into the city centre on public transport for as little as $2 each way. Find out more.
Last updated:
21 August 2020