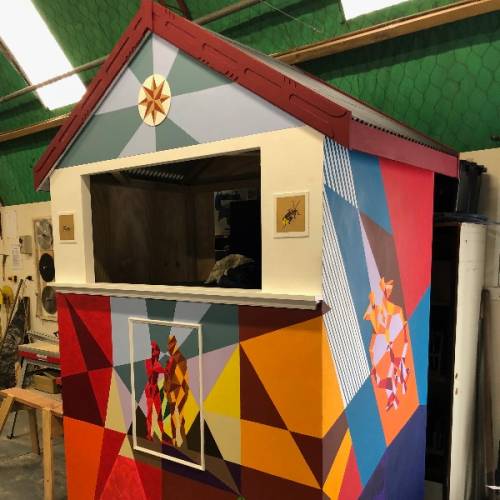 The Little Theatre is a portable street theatre designed by Paul Woodruffe. Images from the streets of Auckland by the photographer Shadow an artist with lived experience of homelessness and is part of the Lifewise outreach community, will be digitally animated by William Bardebes which will play on iPads built into an architectural stage set within the theatre.
New Zealand has a history of colourful traveling shows that would perform on the streets, for example Blerta, and in Auckland the pop-up Bullworker shows. They wanted to bring to Auckland both the visual presence of a vaudevillian puppet theatre building, as well as a portable platform that could be used to tell stories through a variety of mediums. In this instance they have chosen digital media; the photography of an artist who knows the city and the people who call it home well, and created a selected animation of these images presented via a cluster of iPads. 
This is a Unitec Creative Industries Production.
Come see the The Little Theatre at the Central City Library during the duration of Artweek and LATE NIGHT ART Tuesday 9 October 5 - 9pm
Photo by Shadow
Funded by Auckland Council
Park for $2 per hour at the Victoria St car park on evenings and weekends. Find out more.
Come into the city centre on public transport for as little as $2 each way. Find out more. 
Last updated:
11 June 2019