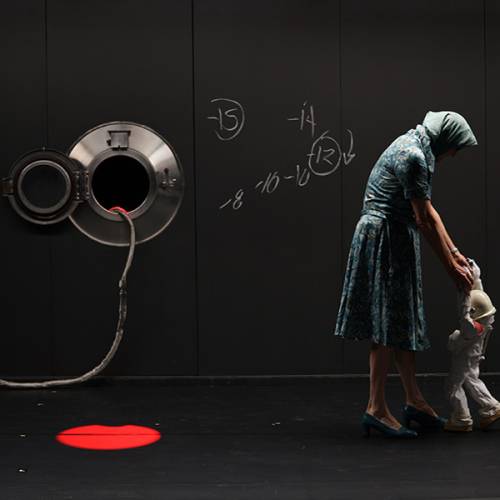 International theatre star Robert Lepage's one-man show The Far Side of The Moon premiered in Quebec in 2000. It's since toured to forty-five cities throughout the world and is feted as the French-Canadian director, playwright, actor and film maker's master work.  
Performed by Yves Jacques and punctuated by Laurie Anderson's spacy score, The Far Side of the Moon is technically exquisite.
Part-thriller, part-lecture, part-conjuring trick this is a quirky, beautiful and often funny play that will make moon junkies swoon and poetry lovers rejoice.
Two brothers, so estranged one could well be living on the moon, are reeling from the death of their mother. Philippe is an introverted philosopher and perpetual student struggling to complete his thesis about the effect of space travel on popular culture. The younger Andre is a vain and materialistic weatherman who pontificates on TV each night and cares more about worldly success than his brother's intellectual hand wringing.
With his head in the stars, a forlorn Philippe trudges down to the local launderette where the round glass door of a washing machine becomes the entrance to a spacecraft, then a view of the Earth from space, then a clock, then a goldfish bowl.
The sibling rivalry of the two brothers who each finds in the face of the other an image of his own disfigurement is layered against an exploration of the space race between the US and the Soviet Union suggesting it was a product of narcissistic rivalry rather than scientific enquiry.
A show of mirrors and reflections, The Far Side of the Moon deals with the fundamental fear of being alone in the universe, a feeling often borne out in the vertigo you can experience after losing your parents.
Spanning decades, visionary artist Robert Lepage's stage and screen career is studded with acclaimed works. Versatile in every form of theatre craft, the French-Canadian director, playwright, actor and film director is one of Canada's most honoured theatre artists.
His creative and original approach to theatre has shaken the dogma of classical stage direction to its very foundations, especially through his use of new technologies.
He founded Ex Machina in 1994 on a belief that the performing arts - dance, opera, music - should be mixed with recorded arts - filmmaking, video art and multimedia. He then wrote and directed his first feature film, Le Confessional. Followed Polygraph (1996), Nô (1997), Possible Worlds (2000), and The Far Side of the Moon (2003).
Park for $2 per hour at The Civic car park on weekends. Find out more. 
Come into the city centre on public transport for as little as $2 each way. Find out more.
Last updated:
11 June 2019