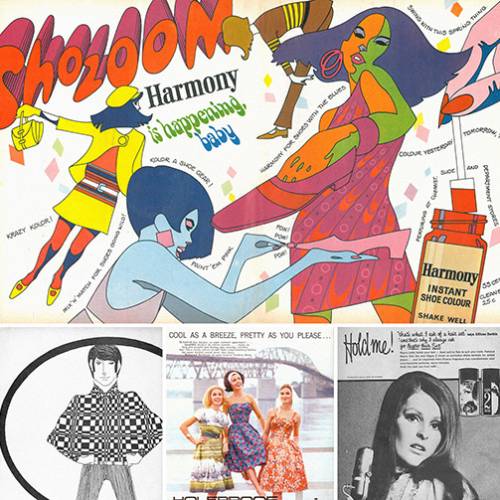 To celebrate Fashion Week, the Ellen Melville Centre, in conjunction with magazine maestro Murray Cammick present a retrospective look at Kiwi fashion as seen on Auckland's High St, Vulcan Lane and on the sets of the C'mon! Pop music show, shot in the Shortland St TV studios.
This projection show features swinging 60s fashion images from the pages of Playdate magazine. As youth culture boomed in the 1960s, the local magazine that documented the move from staid styles to mod fashion was Playdate (1961 to 1972). The magazine's initial focus was movies but it broadened to include music and fashion.
Playdate was used by clothing manufacturers to reach young women and sell their new fab styles while the magazine's fashion spreads also included designs from local indie boutiques such as Hadny 5, Annie Bonza, and Paraphernalia.
As clothing imports were banned in the 1960s Kiwi teens had to accept local knock-offs of London's Carnaby Street styles or they had to go D.I.Y and do it yourself on mum's sewing machine. Projection images include the mini-skirts and go-go action of the teen TV show C'Mon! and Larry's Rebels and The Underdogs in fashion pictorials.
The exhibition ends on 17 August, so don't miss out on this unique fashion experience. The pictorial exhibition is shown weekdays from 9am-5pm on the Helen Clark Room big screen and after hours on the TV screen in the window of the Ellen Melville Centre.
Park for $2 per hour at the Victoria St car park on evenings and weekends. Find out more.
Come into the city centre on public transport for as little as $2 each way. Find out more. 
Last updated:
11 June 2019