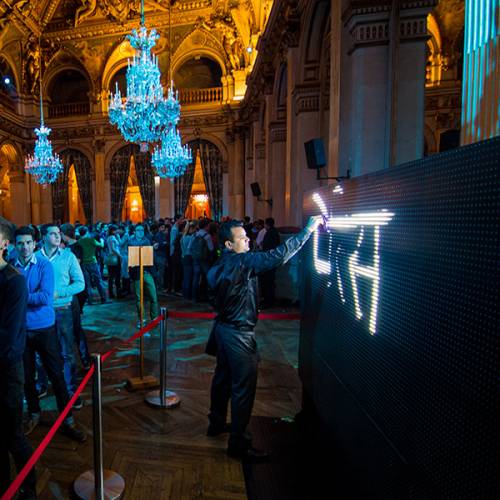 Direct from a season at the EPM Water Museum in Colombia, Waterlight Graffiti, a beautiful and dynamic interactive art installation by renowned French artist Antonin Fourneau is lighting up Aotea Square daily from 3 August, thanks to Auckland Live.
Magical Waterlight Graffiti is a large street art screen made up of thousands of LED lights which illuminate when they come into contact with water. Using a tool of their choice, visitors to Aotea Square can sketch or draw directly onto the screen, which lights up in response.
Eco-friendly, playful and unique, Waterlight Graffiti will be an easel for Aucklanders to throw their thoughts or moods up onto, and communicate through the magic of water and light.  
Waterlight Graffiti has showed to critical acclaim at festivals around the world including The Delight of Chinese Character Festival in Taiwan, Light Night Leeds, and New York Design Week.
Enjoy two hours of free parking or $5 evening and weekend rates. Find out more. Ride on public transport from as little as $2 each way. Find out more.
Last updated:
26 June 2019