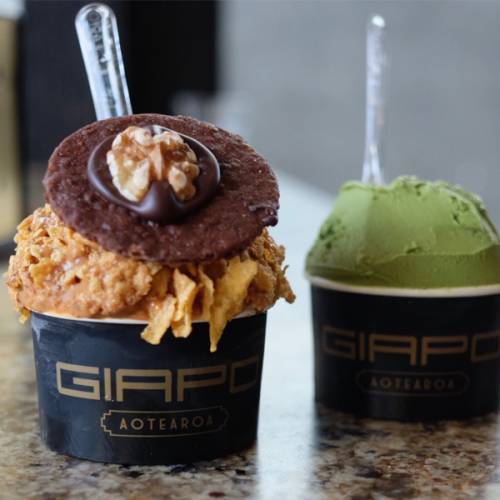 Giapo's new downtown Auckland location is bigger and better than ever. 
If you've ever been in the city late on a Friday or Saturday in the past 9 years, you would've seen the line of punters streaming out of Giapo's original little ice-cream shop on Queen Street. 
In March of this year, Giapo relocated to its new, much larger location downtown, and along with the expansion, the owners - Annarosa Petrucci and Giapo Grazioli - have also reconfigured their menu to include a lot of unique, unusual sweet offerings not seen elsewhere.
I popped into their new store last week to take a look around the new joint and find out exactly what the 'discombobulating' menu was. 
Upon first sight, it's obvious Giapo is not one of your run-of-the-mill ice-cream shops. Firstly, there's no ice-cream counter! There's no ice-cream counter and no ice-cream visible. What is there, is a sleek black and gold fit out incorporating a small amount of seating (indoor and outdoor), and menus. You order via a menu and the ice-cream is constructed out back and brought to you. Very flash.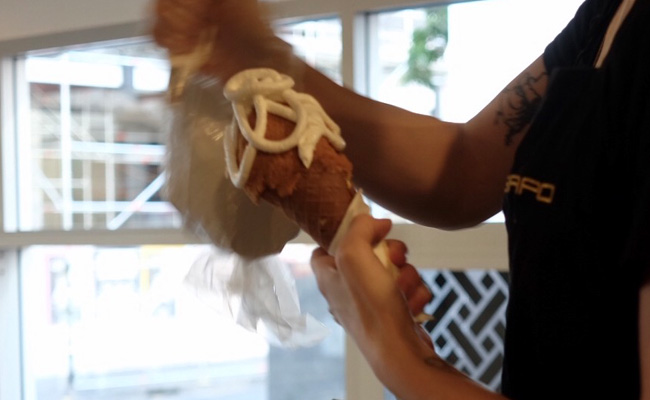 The menu consists of four categories: "Taste Me" - what they call your 'standard' seasonal ice-cream flavours and toppings (but when I say 'standard' - I'm talking popular items such as the Giapo Bueno - Caramel, Hazelnut Praline and Amaretti, the Siamu Popo (Samoan Caramel) and the Afghan Cookie with Chocolate covered Cornflakes for extra crunch. Today's sorbet is 'Feijoa Chamomile". The "Hold Me" category is for those who are looking to go even more adventurous - put your ice-cream in the 'Selfie Cone' and it will come out with an edible frame attached to a cone, for example (no, I'm not joking!).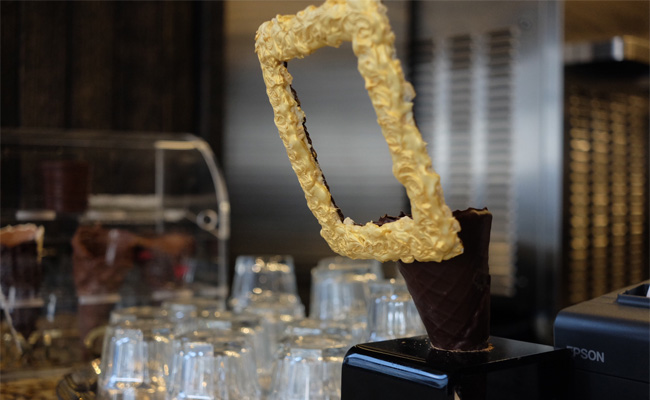 The "Whammies" menu includes some amazing things, including fried to order doughnuts and 'The Visio' - one of Giapo's latest and greatest creations - a chocolate version of the New Zealand Colossal Squid, designed and made in-house (Giapo has its own Research & Development team, the tentacles of the squid were created with the help of 3D printing technology), and created to mark the 10th anniversary of the specimen's discovery.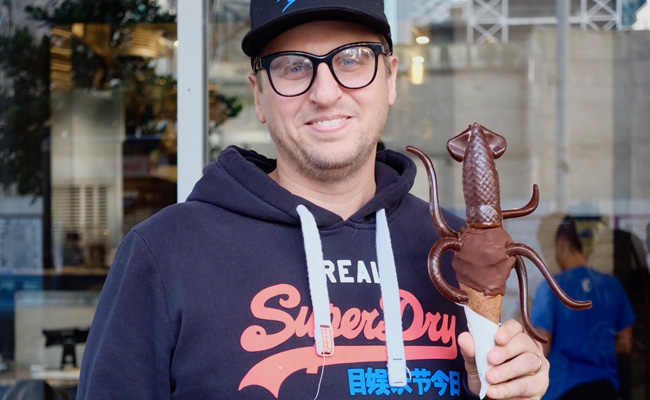 Get. Out. Of. Here. 
But what about the "Discombobulating" menu? This is where the R&D team get put to work. Right now, the menu has one thing on it: Poutine. This is not your average gravy and cheese Poutine, we are talking the Matcha Oolong and Salted Caramel version. Soon to come, will be the Giapo version of Gyoza Dumplings.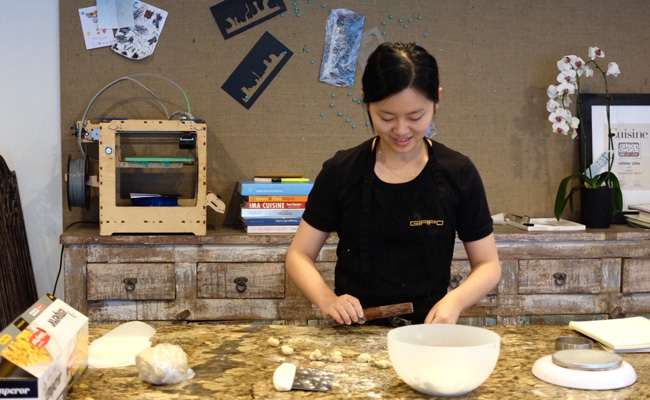 This is ice-cream as you've never seen it before. Check it out.
The new Giapo is located at 12 Gore Street, Auckland.
Related Articles:
Bringing The World To Auckland For Ice Cream
Last updated:
07 February 2019