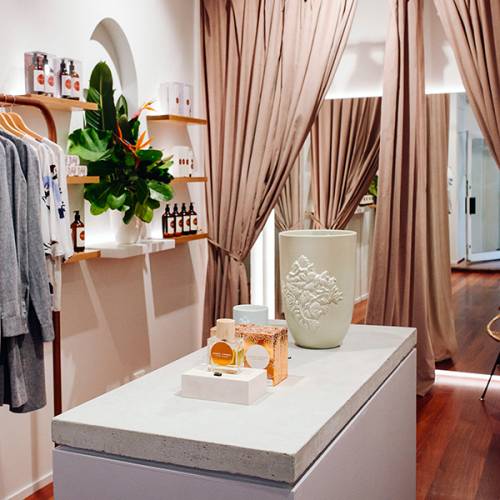 Ingrid Starnes is a beloved New Zealand designer and her fashion brand has gone from strength to strength since it was established in 2009. We are thrilled to have Ingrid and her team participating in 4 Days of Fashion in the City with their AW18 Fashion Show. We caught up with the designer herself to chat about her inspiration, what it takes to put on a fashion show and what's up next for the brand.
What is the inspiration behind your AW18 Harmonies No.18​ collection?
Starting with the Fountains of Earth series in 1956, Japanese artist Yoshida Masaji changed colour and form, making the definite indefinite with his new style and method of making woodcuts. The shapes and their interplay hint at dark depths, and the colours, printed onto thick paper to create blot and areas of blend, were revolutionary. Precise imprecision in shape and shade, the subtle prints, and new geometries all play a part in this collection named as if an artwork in a lost Masaji series. With exclusive hand-designed prints, dyes, bold silhouettes, gathering, soft crinkle silk and voluminous drape, this is a collection set within the best Masaji tradition of invention.
What are your three favourite colours for the upcoming season and how much do seasonal colour changes influence your designs?
With every collection I  create a storyboard of colours that are inspired by the theme. For this collection the subdued earthy washed pastel colours that are seen in Masaji's woodblock prints were the inspiration. My favourite being the washed-out rose, and the greens and mustard colourways.
Can you share with us or tell us a little about what goes into preparing for a show, such as the one you will be putting on at this year's 4 Days of Fashion in the City event?
We really look forward to putting on a show, it's an amazing chance to showcase the collection in its full glory and is a very creative and busy time for us. We're very lucky to have an amazing team at Ingrid Starnes and the crew from Showroom 22 that help it all come together. We spend around 3 weeks organising and planning for the show, from casting and fitting models to styling and making accessories, shoes and show pieces. We work with the amazing teams at Ryder and MAC to collaborate on a hair and makeup look for the show. Then there are the production elements to the show like seating plans, music, lighting , photography, sponsors and after-show functions that take an amazing collaboration of good people bringing it all together.
Your beautiful store in Vulcan Lane is a favourite amongst those in our office, where are your favourite spots or hidden gems in the city centre?
There are so many hidden gems in the city, we love to visit the Auckland Art Gallery it is such a beautiful space and is forever changing. I love Albert Park and coffee from our favorites Eighthirty coffee roasters and Vulcan Lane Bagels.
Since the label's inception in 2009, the Ingrid Starnes brand has gone from strength to strength, from store openings to the launch of a fragrance and skincare line. What is next on the horizon?
We have recently launched a leather bags line which has been pretty exciting and we are working towards creating an Ingrid Starnes jewellery line over the year. There are fragrances brewing in the pipeline…. but good things take time, watch this space x
For more information on the Ingrid Starnes Fashion Show click here and for the details on all the other amazing 4 Days of Fashion events click here.
Last updated:
21 August 2020