As the temperature drops, more and more soups are working their way on to the menus of city centre eateries. Soup is one of those heart-warming, healthy and surprisingly filling meals that can make any winter's day better. We have selected a few of the most flavoursome and hearty soups popping up around the city for the season.
Turkish Lentil & Tomato Soup, $16 | Mezze, 9 Durham St E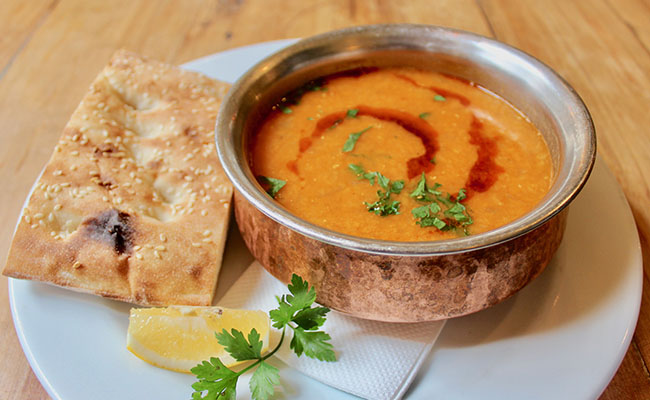 For a plant-based option, try the lentil and tomato soup at Mezze Bar. A Turkish winter warmer, this soup is packed full of flavour and served with hot pide bread. Soak up the relaxed atmosphere at Mezze Bar where the service is unpretentious and you feel at home. 
Beef Pho, $13.50 | District 5, 28 Shortland St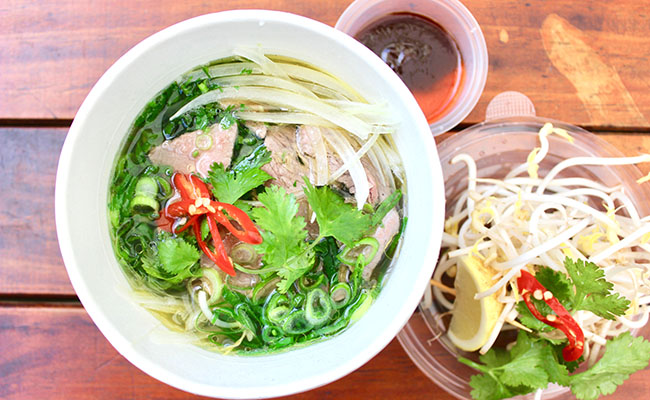 Fresh, flavourful and affordable, District 5's Beef Pho, instantly takes you to the streets of Vietnam. The dish's full flavoured broth will keep you satisfied and warmed up for the rest of the day. The crunchy bean sprouts and tang of the chilli provides an exciting midday meal. 
Soup of the day, $10 | Goodlife Juice Co., 47 Fort St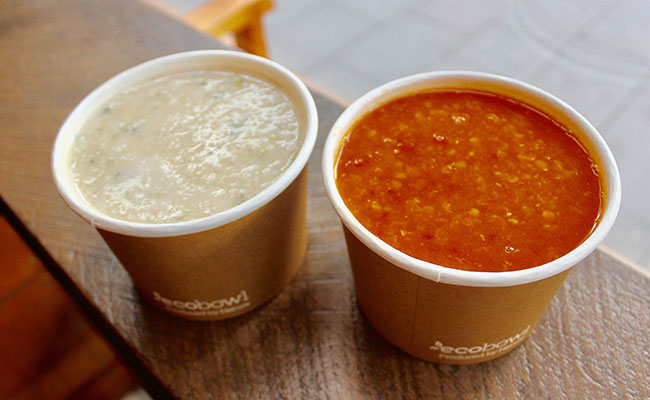 With a focus on nutritious food, Good Life is a fantastic place to stop for a healthy soup that you can grab and go. With four different filling and warming soups on the menu, including tomato and lentil and creamy mushroom, you are able to mix it up each visit. Add a slice of freshly made sourdough ($1) with a lick of lightly salted butter for a nice heart warming, wintery treat!
Matzo Ball Soup, $9 or $17 (starter or bigger bowl) | Federal Delicatessen, 86 Federal St
Federal Delicatessen is the closest thing we have to a New York City deli in Auckland, complete with bottomless filter coffee and vinyl booths. The Matzo Ball soup is known as a classic soup that is made up of shredded chicken and bagel dumplings, also known as Jewish Penicillin. As the Fed Deli team say themselves, "your body will thank you"!
Spice Roasted Cauliflower Soup, $9.50 | The Humble Canteen, 17 Jellicoe St
It doesn't get any more hearty than The Humble Canteen. With a focus on sustainability and sourcing good quality products, the spice roasted cauliflower soup is a shining example of that. Packed full of flavour and served with a sourdough baguette, take a break out of your busy day and enjoy this tasty soup.
Tom Yum Soup, $14.90 | Aroy Thai, Harbour Eats in Commercial Bay
Thai cuisine offers a number of delicious steaming soups, and Aroy Thai executes them superbly. The Tom Yum Soup, made up of either rice or noodles, is a traditional sweet and sour soup that comes with fresh herbs, chicken and mushrooms. Hearty and warming, this soup is light on the palette but will leave you full and without complaint.
Seafood Chowder, $12 | The Crab Shack, Princes Wharf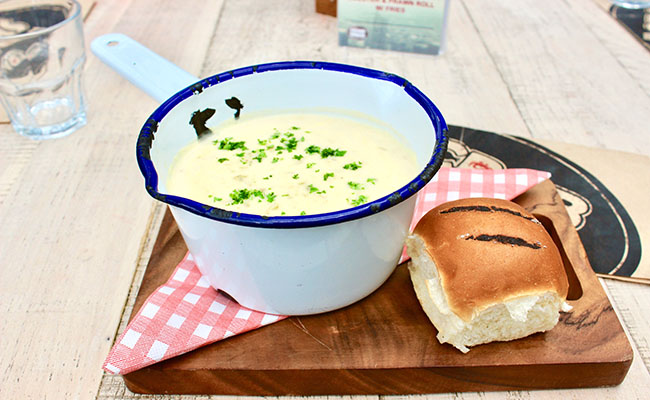 Situated appropriately by the ocean, The Crab Shack serves a seafood chowder that is a must try for any seafood lover. Made up of clams, mussels, fish and prawns in a creamy chowder, this is a tasty and deliciously memorable dish that really fights off the winter chill.
Jjam Bbong, $18 | Gochu, Harbour Eats in Commercial Bay
The newly opened Gochu in Commercial Bay is new world Korean food at its finest. Jjam Bbong is a chicken and seafood soup complete with delicious noodles. For Korean cuisine with a twist, Gochu should be next on your list for winter warmer soups. 
Shanghai Style Spicy Noodle Soup, $12.80 | Chamate, 17 Swanson Street
Located on Swanson Street, Chamate is an authentic Asian restaurant focused on modern Chinese cuisine. This spicy noodle soup is a must-try as the flavorsome recipe comes straight from the streets of Shanghai-Chinese street food at its best!
Laksa (chicken or vego) soup, $10 | Box cafe & bar, Aotea Centre
Enjoy a chicken laksa or vegetarian laksa soup at BOX Café and Bar on Wednesday lunchtime with a side of free live music - a great mid-week treat in the heart of the city centre.
Last updated:
17 July 2020