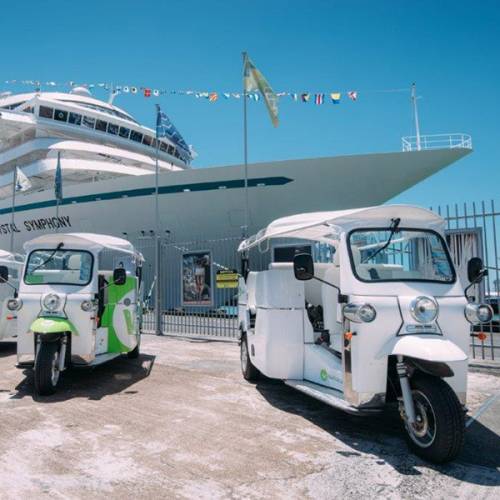 Kiwi Tuk Tuk is a 100% Kiwi locally owned business that provides the ultimate intimate experience offering a fun and quirky alternative transportation option or bespoke private hire guided tours within our beautiful 'City of Sails'.
Kiwi Tuk Tuk cater to small groups of no more than 2 people per tuk that are 100% electric and are without a doubt the coolest mode of transport in town with currently two Tuk Tuks available.
The team behind Kiwi Tuk Tuk are very passionate and proud ambassadors of Auckland City and EV vehicles and they are the only 100% Electric Tuk Tuk operators in Auckland. They pride themselves in being an eco-friendly alternative transport and private tour option.
Private Tours
The local private tours guides are very passionate about our city and you will get to experience intimately firsthand just what makes Auckland's point of difference to the world, complete with full audio commentary. Passengers will get to acquaint themselves culturally and historically to the most iconic premiere open spaces in central Auckland including quirky public artworks, wonderful examples of our built heritage protected buildings and rich Māori and European history.
Many Aucklander's that have experienced these tours appreciate becoming more connected with their city with our product offering providing a more in-depth overview of our rich history complete with rich tangible historical images of the premier inner Auckland City locations and just how much things have changed over the centuries.
Private Hire
Alternatively, Kiwi Tuk Tuk offer customised tours, home, restaurant pick up and drop offs in the general Auckland Central so if you are looking for a great way to start of finish off that special occasion hiring one of the Tuk Tuks is a great way to compliment and enrich the experience.
Promotions and Events
Kiwi Tuk Tuks also specialise in branding awareness, promotion and events and have successfully provided of number of these with great reviews. They have extensive experience in this field having done many events in the UK over the last two decades for major brands and events.
Enjoy two hours of free parking or great evening and weekend rates around the city centre. Find out more.
Come into the city centre on public transport for as little as $2 each way. Find out more.
Last updated:
30 August 2019