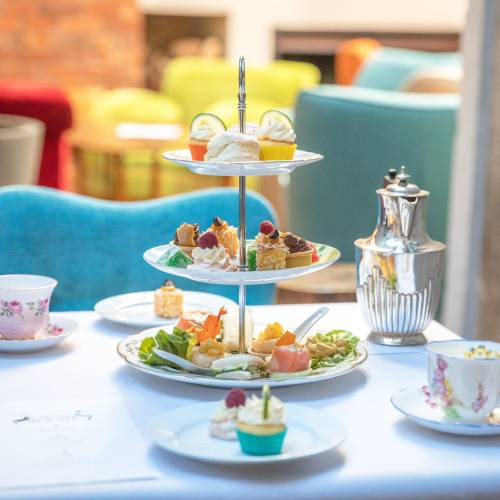 There's no better way to celebrate the Queen's birthday than by indulging in the great British tradition of Afternoon Tea, featuring savoury finger sandwiches and delicious themed pastries.
Our long weekend High Tea is inspired by some of the Queen's favourite treats starting with a refreshing Dubonnet cocktail.
"DeBretts Dubonnet" * 
dubonnet, beefeater gin, lemon, sugar, egg white
Savoury 
savoury deviled eggs with crispy prosciutto 
prawn cocktail, melon salsa 
coronation chicken salad * 
cucumber & cream cheese tea sandwiches * 
smoked salmon pinwheels *
Sweet 
gin & tonic cup cakes 
pink pavlova & kiwi fruit 
white chocolate knox dainties 
Jaffa mousse & hokey pokey tartlet 
lemonade scones with cream & jam 
raspberry & cream lamingtons 
jam pennies * 
chocolate biscuit cake *
$60 per person 
Available from 1st, 2nd, 3rd of June
Enjoy two hours of free parking or $5 evening and weekend rates. Find out more. Ride on public transport from as little as $2 each way. Find out more.
Last updated:
24 June 2019