Perfect for long lunches, after work drinks and late night dancing, Sweat Shop can be found in the well-loved hospo spot that is 7 Sale Street in the Victoria Park precinct.
Flaunting the sun bathed deck, the space is now lined with rows of picnic tables, hand built by their own hardworking staff and ready for the expected masses of sun loving punters. Indoors the hard working sweat shop theme flows on with jean covered bar stools, many made from donated jeans of the staff. The brewery has also been excavated from the behind closed doors and is now proudly on display at the rear of the bar, available for any inquisitive beer enthusiast to have a geeze.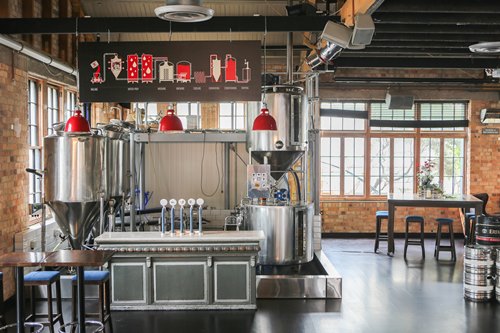 Integrating the obvious Americana meets New Zealand theme, the menu and food offering is packed with American style eats, conjured up in the kitchen with fresh local produce. Pride on the menu is the meat offering from Sweat Shop's in-house grill and smokehouse.
Brewing their own in-house lager, pale ale and American pale ale, each of the beers are easily sessioanable. Looking ahead there was a hint that some more bold offerings could be on the way, with the likes of seasonal summer wheat beer brews and hoppy IPAs.
As the first inner city brew kitchen there is a lot to love about Sweat Shop and we can easily envisage ourselves whiling away many a lunchtime or afternoon nibbling on platters from the smokehouse while sipping on a brew or cocktail or two. We suggest you do the same.
Special offers at Sweat Shop Brew Kitchen
Upcoming Events at Sweat Shop Brew Kitchen
Free weekend parking with Wilson and ParkMate this October. Find out more.
Come into the city centre on public transport for as little as $2 each way. Find out more. 
Last updated:
01 October 2020