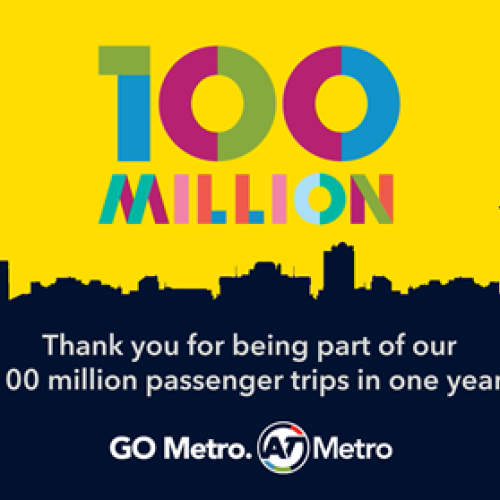 Aucklanders have made 100 million trips in the past year, making this the biggest year for public transport in the city since 1951.
To celebrate this great achievement and to say thank you to the Aucklanders who have made this possible, buses, trains and most ferries will be free to everyone on Sunday, 23 June 2019.
On the day, customers will not need a paper ticket or AT HOP card. All station ticketing gates will be open, and you won't be required to tag on buses. All you have to do is turn up, there is no better time to give public transport a go.
Terms
This promotion is available to those travelling on Auckland Transport buses, trains and specific ferry services on Sunday 23 June 2019 from the first service of the day (4:40am) to last service of the day.
This promotion is not available on the following services:
Ferry services to and from:
Rakino Island.
Waiheke Island.
Rangitoto Island.
Tiritiri Matangi.
Motuihe Island.
Motutapu Island.
Rotoroa Island.
Coromandel Peninsula via Orapui (Waiheke).
Auckland Harbour Cruise.
Waiheke Fullers pass holders
Fullers360 will provide free travel to all holders of Waiheke Fullers pass products. These include:
Monthly pass holders.
10-trip tlexi pass.
40-trip ticket.
On the day, holders of these passes will simply have to show their passes to our friendly customer service staff and board without any scanning.
Find out more information here.
Last updated:
12 June 2019