Changing Lanes is an annual art project funded by Heart of the City bringing temporary art to the city's urban spaces, as part of ArtWeek in the City Centre.
The project aims to help create connections in our community, provide opportunities for artists, enhance public spaces and uplift spirits. These projects reference the spaces' unique heritage, their use as pedestrian walking routes and intimate city business locations.
Celebrating this year's theme of Vitality, artists have been asked to explore ideas including energy, exuberance, dynamism and strength – using bright colours and bold imagery. Challenging them to use an art and design project to take this theme and create a temporary and uplifting experience for visitors in a public space in Auckland's city centre.
Artists and locations:
Faleata Ualesi | Little High Street
Shan Yu & Janae Van Panahon | Durham Street East
Gary Mackay & Dark Arts Studio | Chancery Square
Lissy Robinson-Cole (Ngāti Kahu and Ngāti Hine), Rudi Robinson-Cole (Waikato, Ngaruahine, Ngāti Pāoa, Te Arawa), Ataahua Papa (Ngāti Korokī Kahukura, Ngāti Mahuta), and Angus Muir Design | Elliott Street
Part of ArtWeek in the City Centre.
Images from previous Changing Lanes installations in 2022. Light Blooms by Jenna Winterton, Love, Hope, Joy by Rosemary Petterson, Flourishing by Frankie Meadon. 
Hero image: 'Light Blooms by Jenna Winterton.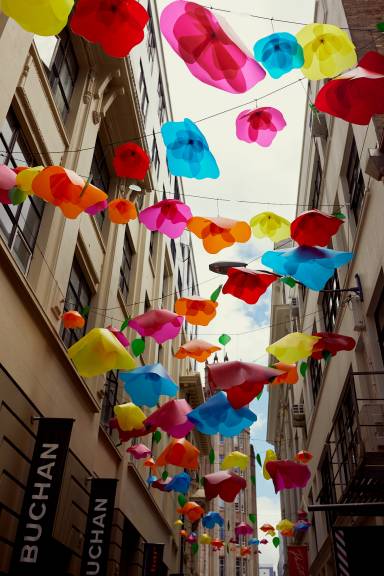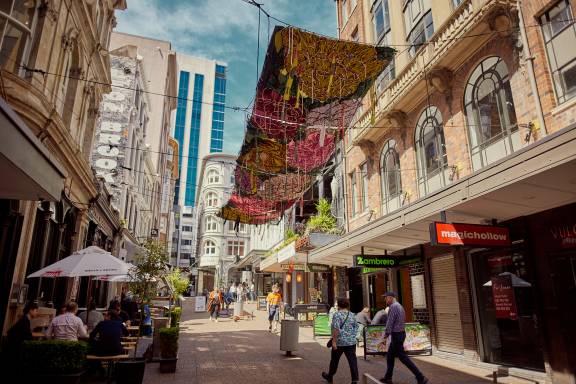 Proudly supported by Auckland Council and the city centre targeted rate. 
Upcoming events at Changing Lanes
3 results
Get $2 parking per hour to a maximum of $15 on evenings and weekends at the Downtown car park. Find out more. 

Come into the city centre on public transport for as little as $2 each way. Find out more.
Last updated:
31 July 2019