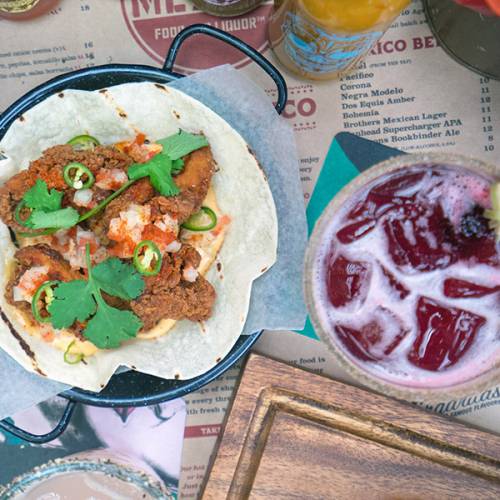 The new winter menu at Mexico is packed with mouthwatering comfort food with lots of colour, warm flavours, spices and just the right amount of chili to warm you up.  
The menu is full of earthy winter ingredients like butternut pumpkin, beetroot, turmeric, chorizo, lamb shoulder, local purple kumara and pomegranate. They've incorporated micro sango, mint, pickled slaw, goat's feta, carrots, corn and radish to add freshness and colour to the dishes.
The new menu features new vegan tacos and salads and green beans in turmeric rice batter, chipotle almond milk, tofu & yellow salsa frita. The new salad is a superfood salad with beetroot slaw, spiced carrot, red quinoa & agave lime evo dressing. Vegetarians will also be very excited about the return of the crispy cauliflower florets – these are the vegetarian answer to our famous Mexico Fried Chicken. 
The Winter menu also sees some Mexico classics making a comeback. Patatas Bravas with salsa de árbol, chipotle mayo, green chili jitomate, Salsa Roja a Mexican favourite with crispy house made yellow corn chips are back, along with Spice squid; cumin, semolina & smoky paprika with eggplant pico de gallo; Spanish chorizo & papa taco w mint, crispy potatoes and almond citrus migas; chicken achiote quesadilla. And last but not least, to finish off, the Baked cacao xocolate cheesecake with ganache, freeze dried raspberries, vanilla bean ice cream & fresh mint for dessert.
Aside from the new menu, Mexico is also giving you a reason to finally look forward to Tuesday.
Cure your winter Tuesday blues with a Fried Chicken Taco and a Frida's Margarita for $12 from 12pm till late.
If you don't fancy getting involved in Tequila Tuesday then you can get a Fried Chicken Taco and a Mexico Soda for $10.
Last updated:
24 June 2019