We're lucky to have several artisan chocolatiers in the city centre, perfect for when that sweet tooth hits. You'll be able to find the simple classics you love, new things to try and treats that are taken to a whole new level! So if you're a chocolate lover, be sure to check these places out - because it probably doesn't get much better than an entire shop dedicated to chocolate. 
Devonport Chocolates | Queens Arcade, 34/40 Queen Street 
Devonport Chocolates have spent the past 25 years putting their imagination into action, uncovering precious Pacific ingredients and experimenting with unexpected combinations of flavours and textures. You'll find delicious assortments of chocolates, truffles, and chocolate bars in their shop.
For Easter this year, their offering beautiful handmade eggs, adorable Easter bunnies, great gift packs and more. Check out their Easter offering here. 
Honest Chocolat | Commercial Bay 
Honest Chocolat's beautiful city store is filled with stunning, hand-painted chocolate bon bons, single-origin tablets, gift boxes and confectionery, all made in Matakana, NZ. Here, they make an effort to satisfy modern-day tastes and dietary requirements with products, and they don't believe in enhancers, preservatives or additives. We recommend sitting in to try their inspired menu of decadent chocolate drinks and treats! 
For Easter this year, their collection aims to celebrate our planet and its natural beauty. To do their bit, they have chosen to use zero plastic and home compostable packaging for their eggs this year, and $1 from every Easter egg sold will be donated to Trees That Count. Check out their Easter offering here. 
Bohemian Fresh Chocolates | 12 O'Connell Street 
Bohemian Fresh Chocolates aim to bring a high standard of European chocolate craftsmanship and quality to Auckland's taste buds. You can pop in and pick up a truffle from their cabinet or stay in and try a hot chocolate, gelato or sorbet. 
For Easter this year, they're selling delicious filled or hollow Easter eggs and bunnies. We love the sound of the filled eggs, with one half filled with their award-winning vanilla marshmallow and the other half with soft caramel - sounds like a winning combo to us! Check out their Easter range here. 
Miann Britomart & Miann Fort St | 36/38 Galway and 57 Fort Street 
Located on Fort Street and in Britomart, Miann is a true haven for dessert lovers. As soon as you walk in, you'll be instantly greeted with the intoxicating aroma of fresh chocolate and fruit, followed by a feast for your eyes. 
For Easter this year, they have a great selection of beautifully crafted eggs that may almost feel too precious to eat! Check out their Easter range here. 
Smith & Caughey's | 253/261 Queen Street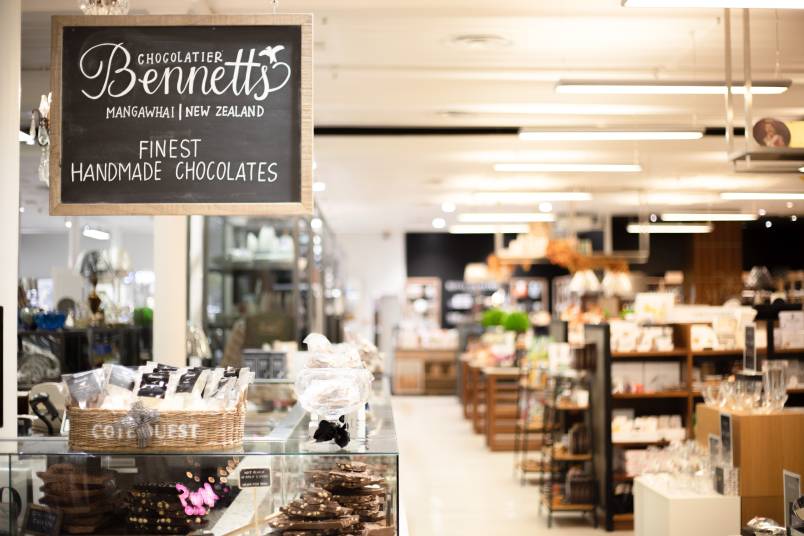 Smith & Caughey's, one of New Zealand's most-loved department stores, stocks a great range of chocolates. You'll be spoilt for choice with Bennetts of Mangawhai, Queen Anne, Lindt and Windel to choose from!
For Easter this year, they have everything from delicious eggs to adorable bunnies and delightful gifts. Check out their range here. 
 

The Pantry | Park Hyatt Auckland
Although not a dedicated chocolate store, The Pantry has an incredibly delicious Easter creation available this year. We can guarantee you won't be disappointed with 'An Egg for Two' which is filled with a centre of salted mango caramel and a lightly whipped caramel Chantilly, which has then been covered in a 55% Valrhona Itakuja chocolate, exploding with aromas of passion fruit and a powerful chocolaty taste.

 
La Petite Fourchette | Britomart & Wynyard Quarter
Last but certainly not least, La Petite Fourchette has beautifully crafted fun treats for Easter. We love their 'Smash Egg', which includes a wooden hammer so you can smash your way through to get to more chocolate treats. They also have a decadent Bunny made of callebaut 54.5% dark chocolate coated in milk chocolate velvet. 
Last updated:
12 April 2022