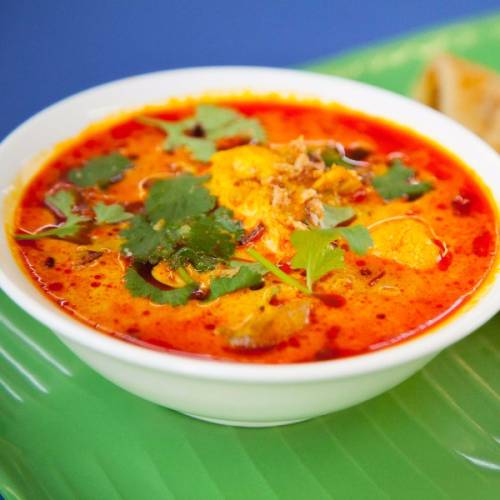 A Food and Entertainment Circuit. An evening enjoying eats and entertainment on Albert Street as part of Restaurant Month.
Supported by Activate Auckland and City Rail Link
Beeing Grateful
Griffiths Gardens 
Corner Wellesley Street & Mayoral Drive
Free food and entertainment from 6-9pm
A free meal of Pumpkin Soup will be served along with fried Māori bread and organic honey between 6-7.30pm, followed by lovely cake at 8pm. The Auckland Street Choir will be blessing Griffiths Gardens with song and hundreds of pumpkin seedlings will be given away throughout the evening, providing food for a bee before it will be transformed into food for people. This meal and celebration of life is a collaboration between the For the Love of Bees, Everybody Eats, the Auckland Street Choir, Kai Auckland, Love Food Hate Waste, Beezthingz, using the Carbon Cycle, an artwork by Amanda Yates.
Taste of Thai
Grasshopper Thai Restaurant 
Stamford Plaza 22 Albert Street
Performances between 7.45pm & 9pm
Dine on delicious Thai food accompanied by traditional Thai dance performances.
Bloomin' Delicious
Roma Blooms Florist 
From 6-9pm, 93 Albert Street
Meet at the table and enjoy an edible floral event for adventurous foodies. Lara Cheadle will delight with edible flowers, table settings and a living sculpture in the window. 
The Italian Affair
Da Vinci's Restaurant 
7pm, 7.45pm & 8pm only, 87 Albert Street
Enjoy fine Italian food and delight in opera from the balcony of Da Vinci's restaurant. Be wooed by arias from Soprano Natasha Wilson, who has the support of the 'Kiri Te Kanawa Foundation' and is a recipient of the Dame Malvina Major Foundation scholarship to Italy. It is such a joyful, memorable experience to listen to Natasha sharing her love of classical and modern opera and musical theatre.
Hot Drinks & Cool Music
Little Albert Coffee 
All evening long from 6 - 9pm, 87-89 Albert Street
Warm up with free hot drinks and cool tunes throughout the evening. 
Taste of Thai
Mai Thai 
57 Victoria St West, corner Albert Street
Performances between 6pm - 7.15pm
Tantalise your tastebuds with delicious Thai food and enjoy traditional Thai dance. 
Shimmy & Shakespeare 
The Shakespeare Hotel and Brewery 
61 Albert Street
DJ from 6pm
Performances at 6.50, 7.10 & 8.20pm
Live rock n roll at 7.15pm
Dr. Sketchy from 6 - 9pm
Eat, drink and be merry at the Shakespeare Hotel and Brewery! Try one of the brewery's expertly crafted beers that are brewed on site, sink your teeth into their famous steaks or burgers and be entertained all evening long.  Take in an all-vinyl rare rock'n'roll DJ set from the House of Bamboo, performances by Kiki Kisses, Amourous Ava and Miss Kitty Rose, live rock n roll from the Recliner Rockers and an anti-art school alt drawing class from Dr Sketchy featuring MC Mark Rous and models Frankie Dots, Miss Charlotte Cake and Madam Rou!
Indonesian Peacock Dance
Food Alley 
9 Albert Street
Performances between 6.30-8.30pm
Food Alley is celebrating 25 years! Established in 1992, Food Alley was Auckland's first dedicated Asian food hall and their mission has always been about offering the taste of authentic Asian food: Northern Thai, Malaysian, Indian, Indonesian, Korean, Japanese, Vietnamese as well as two bars to satisfy thirsty patrons. Niken Waloejo, a regular at Food Alley, will delight with her traditional Indonesian dance that she has performed since she was four. Tari Merak (Peacock Dance) is a modern-traditional dance from West Java.
Fakespeare and Friends
Fake Shakespeare and friends will show you the way around Albert Street and drop you off at event locations - served with a side of history.
Get $2 parking per hour to a maximum of $15 on evenings and weekends at the Downtown car park. Find out more. 

Come into the city centre on public transport for as little as $2 each way. Find out more.
Last updated:
22 August 2017