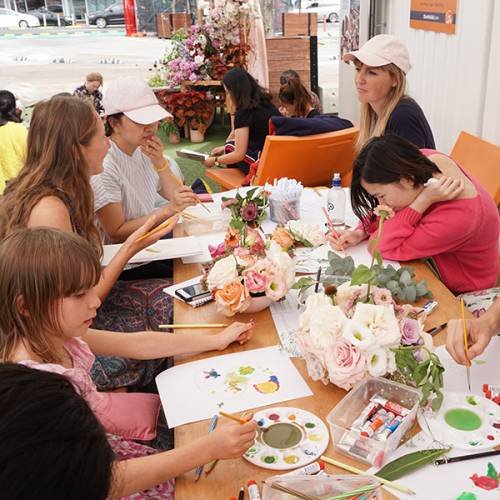 Queens Wharf is a free programme of community events and activities held throughout January, February and March at Queens Wharf in downtown Auckland.
Connect with your community, celebrate our city, and delight in your creativity at one (or all!) of our events.
Connections: Growth
12 December 2018 - 31 March 2019, 9am - 5pm daily
Check out the exhibition of Tom Ang's six-week mentorship programme on Queens Wharf. The exhibition displays the photography of Tom's six mentees, and has been taken with the theme "growth" in mind. 
Drawing Club
13 and 27 February, 13 March, 5.30pm - 7.30pm
Queens Wharf is offering free life drawing sessions throughout the summer this year.  If you want to develop your drawing skills, or just want to relax drawing club is the place for you. Artists of all proficiency levels are welcome.
Flower Stem Giveaway
14 and 17 February, 4 March, 10am - 1pm
Who doesn't love a free flower? The team behind Queens Wharf are giving away flower stems this summer, so come and collect one to keep on your dining room table, give to a special person in your life or even to give a stranger on the street! 
Cloud Games
24 February, 10am - 4pm
Enjoy a day of games in the iconic Cloud on Queens Wharf! There will be giant chess, badminton and more to keep the whole family entertained.
Village of Flowers: Harakeke and Music
18 and 24 February and 3 and 10 March, 1pm - 3pm
Queens Wharf blooms with colour this summer with Village of Flowers - a seasonal space to celebrate the socially-unifying and abundant generosity of flowers. On Monday 18 February and Sunday 3 March, the main focus will be on working with harakeke, while on Sunday 24 February and Sunday 10 March the main focus will be on watercolour painting.
Sunrise Rave
15 and 22 February, 6.30am - 8.00am
Greet the sun with a dance party! For the first time ever, Queens Wharf is getting a sunrise rave over summer! Head to the Cloud to listen to kick off your morning the right way - through music and dance.
Sunrise Yoga
13 February, 7am - 8.15am 
Come down to Queens Wharf for the fourth annual series of free outdoor Sunrise Yoga throughout January and February. All experience levels welcome, BYO yoga mats, some provided but first come first served. Classes are held at the water's edge, behind The Cloud at the end of Queens Wharf.
Flat fee of $6 per day on weekends at Fanshawe Street carpark. Find out more.
Come into the city centre on public transport for as little as $2 each way. Find out more. 
Last updated:
11 June 2019