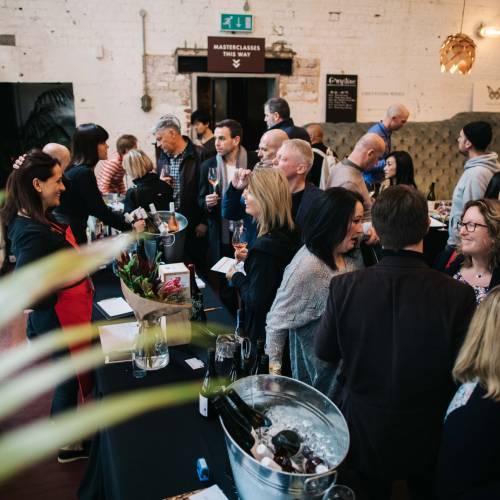 This July the inaugural Craft'd Wine + Spirits Festival will arrive in Auckland's Wynyard Quarter, with more than 40 small producers showcasing their tipples at a new kind of festival to grace the City of Sails. We talked to the organisers of this year's festival for some insights on what to expect. 
What is Craft'd Wine and Spirits Festival?
The Craft'd Wine and Spirit Festival (CW+SF) is a festival dedicated to supporting New Zealand small production wine and spirits. On Sunday 21 July at GridAKL at 12 Madden Street, CW+SF comes alive with over 35 wineries from all the famous wine regions of New Zealand showcasing their boutique, artisan wine styles and varieties. This year we are very excited to announce the inclusion of small production distilleries – Gin, Whiskey, Rum, Vodka.
The festival includes masterclasses to learn more about wine from New Zealand wine guru's and learn about how to turn mash into a fine spirit! Vertical tasting sessions: (flights of the same wine from different years).  Learn about how climate, terroir and winemaker nuances can dramatically change the look, bouquet and taste of wine. For foodies the festival has a 'Club Lounge' for relaxing and enjoying crafted tapas and wine pairing, as well as one on one chats with the winemakers. And food trucks for those just wanting coffee, hot chips, and takeaway morsels to enjoy with the wines and spirits. The festival is strictly R18. 
How does this event differ from other wine and food festivals?
The Craft'd Wine and Spirits festival is the only festival dedicated to New Zealand small production independent wineries and distilleries – which makes up the majority of NZ's wine and spirits industry.  There will be many wineries and distilleries you have never heard of producing amazing alcoholic beverages. Classes, tastings, wine and food matches, things and people to watch, listen to, enjoy and laugh with!  This festival is the only festival representing New Zealand independent distilleries too – where you can try all sorts of spirits and taste the botanicals they use to make the unique flavours.
What can attendees expect to experience at the Craftd Wine and Spirits Festival?
A festival celebrating the 35 wineries and 5 distilleries showcasing their unique quality products.  We have vertical tastings, masterclasses, videos, the festival club lounge, food trucks, entertainment. The Craft'd Wine & Spirits Festival is a 100% cashless event, which allows our exhibitors and food outlets to prevent queues and serve you faster. As you buy your ticket, we highly recommend purchasing Craft'd Currency so you don't have to worry about this once you arrive at the venue, and can get straight into the tasting. You can pre-purchase amounts of $25 with your ticket. And, if you have any Craft'd Currency remaining after the event, online refunds are available (minimum $1 refund).
Here's a taster of the features you can look forward to at Craft'd Wine and Spirits Festival: 
Verticals ($25.00pp): 
Silver Wing 
Coal Pit 
Wet Jacket
Linden Estate
Master Classes: 
Glass Appreciation with Yvonne Lorkin - $20.00 
The Imbibe Tribe – Demystifying Wine for Newbies - $29.00 
Jill Mulvaney – Alembics (spirits and distilleries) $29.00 
Yvonne Lorkin - International Fizz - $29.00 
Blair Walter, Felton Road – Why Single Vineyards – What's all the fuss? $29.00
Jemma Grobbelaar, JG Wine & Drinks – The Odd Bunch - discover lesser known grapes and wine styles of New Zealand. $29.00
Last updated:
12 June 2019