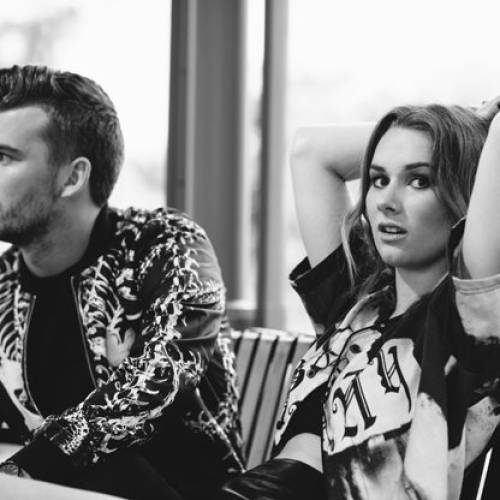 Broods returned to the fold in 2018 with new music and a new focus;  after years of navigating the pop landscape, they wanted to get back to embracing their purest instincts and "make songs that were true to us, without hiding behind any kind of façade," says frontwoman Georgia Nott, who co-founded Broods with her brother Caleb in 2013. "Instead of overthinking everything like, is that too weird or does this make enough sense,  we made a point of just completely trusting in ourselves and trusting in each other."
The first two singles from the upcoming album - 'Peach' and 'Everything Goes (Wow)' – have been met with critical acclaim.
The duo followed it up with their latest single 'Hospitalised' - a bright and shimmering track about longing for a break from emotional accountability. 
On the new album, Don't Feed the Pop Monster,  Broods reunites with their longtime producer Joel Little (best known for his work on Lorde's Pure Heroine),  and also enlisted the producer Tommy English (BØRNS, K.Flay, Andrew McMahon in the Wilderness). At turns ethereal and frantic, moody and euphoric, the result is an album that's elegantly sculpted yet defies all pop convention.
Born into an exceptionally musical family, Georgia and Caleb had their breakthrough as Broods with the 2014 single 'Bridges'. That track appeared on their Joel Little-produced full-length debut Evergreen, an album that debuted at #1 on the New Zealand Albums Chart and #5 on the Australian Albums Chart. 
With Evergreen winning four gongs at the 2015 Vodafone New Zealand Music Awards (including Album of the Year), Broods released Conscious in June 2016,  and soon saw lead single 'Free' hit the top #10 on Spotify's US Viral Chart. In addition to supporting Sam Smith on a sold-out US tour, Broods have played leading festivals like Coachella, Lollapalooza and Outside Lands, and shared stages with artists including Ellie Goulding, Haim, and CHVRCHES.
Now Broods are bringing their new music home, and can't wait to reveal their new live show to their much-loved Kiwi fans. 
Don't miss the chance to be among the first in the world to hear the new songs from Don't Feed the Pop Monster live, alongside Broods' catalogue of hits.
Here are their biggest hits to get you into the Broods mood. 
Bridges 
Never Gonna Change 
Mother & Father 
L.A.F
Free
Last updated:
18 June 2019