Valentine's Day is coming up on the 14th of February and we have you covered for all the best date night ideas in the city. With stunning waterfront walks, award-winning eateries, world-class desserts, incredible events and fun activities - this Valentine's Day will definitely be one to remember.
Visit an art exhibition | Auckland Art Gallery

Become the artist with Sara Hughes' exhibition All My Favourite Shapes, explore the relationship between objects, bodies and language with Honesetly Speaking: The World, the Body and the Internet, or take in the historical Māori portraits by renowned colonial portrait artisits Gottfried Lindauer (1839–1926) and Charles F Goldie (1870-1947) with Living Portraits: Mata Raurangi and He Iwi Rangatira — Māori Portraits
Take your date along to the Enchanted Worlds: Hokusai, Hiroshige and the Art of Edo Japan exhibition at the Art Gallery and enjoy extraordinary painted silk scrolls and folding screens that illustrate the real and imaginary worlds of Edo Japan (1603–1868). 
Check out the other exhibitions happening at the Auckland Art Gallery this year.
Couples Massage at Forme Spa | O'Connell Street
Show your valentine how special they are by taking them out for a special day of pampering. Enjoy a one hour Bliss Me Massage with your partner for a shared ''me-time'' day!
Treat your better half to a four-course menu at Euro | Shed 22 Princes Wharf
For a truly indulgent Valentine's Day, treat the better half to a four-course menu at Euro. At $99 per person, feast on burrata with eggplant caviar, pistachio and pomegranate and Taupo beef eye fillet with truffle mash and goat cheese butter amongst other dishes sure to delight. Keep drinks flowing evening long with bottles of Perrier-Joet for only $99 before sweetening the deal with a choice of pavlova with lemon curd, strawberries and lemon tonic sorbet or a caramel semifreddo with vanilla ice cream, hazelnut panna cotta and caramel popcorn – neither will disappoint.
Go Bottomless this Valentine's Day at Multiple Establishments including The Lula Inn, Coops Corner Bar and Sweat Shop Brew Kitchen
Treat your lovebird to a main meal over the price of $20 and add bottomless bubbles for just $25 per person for a 90 minute session where your glasses will stay topped up - all you have to do is sit back and enjoy. Pants are recommended.
Get some French sweet treats at La Petite Fourchette | Britomart  
 
From macarons, éclairs to mouth-watering tarts, all you ever wanted to try from France is available at your doorstep. La Petite Fourchette (Britomart) offers you an extensive selection of delicious treats that will melt your sweetheart's heart.
Enjoy the sunset over drinks at Parasol and Swing | The Viaduct 
Watch the sunset from Parasol and Swing. Not only does the popular hangout offer spectacular views overlooking Auckland's Viaduct Harbour - they also have an extensive drinks menu. From housemade cocktails, beers to boutique wines, this bar will leave a great impression this Valentine's Day. Make sure to sit on the balcony, relax and enjoy!
Dinner at Dans le Noir  (French for "In the Dark") at Rydges Auckland
Want to do something special with your loved one this Valentine's Day but you're tired of organising the same routine of flowers and dinner? We have the solution for you. Make it an exceptional night by bringing your date to a unique experience at Dans le Noir? Auckland!
Package:
3 course meal dinner with 3 glasses of matching wine - $136.00 per person.
Head to an outdoor movie | Silo Park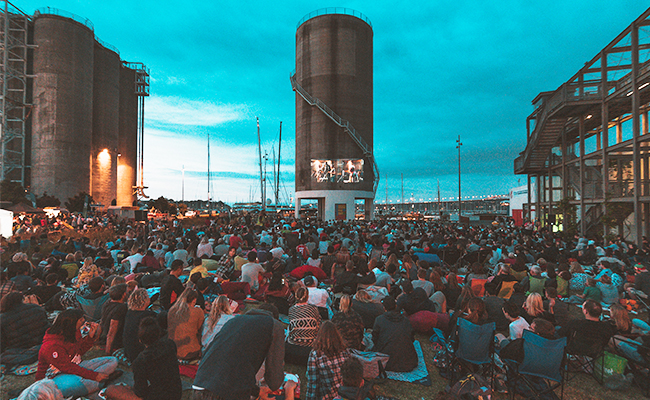 Share a magical evening with your Valentine watching The Princess Bride at Silo Park's outdoor cinema. Bring along something comfy to sit on and warm to cuddle up with, while watching the classic fairy tale. There will be yummy food available at the food trucks and love potions available at the bar. Food and drinks are available from 5.00pm, with the movie starting at 9.00pm.
Spend the evening looking over Auckland City | SKYCITY 
Impress your date by taking them 53 floors up the Sky Tower to The Sugar Club. It's not just the views that are swoon-worthy - the food is just as good, showcasing seasonal New Zealand produce like Hauraki Gulf fish and Hawke's Bay lamb. Enjoy complimentary Sky Tower access, a glass of bubbles on arrival, and a seven-course tasting menu. From 5.30pm-9pm, $195 per person. Vegan and vegetarian menus are available on request.
Get Fabulously Flirty with various burlesque shows at Cassette Nine from 7-9pm
Want to really impress your date? Be sure to purchase VIP tickets for the best seats in the house. Sit back and enjoy a beautiful bouquet of award winning burlesque beauties razzle, dazzle and show all you love birds (and singletons alike) a fun and titillating night of burlesque entertainment.
General admission: $30
VIP tickets: $120 (includes 1 Meal Per Person, 1 House Drink or Bubbles Per Person + 1 VIP Goody Bag Per Person).
Get a romantic dinner at Cooke's Restaurant & Bar at Hotel Grand Windsor
Impress your significant other this Valentine's Day with a romantic dinner at Cooke's Restaurant and Bar.
Relax in a luxurious dining room and be treated to a decadent tasting menu, specially designed for Valentine's Day by our Group Executive Chef, Jinu Abraham, winner of the Best Head Chef in Oceania award at the 2019 Haute Grandeur Global Awards. Enjoy 5 courses for $149pp with the option to add matched wines for $80pp.
Make this Valentine's Day one to remember and experience true romance with your loved one at Hotel Grand Windsor.
Impress your date with some champagne and caviar at Tommy's Champagne Parlour
Tommy's Champagne Parlour are pulling out all the stops this Valentine's Day with candlelight, caviar, champagne and lobster.
For a taste of decadence, head to Ebisu
And for a taste of decadence, treat your loved one to the tasting menu at Ebisu, designed by head chef Fred Wong, completing your celebrations with Ebisu's famous chocolate egg. 
Seduce and romance at Stamford Plaza Auckland hotel
Imagine soft music, scattered rose petals, candlelight and a single elegant red rose on a bed. Plus a bottle of red wine with your very own love inscription on the label. Set to be a night to remember with Stamford Plaza Auckland's Romance and Seduction package. 
If you feel like getting out of the room, you can also enjoy a delicious special Valentine's day dinner menu at KOA restaurant. Click here for the full menu.
Don't forget to get some beautiful flowers
Let florists guide you to creating a beautiful bespoke bouquet that sums up your date's personality, or go classic romance with a beautiful bunch of red roses. Roma Blooms Florist on Albert Street offers a classic dozen roses bouquet for $150 or check out Victoria Park Flowers where you can get a giant white bear holding a red heart embroidered with your special message.
And for the singles ones:
Go to a speed dating party at Tom Tom Bar & Eatery 
Meet more than one hundred singles in the same night! Upon arrival, you will receive a wearable way to make meeting other singles easy via green, yellow, or red bracelets. Green means GO (single and ready to mingle), Yellow - take it SLOW, and Red means NO (I'm taken)! At this party you can come alone or bring your non single friend or wingman along, the more the merrier. $40 per person including a complimentary drink and nibbles.
Fly sky high on a blind date with Bumble and Heletranz Helicopters
Bumble, the woman-first social networking app that empowers women to make the first move, is coupling up with Heletranz Helicopters to celebrate the most romantic day of the year, by giving away the ultimate Valentine's Day blind date that will take love sky high for four New Zealanders.
To go in the draw, log in to your Bumble app and match with the Heletranz Helicopters competition profile. Entries are open until February 11th and if you're a winner you'll be notified in the days leading up to Valentine's day. The flight will depart at 6pm, where four lucky singles will be treated to a flight over the City of Sails with a glass of champagne in hand!

Planning a Valentine's Day celebration with a group of friends? Check out separate guide to a friend's night out here.
Last updated:
16 July 2020