Find out more about The Botanist here.
Everybody loves the sunshine and we've found you just the place to enjoy it. Already a favourite destination for us with their unique offering that marries a café/wine bar and a boutique florist, The Botanist are treating us to some all new offerings as we welcome in the warmer months.
Sunsets at The Botanist
If you're looking for a new spot to bask in the afternoon sun post work with a wine or craft beer in hand then this is your place.  Sitting indoors among the flowers or outdoors looking over the cityscape, this is one of the best places in town to catch some rays until sundown.  Serving up a complimentary aperitivo with every glass of Peroni or a sumptuous canapé, created by Chef Sara Simpson, with every glass of Champagne Lanson, you'll be spoilt for choice. They also have craft beer on tap from their sibling bar Brothers Beer if this is more akin to your liking. Setting the scene The Botanist's resident DJs play soulful funk and acid jazz classics, allowing you to sit back, relax and while away the evening.
4pm till Sunset every Wed, Thurs and Fri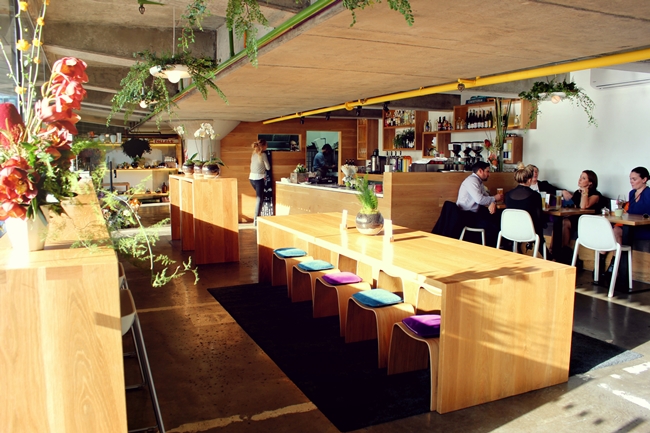 Spring Menu 
Created by award winning Chef Sara Simpson, the new menu at The Botanist celebrates all things spring. Championing in season produce with the likes of asparagus, peas, new season lamb, baby potatoes and berries the menu has all of the fresh new flavours of spring. Some featured dishes that we can't wait to try are the soft shell crab pakora and the pecan crusted haloumi with pickled blueberrys, salted orange and betroot. 
Celebrate Spring Package
To celebrate the arrival of spring and their new dinner menu, The Botanist is offering a package combining three of their favourite things – fine wine, delicious food and beautiful flowers.
With this special offer each dining couple can enjoy two glasses of Matua wine, a selection of any three shared plates and a beautiful floral bouquet to take home, designed by Eden Hessell for the very pretty price of $60. Reservations are essential for this one.
Find out more about The Botanist here.
Last updated:
21 August 2020